FETISH CRUISE CANCELLED!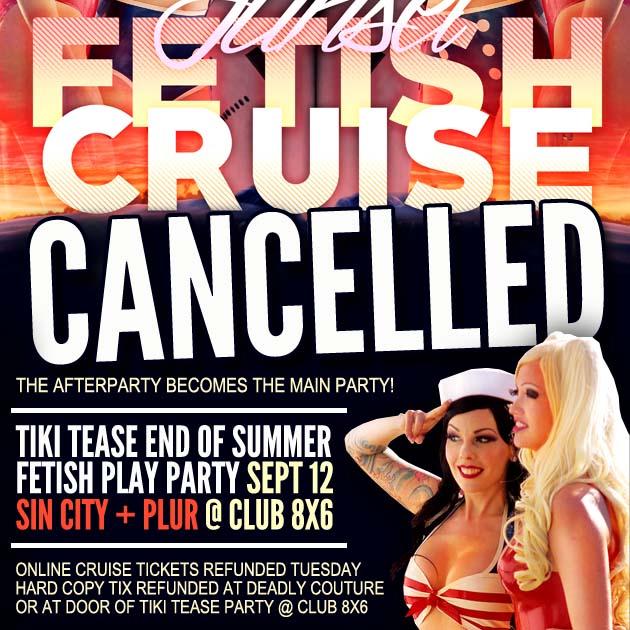 We're very sad to announce that the upcoming Fetish Cruise next Saturday regrettably has been CANCELLED!
We've had this event booked and planned since before January, so this news disappoints no one more than us! Read on for the background story, refund details, and the updated replacement event for the night, where the after party becomes the main party – SIN CITY + PLUR at Club 8×6!
That party is ALREADY past 2/3 sold out in advance so you know it's going to be crazy! You can RSVP for that event here :
https://www.facebook.com/events/1622510604695853/
---
THE SKINNY :
Here's the news in a nutshell – for whatever reason, the Liquor Board and VPD took a sudden and extreme interest in this event, contacted the Cruise line owner, and informed them that they could not proceed with the event as planned. They would be willing to let us proceed if we removed the fetish elements of the event, but even so, would still be showing up during boarding, and again at sea, to make sure we were following their requirements. Furthermore they informed the cruise line owner that if they found any issue with the event they might exercise the option to pull their license. Though the Cruise operators went to bat for us through several meetings, the LLB and VPD remained firm in their rulings. We've had very good relations with both the Liquor Board and the VPD for the entirety of Sin City's 14-year run and absolutely want to avoid unneccessary friction, we certainly don't want anyone to risk their business license, and most of all, we absolutely have no interest in putting our attendees through being boarded at sea and scrutinized. So, we made the difficult decision to cancel the Cruise.
---
THERE'S ALWAYS NEXT YEAR :
Fear not, next year we're expanding to two summer fetish cruises. As always, stay connected with Sin City via our Newsletter for advance news 😉
---
REFUNDS :
All online tickets purchased for the Cruise will be refunded automatically on Tuesday after the long weekend. All hard copy tickets purchased at Deadly Couture can be refunded either at Deadly Couture, or at the door of the Tiki Tease party at Club 8×6.
For those who purchased combo tickets online to the Cruise + Afterparty, the Cruise portion of your ticket will be refunded online, whereas your advance ticket for the party at Club 8×6 will be kept for you, to be redeemed at the door of the event. Note that these are the ONLY advance tickets which will be released for the party at 8×6, no other advance tickets will be available! All remaining tickets are first come, first serve at the door! We anticipate being PACKED by 10 PM!
---
THE REPLACEMENT PARTY :
What was planned as the afterparty now becomes the main party, and we couldn't be more excited!
SIN CITY FETISH NIGHT and PLUR PRODUCTIONS join forces to bring you an unprecedented night of fetish socializing and kink play, with all the strengths of both nights joined together!
Strict Fetish Dress Code and electric atmosphere full of sexy sparks and excitement courtesy of Sin City, fully legal sex on premises party atmosphere and play areas courtesy of PLUR. Loads of extra goodies for the dancefloor, sound system, play area, photo booth, decor and more in store!
CAPACITY is limited so we highly encourage people to show up early. The party is already 2/3 sold out in advance and no further advance tickets are available. All remaining spots are strictly first come, first serve!
---
LOOKING FOR MORE CRAZY SEXY KINKY PARTIES? COME TO SPANK ON SEPT 26!
If you're looking for another sex on premises crazy-ass party later this month, don't forget SPANK's one-year anniversary is coming up on Saturday Sept 26 at the Vancouver Art & Leisure Center! Details on that party here :
https://www.facebook.com/events/572424089567500/
---
TIKI TEASE END OF SUMMER EXTREME PLAY FETISH PARTY DETAILS :
– Club 8×6, 1775 Haro St, 9PM-3AM+
– Co-presented by PLUR Productions & Sin City Fetish Night
FETISH DRESS CODE IN EFFECT! NO FETISH ATTIRE = NO ENTRY.
What can you expect?
• The very FIRST thing before you walk in the club are a few cupids that will go over the TOP TEN RULES OF CONSENT with each and every guest. Please take the time to understand these rules and then you will be given a *PLUR stamp of CONSENT upon entering the lower part of the club.
• PLUR's own CUPIDS that help get you matched with others and participating at whatever level you desire! Cupids wear little wings on their backs and a blue LED lanyard with the words "Cupid" on it. Expect them to come and talk to you.
• To aid the Cupids, guests are encouraged to complete a play card that will help us match you to other guests.
• 2 Lounge areas to mingle with others and survey your opportunities to meet and consensual play.
• DJ's Hayden Wood – Tashi – Dj Pandemoniumm – DJ R-Lex
• Plenty of intimate play spaces for most types of playing from simply grinding to full sex if you so choose.
-3 Private rooms and 2 semi-Private rooms
-Male/Female Glory Holes
-Front and center Play Mattress
-2 Additional Play Mattresses
-Intimate Cuddle and After Care Mattress
• Free onsite government STI clinic.
• Quality Dungeon furniture and 2 hard points for riggers
-Riggers MUST be approved before any scene.
• Super chill / love making area with plenty of mattresses to enjoy a new friend or reacquaint yourself with others.
• Larger expanded coat check with NEW change area.
• (DM's) Dungeon Monitors to ensure everyone's safety and boundaries are maintained. Dungeon Monitors are identifiable.
• (PM's) Play Monitors to over see sexual activities and ensure everyone is playing safe and cleaning up after themselves. They will report and support the DMC
• Professional warm sensual lighting though out Club
• Tiki Bar and Snack Bar
---
New to sex positive play parties?
No problem! Our cupids and organizers are on hand to assist in negotiations, particularly for people who are newer or less experienced in Safe, Sane & Consensual negotiations. There is NO pressure or obligation to participate in any way.
Consent is ABSOLUTELY required between all participants in any play and just because a Cupid makes an introduction, it does not require either participant to play with that person. No obligations. People are also encouraged to make their own introductions as they see fit; that's why you will be wearing your play card after all!
RACK (Risk Aware Consensual Kink) will be in full effect, and we reserve the right to refuse entry or remove anyone causing trouble or disrespecting fellow guests.
IMPORTANT: Please limit your use of any one play space or piece of dungeon furniture to a maximum of 45 MINUTES to ensure everyone has a chance to play. Sharing is caring.
Check out PLUR's FAQ's here:
http://www.plurproductions.ca/
---
Any further questions? Feel free to message us, we're here to help!
Isaac T AKA DJ Pandemonium – pandemonium@netrover.com
Scotty Cruz AKA ScottyHotty (FetLife)
Restricted Entertainment & PLUR|productions
http://www.sincityfetishnight.com/ – http://www.plurproductions.ca/ – Peace•Love•Unity•Respect