Carnival of Kink Details, Contest Winners, Discount Pass & More!
Ready & excited for tonight's Carnival Of Kink party at the Imperial? You should be! Here's all the final details – plus you'll find the online discount pass at the very end of the post!
RSVP ON FACEBOOK and tell everyone you're going!
---
FETISH DRESS CODE IN EFFECT AS ALWAYS!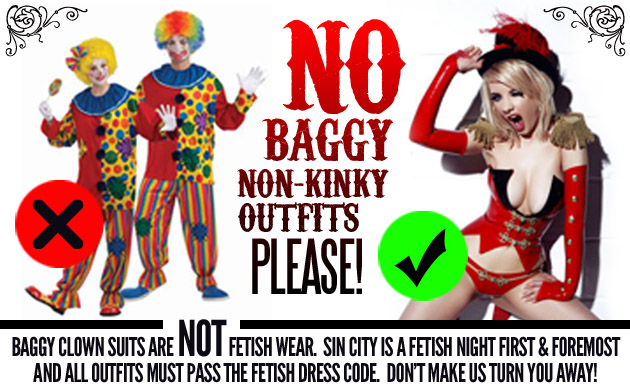 A reminder that the fetish dress code is in effect and is ALWAYS the SAME at every Sin City Fetish Night party, whether it's a regular party or a themed event! If it wouldn't get in on a regular night at Sin, it will not get in to one of our themed events. The fetish dress code is a hugely important element of fetish events which helps to make attendees comfortable in exploring their wild side in a safe environment where everyone is on the same pervy page!
Other events may lower or change their dress code for themed events – this is not the case at Sin City! We promise to keep it Kinky, Creative & Consistent! Rather than put together an outfit that is fun for the Carnival theme but is not otherwise really that fetish, which runs a chance of not making it in at the door, we HIGHLY encourage attendees to start by taking an acceptable FETISH outfit and then accessorizing it to make it fit the theme! Or you can always just go bare as you dare and get some body paint with our body painter who will be set up on site at the venue!
And of course you don't even need to follow the theme at all if you don't want to – the themes are just options to help inspire creativity! Taking part in a big group theme is fun as all hell, but Sinners are always welcome to wear WHATEVER outfit they want at any and all Sin City events so long as they pass the fetish dress code! Themes are never required or mandatory, they are only bonus options! Our only requirement is that all outfits are styled sexy / kinky / fetish / risque in some way!
---
BODY PAINTING ON SITE! BOOK YOUR SPOT AHEAD OF TIME – THERE WILL BE LINEUPS!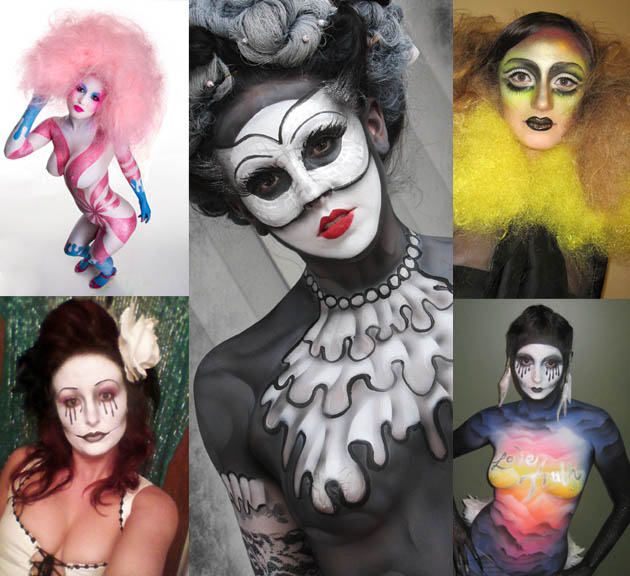 Jennifer Little from A Little Artistry will be on site and body painting our eager Sinners! Why get a full new outfit when you can take an existing fetish outfit, add some high-level art and be changed into a whole new circus creature for the night?
Body paint starts at just $10-20!
Faces starting at $20-40
Arms $20-40
Torso $40-80
Full body $80+
Lineups form FAST at the body painting booth – but you can pre-book a spot by emailing Jennifer here :
---
FRONT & CENTER DUNGEON ON STAGE AT THE IMPERIAL!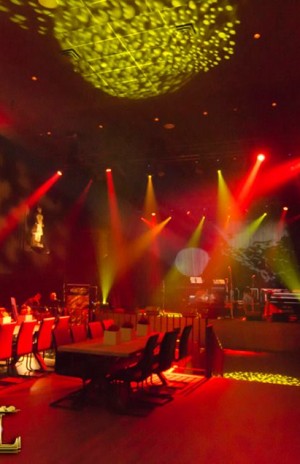 KINK LEVELS ESCALATING. The Dungeon is located FRONT & CENTER ONSTAGE at Sin City at the Imperial! And not just any stage, this is a stage at the very front of a luxurious renovated theater, complete with larger than life kink visuals adding to the play experience right behind you!
For those of you who haven't yet been to one of the Sin City parties at Imperial Vancouver, you are in for a TREAT as you discover how amazing the fetish parties are in such an opulent space. This is just one of the two rooms! For those who did make it to one of the parties we've had there already – you'll love all the extra touches we're known for and which we're bringing to the Wild Kingdom party to further customize the venue for our wonderful Sinner attendees!
Lounge – dance in one of the two rooms of DJs & different vibes – get naughty on stage in the full scale Dungeon – Imperial is one of the most sought after and unique special event spaces in the city, and Sin City will be loading it with kinky delights and loads of extras to make your fetish partying experience a complete one!
---
GUEST VENDORS SELLING FETISH WEAR, KINK ACCESSORIES AND CARNIVAL CURIOUS!
We are happy to welcome SEDUCTIVE PERILS, POCKET VENUS TREASURES, LASTING LEATHER and BIZARNIVAL CURIOUS & ODDITIES to the Sin City marketplace!
Wes from Lasting Leather will have a large selection of bondage gear at wholesale prices – take advantage of the opportunity to pick up some new toys at discount rates! Wes is our longest running kink vendor at Sin City and we're thrilled to have him back bringing his wares to the party!
Seductive Perils is vending glamorous hairflowers with upcycled vintage jewelry, one-of-a-kind headpieces and fascinators, and nipple pasties to this fabulous freaky event. Lovingly handmade in Vancouver, Seductive Perils is the creative brainchild of local burlesque performer, artist and long time Sinner Maggie Pie!
Pocket Venus Treasures will be selling feather ear cuffs, eHookahs, one of a kind pendants/necklaces, while the Bizarnival Crew will have a selection of brain-twisting carnival curious and oddities for sale!
---
SPECIAL GUEST : BLACK & BLUE DUNGEON EQUIPMENT!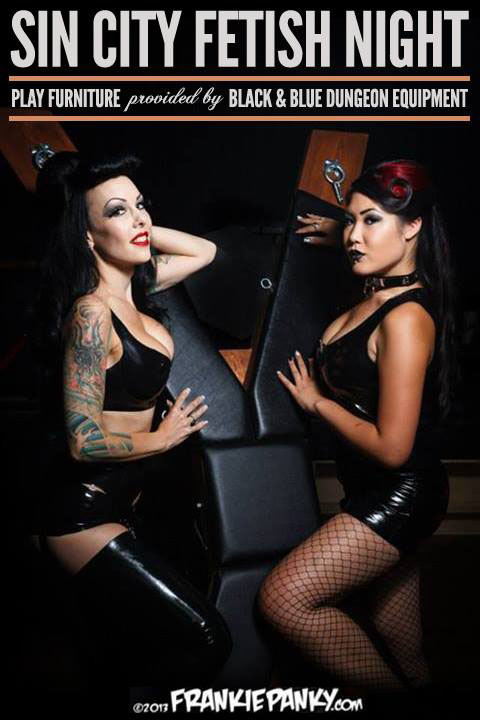 DO YOU LOVE GETTING NAUGHTY IN PUBLIC? Located Front & Center and -right- onstage in a beautiful renovated theater, the Play Dungeon at Sin City is a space you will love! Though we have a full in-house complement of play gear at Sin City, we love having guests from the fetish community get involved in the Dungeon as well! Additional play gear tonight provided by Black & Blue Dungeon Equipment – whose bondage furniture is of such high quality, some of Sin's most recent dungeon furniture was commissioned from them! Black & Blue is bringing down some of their most signature and unique pieces. TAKE A RIDE on the "Spin Of Sin" – a flogging cross attached to a rotating frame which allows for an unrestricted 360-degree rotation of the person on the receiving end of floggings & spankings! STEP ON TO THE INVERTED CROSS – a flogging cross which adjusts from full upright to fully laying down! In addition to these ultra-fun options, there are multiple spots available for rope play on the suspension frame provided by Rascal, with the whole area under the watchful eye of the Vancouver Dungeon Monitor Team, on hand to keep things kinky but SAFE, and offer encouragement, suggestions and information!
– If your absolute favourite thing about fetish nights is indulging in some public play, the Sin City Dungeon is a place you will love!
– If you just want to watch, lust & learn – the Sin City Dungeon is a place you will love! Exhibitionists + voyeurs = perfect combination.
– If you are a total BDSM virgin but are interested in taking your first steps into public kink play, the Sin City Dungeon is a place you will love!
Step into the Dungeon with a play partner, claim a spot as your own for awhile and indulge in a sexy scene. Or talk to the Dungeon Monitors about volunteering to be a Rope Bunny – we'd love to tie you up and show you off!
Suspension and rope play demonstrations & performances from Zorklunn & Rascal all night! Time to get knotty!
---
NEXT LEVEL PHOTO BOOTH WITH GOTHIC BC!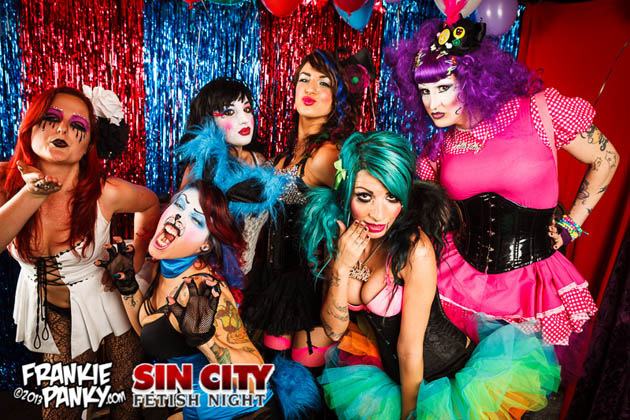 NEXT LEVEL OF NAUGHTINESS IN THE PHOTO BOOTH! You know there's no unauthorized photos allowed at Sin, to let everyone go as wild as they like with their attire and know they can truly be partying off the grid if desired. But you also know lots of people want to show themselves off! And you know Sin City Fetish Night loves putting together a next level photo booth FAR beyond just a curtain against a wall for Sinners to play in!
---
Post-A-Photo Contest Winner!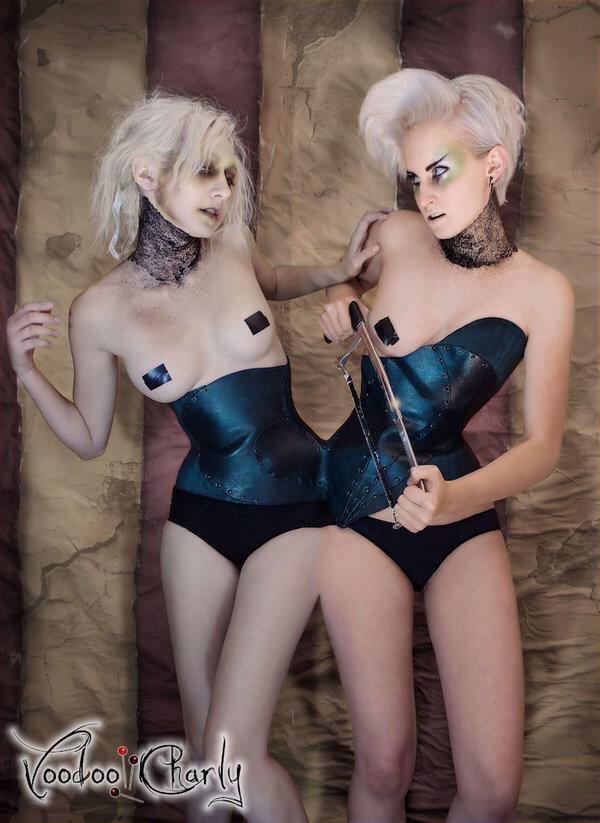 WE HAVE A WINNER in the Post-A-Photo contest for the Carnival Of Kink party tonight at Sin City Fetish Night! CHRISTINA LACYFET wins front of the line admission and complimentary cover for two for posting this amazing & inspirational photo over at the event listing for the party! Thank you Christina for all the amazing photo shares!
---
DISCOUNT PASS :