BOOK YOUR GLOW-IN-THE-DARK BODY PAINTING SPOT!
Are you getting psyched for the upcoming BLACK, WHITE & GLOW FETISH BALL at Sin City on December 1 at the Red Room? Consider getting some body paint done, either white themed or with glow in the dark body paint! There will be HEAVY levels of black light throughout the party and you will G-L-O-W! The amazingly fabulous Jen Little from Glitter Machine will be set up at the event ready to paint YOU with some glow in the dark or white accents! Who can forget the Glitter Machine booth at the Sin City 9 Year Anniversary party, where they churned out super sexy fetish kitties all night?
You can just walk up to the booth at the party and get on-the-spot treatment, but her spots get filled up fast and there will likely be a lineup! It is highly advised to contact her ahead of time and pre-book a timeslot at the party, or, book a spot in her West End studio for a custom paint job before the party!
Contact Jen @ Glitter Machine to book your spot here : jenn@littlemakeupmachine.com
Check out Glitter Machine's website here : http://www.glittermachine.ca/
AHEAD OF TIME STUDIO CUSTOM PAINT JOBS
Custom body paints are normally $125/hour. Glitter Machine is offering a special rate for the Black, White & Glow Fetish Ball at $100/hour. She is very quick and efficient and body paints are sealed to prevent rubbing off – the paint jobs are extremely resilient to wear until you choose to wash them off with water. Jen's custom creations have a history of winning prizes at our biggest events – you're guaranteed to be the one everyone is looking at after undergoing one of her transformations!
ON-THE-SPOT BODY PAINT AT THE PARTY
Single colour stencil glow accent $5-10
Half face $20
Full Face $35
Arms $20+/per
Legs $20+/per
Half Torso $40+
Full Torso $60+
Full Body $80+
Custom pieces, by consultation only
All prices depend on coverage and detail.
Once again – pre-booked appointments are highly encouraged, either in studio or on location, to avoid the line up!
GLOW IN THE DARK BODY PAINT SAMPLES ….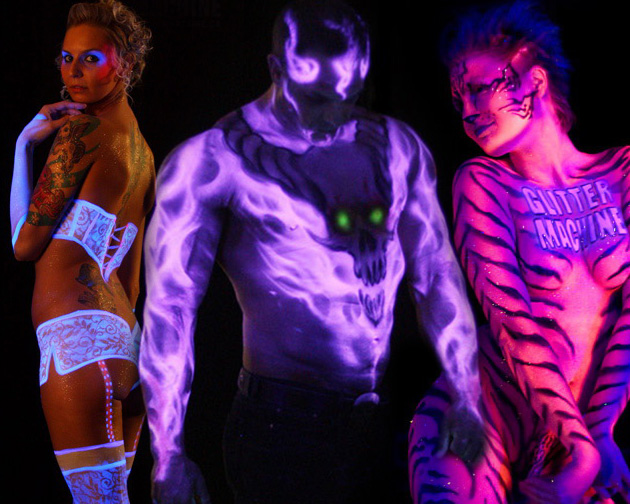 BLACK & WHITE THEMED BODY PAINT SAMPLES …