DJ R-Lex

Visit DJ R-Lex on Facebook : http://www.facebook.com/pages/DJ-R-Lex-the-Robot
I Die : You Die (alex's music review site) : idieyoudie.com
One of the most versatile alternative DJs on the West Coast – DJ R-Lex has a signature, no-holds-barred approach to the dancefloor that is impossible to ignore. He's the only Sin City DJ to hold a long-term residency as a regular in the anything-goes-all-style-mashup main room at Sin, and also in the all-electronica second room known as De:Basement.
Whether it's underground body-groovin' electro jams for hours of bump & grinding on end, or a constant blitz of party rockers and cutting edge new jams from the alternative underground, DJ R-Lex is a huge part of what makes the Sin City dancefloor as notorious as it is.
Classic alternative club hits. The newest of the underground. A dash of straight up hip hop, electro remixes, deftly mixed and perfectly timed punk rock or new wave gems, he'll keep you guessing, dancing, screaming & sweating until they turn on the lights and throw us all out!
And like all of the Sin City DJs, Alex's involvement with the music behind the scenes doesn't stop at just manning the decks at the party. Alex is one half of the music information site called I Die : You Die, which showcases regular reviews, interviews and editorial pieces on the the dark alternative music scene and beyond. Both his sets on the dancefloor and his regular writings showcase his wide-ranging knowledge and love of the dark alternative music scene in all its facets – if you've ever asked yourself the question "where does one find out about new non-mainstream music", look no further!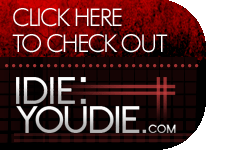 – dark alternative music info galore
– reviews
– interviews
– editorial writings
– regular new music mini-set previews
– guest writers
– & lots more!