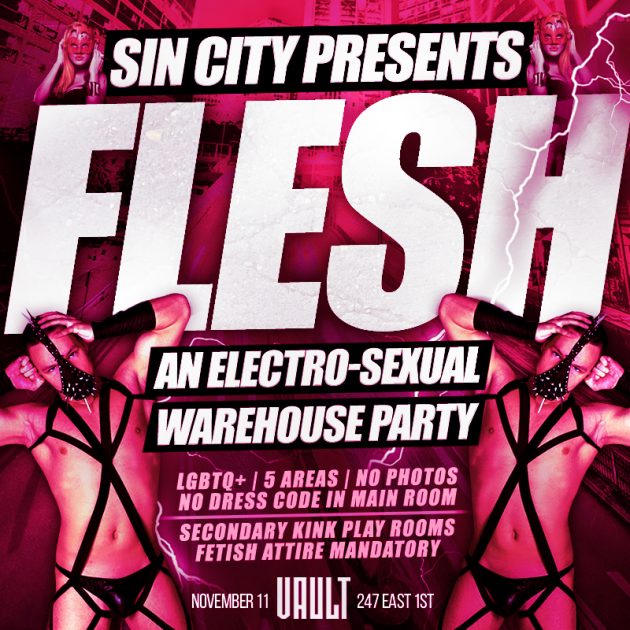 Saturday November 11
Sin City Presents FLESH!
A Kinky Warehouse Party
Celebrate The Skin You're In!
Vault / 247 East 1st / 10pm-4am
GET TICKETS / RSVP FACEBOOK / RSVP FETLIFE
---
CELEBRATE THE SKIN YOU'RE IN!
This is going to be a big one! Sin City & Restricted Entertainment present FLESH!
No dress code main room AND full fetish dress code areas!
We've relaxed the dress code a little for this one – similar to our PURR events, the main room is no dress code and all are welcome, but cameras and the taking of photos is strictly forbidden, other than our staff photographers, to ensure a vibe where everyone can dress as wild as they like. Meanwhile all secondary rooms – including the second room of DJs, chill area, and sex-permitted couples playroom, are all fetish-attire mandatory. While you CAN attend in casual attire if you prefer, you will not have access to all areas of the party, only the main room … which mind you is an epic experience all on its own! However, if you want to have a 100% fetish-only experience, there is an entire zone of 3 rooms reserved for this!
FLESH! is a pan-sexual multi-area fetish-encouraged party where anything goes and all are welcome!
Expect a big mix of gay, straight, trans, cis, bi, bi-curious, queer, cross-dress, drag, femme, masc, non-binary, younger, older, lifestylers, singles, couples, poly, hard core regular and newbie players, bigger, smaller, and all kinds of wonderful human creatures of all sizes and colours vibing together! We do not tolerate discrimination or poor party behaviour of any kind, so do not under any circumstances come if you are not prepared to enter with an open and accepting heart and mind!
---
Venue :
Located just minutes away from Science World Skytrain Station, Vault Vancouver is a special event space purpose built in a warehouse which previously was a Brinks armoured car storage facility. With a soaring ceiling in the main room and an industrial vibe, the venue also has multiple rooms and areas to explore, where you will literally have to pass through vault doors to access them. World class sound systems have been installed in every room and the venue constantly has art and tech upgrades happening from one party to the next. The space has been entirely renovated into a European-styled event space, complete with sizeable coat check (IMPORTANT for fetish events!), multiple dance & lounge areas, dedicated unisex bathrooms, a private outdoor smoking and chill area, many nooks and crannies to explore, and a completely unique atmosphere. The layout lends itself PERFECTLY to our fetish events, all leading to the combination of Restricted & Sin City events at Vault literally being the current big buzz in the scene!
Just some of the details we're crazy excited about :
• A-list Funktion One sound system
• European club space design
• Plenty of space for dancing, lounging, socializing and …. more
• Kink & couples SOP play spaces
• Custom built dance cages and play furniture
• Laser installation by Laser LightHouse
• Central downtown location
• Full bar & coat check service
• Bonus performances throughout the night
• 500+ kinkster capacity
---
MAIN ROOM DJs & MUSIC STYLES
We're ecstatic to announce that long time friends and dancefloor wizards DEL STAMP, ABASI and DAVE DIRK have all been added to the bill, joining resident DJ R-LEX … they'll be dropping some downright dirty House, Tech House, EDM, Bass House & Nu-Disco on that juicy Funktion One sound system, guaranteed to get your booty shaking!
RUNNING ORDER
10-12 – R-Lex
12-2 – Abasi Vs. Dave Dirk
2-4 – Del Stamp
SECOND ROOM DJs & MUSIC STYLES
Digging into the fetish and electronic music scene's deep roots in the dark alternative genres, join DJs PANDEMONIUM, EVILYN13 and DEADHEAD as they bring a seriously stompy mix of Electro, EBM, Synthpop, Industrial & Techno, a rare offering on a Saturday night party of this size! Added bonus detail, it's DJ DEADHEAD's birthday right at the stroke of midnight in the middle of his set!
RUNNING ORDER
10-11:30 – Evilyn13
11:30-1 – Deadhead
1-2 – Pandemonium
SEXY STAGE SHOWS
We have a HAWT AS FUCK lineup of ringer pole dancers at FLESH! Look for them alongside the main stage DJs, amping up the temperature in the main room!
Make sure to scream your lungs out and throw them bills on the stage for KOSMIC KITTY, NATE and LUNA LUCK from Kosmic Coven! Strippers love tippers <3
---
Read More →