Sept 22 : Grand Opening Party at CELEBRITIES UNDERGROUND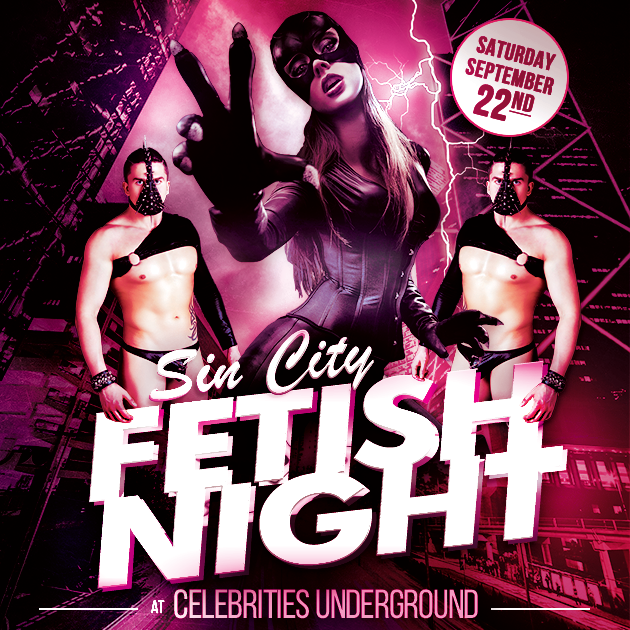 BUY TICKETS / RSVP FACEBOOK / RSVP FETLIFE
Get ready to grab your tickets, this is going to be a big one! Sin City & Restricted Entertainment present FETISH UNDERGROUND!
Vancouver's award winning, boundary breaking, biggest and longest running fetish night has a very new and very exciting venue to unleash upon the city where we literally are taking the party UNDERGROUND into an incredible space BRAND NEW to the fetish scene.
Venue :
Located at 1022 Davie St, in the kink-friendly Davie Village in downtown Vancouver, Celebrities Nightclub is a destination nightclub known for bringing in top artists from all over the world. What many people DON'T know is that there is an entire lower level below the main floor, with its own seperate entrance right next to the main entrance, which is just as big as the main club space above, named CELEBRITIES UNDERGROUND. Armed with a rapidly developing Special Events License, the space has been entirely renovated into a European-styled event space, complete with coat check, dance & lounge areas, dedicated unisex bathrooms, and a completely unique atmosphere. The layout lends itself well for parties popping off at the 150 person level, but also can be expanded to easily accomodate 500+ attendees. And best of all, much of the staff have a history and experience with Sin City, as we have been to previous iterations of the venue before for some of our events in the past … meaning that we are very much returning to a space where we already have some roots!
Just some of the details we're crazy excited about :
• A-list sound system
• European club space design
• Plenty of space for dancing, lounging, socializing and …. more
• Kink, rope and couples SOP play spaces
• Custom built dance cages and play furniture
• Central downtown location
• Full bar & coat check service
• DJs Pandemonium, Evilyn13, R-Lex & guests
• Hosted by Samantha Mack
• Bonus performances throughout the night
• Fetish dress code
• 500+ kinkster capacity
LGBTQ+, straight, drag, cross-dress, lifestylers, singles, couples, poly, hard core regular and newbie players all very much welcome!
If you haven't yet, we highly encourage you to sign up for the Newsletter right here on the website!
---