March 10 : Sin City Fetish Night at The Odyssey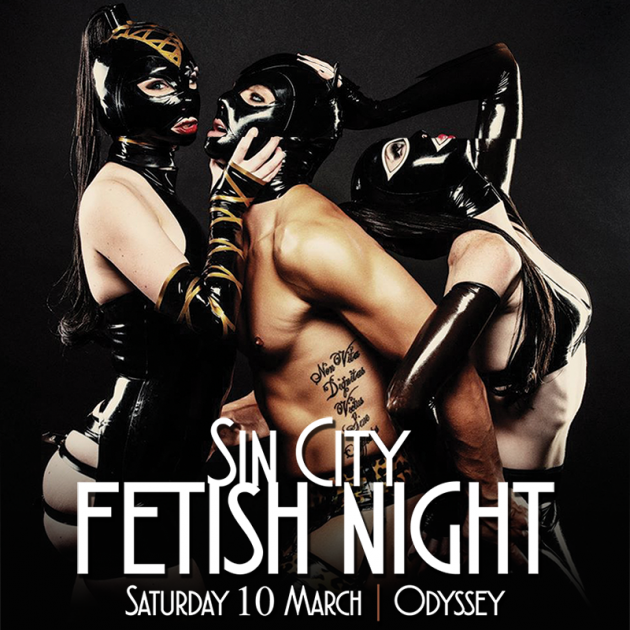 When : Saturday March 10, 9pm-3am
Where : The Odyssey, 686 West Hastings, Vancouver, BC
Cover : $15 advance, $15 day of before 10pm, $20 after, $150 booth reservation (6 people, only 3 available)
It's a New Year and Sin City Fetish Night has a new home for its regular parties on the second Saturday of each month, where we can dance, play, socialize and get naughty in both style and safety! Keep reading for details of our amazing new space!
ADVANCE TICKETS HIGHLY RECOMMENDED
COME ONE, COME ALL – COME EARLY
COME SEE WHAT ALL THE FUSS IS ABOUT!
LGBTQ+ / CROSS-DRESS / STRAIGHT / SINGLE / COUPLE / NEWBIE FRIENDLY … all are welcome at Sin City!
BUY TICKETS / RSVP on FACEBOOK / RSVP on FETLIFE
---
WELCOME TO THE ODYSSEY!
We are absolutely thrilled to be returning Sin City to a gay club as its regular home, and moreover, one which is highly focused on providing an inspirational and safe atmosphere for all attendees to express their sexuality. In a way this is like a homecoming for many attendees and staff as we reconnect with many familiar faces who have worked with Sin City before, now welcoming our community of pervy partiers into their beautiful space. With ample spaces for play, dancing, socializing and more, we haven't been this excited for a new space in a long time!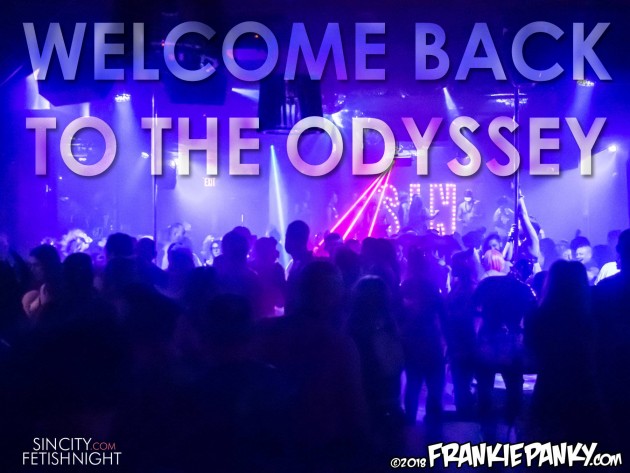 JUST SOME OF THE MANY EXCITING THINGS AT THE NEW SPACE …
► World-class sound & lighting system
► Comfy booth seating throughout
► Go-Go Shower (YES YOU HEARD THAT RIGHT)
► Pro coat check space (these things are important at high volume fetish nights!)
► Great location
► Seperated stage play area
► 2x stripper poles & dance risers
► Private, monitored outdoor patio area
► Fully stocked bar (not all venues have this!)
► Unisex, high volume capable bathrooms
► Immersive visuals throughout
FETISH DRESS CODE
All attendees must meet the fetish dress code prior to entry. NO plain daywear is permitted, and all outfits must be sexy / pervy / kinky / risque in some way. The party starts before you leave the house, and every attendee at Sin City adds to the party in some way with their creative effort, making it an amosphere of collective community kinky sexiness. Trust us, the effort is worth it. Sin City is a home where people can take the masks off that they wear all week and transform themselves into their true pervy persona in safety, in an appreciative and fun environment. For full details on the dress code, please visit our website here!
LOCATION, LOCATION, LOCATION!
We cannot stress how important location is to a fetish event! The Odyssey is at a highly accessible location in downtown Vancouver, with tons of street and parkade parking nearby, as well as being blocks away from Skytrain and numerous public transit options. The block it is situated on has little random walkby traffic as the club inhabits its own little pocket by itself. While we are downtown, we are in our own little pocket which is NOT on Granville St and NOT in Gastown. We know our extended family is going to love it!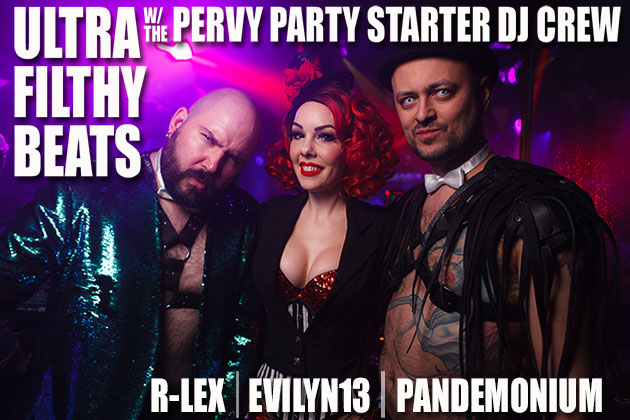 DANCE THE NIGHT AWAY WITH SIN CITY'S PERVY PARTY STARTER CREW :
We have a huge lineup of top kink dancefloor music selectors on rotation, including :
► Pandemonium
► Evilyn13
► R-Lex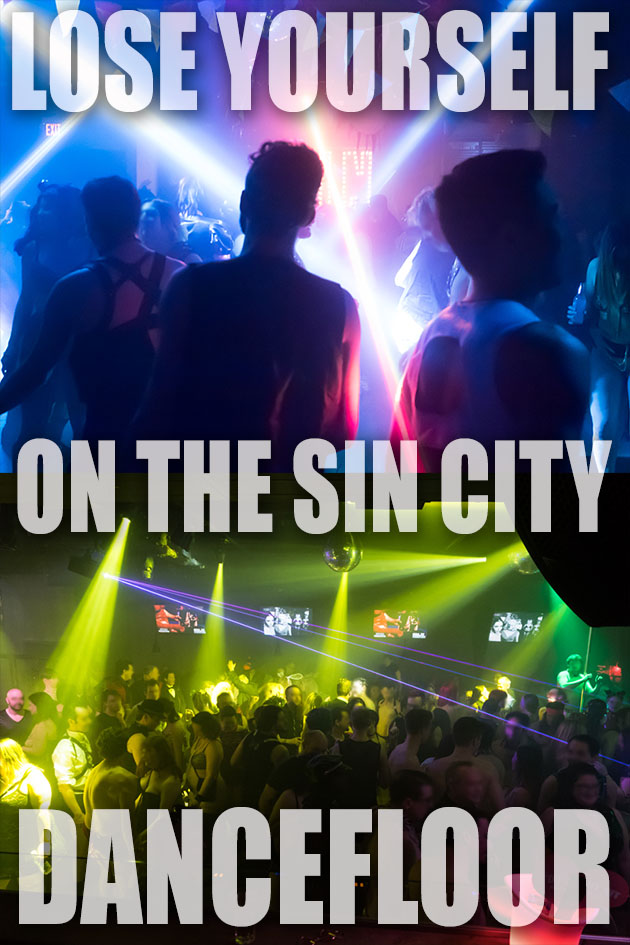 LATEX (OR LESS) SHOWER GO-GO DANCERS :
► Drake
► Caelyx
► Vieanna
► Mr. James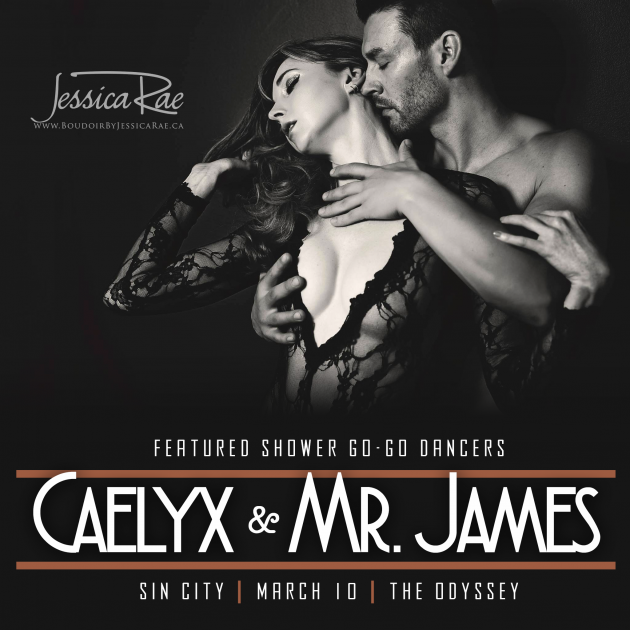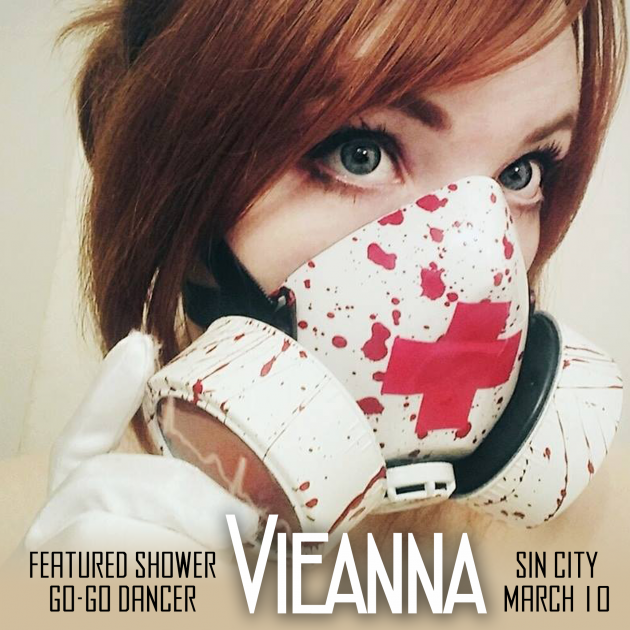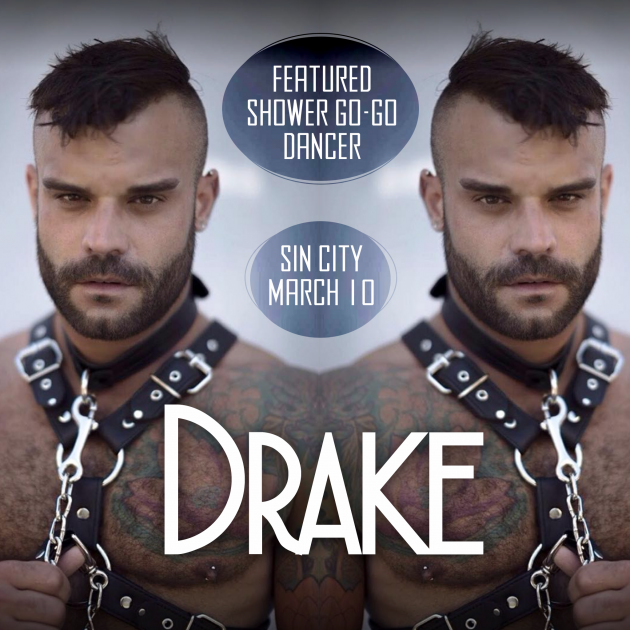 KINKY PLAY AREAS
Sin City provides several play areas with different vibes for every level and comfort zone for play. There is a semi-private stage play area monitored by the Vancouver DM Team, as well as satellite play areas more integrated into the main social & hangout areas of the venue. For rope & suspension play, we have the Kink Corral, hosted by Rascal_21, as well as additional rigging points installed above the stage! All spaces are stocked with sturdy, padded furniture lovingly constructed by our friends at Black & Blue Dungeon Furniture, and are places where we encourage you to get naughty with a consenting pervy play partner!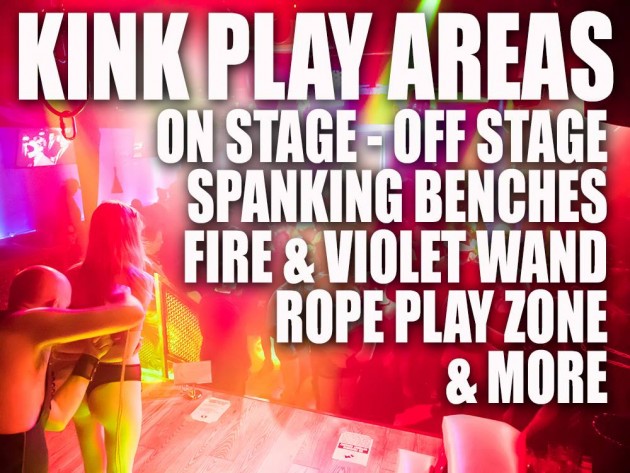 CODE OF CONDUCT / CONSENT
All attendees are expected to respect one another and party hard, but party safely. Poor behaviour of any kind is not tolerated and will result in ejection from the event and a possible ban from future events. Absolutely no unwanted, inappropriate or unasked for touching of any kind is permitted without prior, clear and verbal consent given. If you are unsure, ALWAYS ask FIRST! Only a clear and continued 'YES' indicates consent. And if someone is asking, there is never any shame in saying 'no thanks' and moving on. All attendees are expected to be aware of and graciously accept a 'NO' statement or vibe if one is given. If there are ever any issues (which are thankfully few and far between), our Sin City and venue staff are always at hand and accessible for you to bring any concerns to, which will be dealt with promptly, professionally and anonymously on your behalf.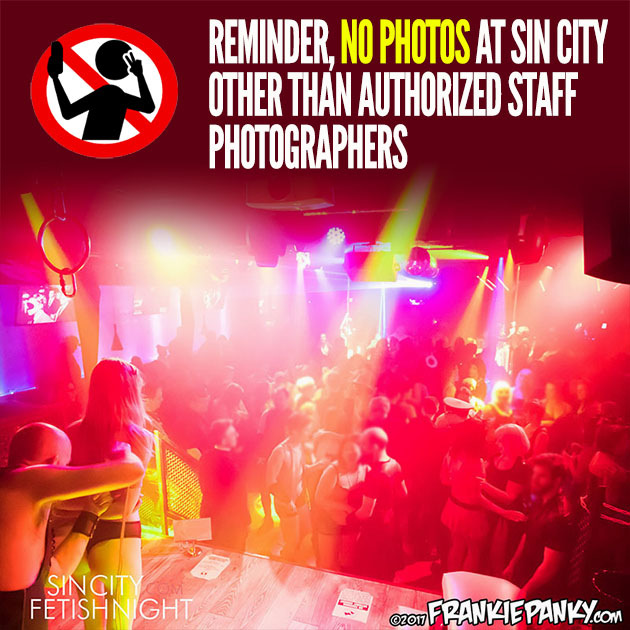 PRESENTED WITH PRIDE BY RESTRICTED ENTERTAINMENT
Producers of quality community kink events for over 16 years, Restricted Entertainment is the team behind Sin City, Spank, Vancouver Fetish Weekend and many other events over the years.
---