FETISH HALLOWEEN BALL @ The Waldorf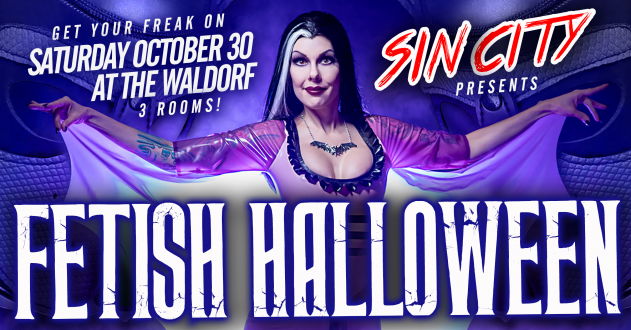 When : Saturday October 28, 9pm-2am+
Where : The Waldorf, 1489 East Hastings
Get First Access To Tickets To Upcoming Events By Signing Up To The Newsletter : HERE
ALL ADVANCE TICKETS ARE NOW SOLD OUT
25 TICKETS AVAILABLE AT THE DOOR DAY OF THE PARTY, STARTING 9 PM, FIRST COME FIRST SERVE, NO HOLDS, ONE PER CUSTOMER
CHECK FOR TICKETS / RSVP FACEBOOK / RSVP FETLIFE
2 Levels / 4 Rooms Of Kinky Halloween Partying / 2 Different Rooms Of DJs & Dancing + Kink Play & Social Room + Outdoor Chill Area / Fetish Dress Code / Join The Horde Of 400+ Pervy Halloween Partiers!
Get your freak on at the ONLY large-scale Halloween event with a fetish dress code! Now running for over 20 years, Sin City is always ground ZERO for fetish partying on what is the absolute top don't-miss marquee weekend out of the entire year.
---
🦇 QUITE SIMPLY, THE WILDEST CLUB EVENT IN VANCOUVER!
🦇 OVER-THE-TOP FETISH, BURLESQUE, DRAG & BONDAGE STAGE SHOWS
🦇 DIRTY DJs & SEXY SOCIALIZING
🦇 PRIZES FOR KINKY COSTUMES GIVEN OUT EVERY HOUR
🦇 SPANKING BENCHES / KINK PLAY & SOCIAL ROOM
🦇 TRY YOUR LUCK AT THE INFAMOUS "SPIN OF SIN", HOSTED BY SWITCH KITCHEN!
🦇 IT'S COMING ONCE AGAIN, EVEN BIGGER AND BADDER THAN EVER!
🦇 QUEER / STRAIGHT / CROSS-DRESS / DRAG / LIFESTYLERS / ALL BODY SHAPES & SIZES / ALL GENDER IDENTITIES & PREFERENCES / ALL AGE GROUPS (19+ OF COURSE) / SINGLES / NEWBIES WELCOME!
🦇 YOU DO NOT WANT TO MISS THIS!
---
🦇 ENTRY CONDITIONAL ON FETISH DRESS CODE COMPLIANCE
🦇 NO CHEESEY NON-KINKY HALLOWEEN COSTUMES!
🦇 STRICT FETISH DRESS CODE. NO EFFORT= NO ENTRY!
Absolutely no street or casual wear! Plain jeans, t-shirts, suits or work clothes are not permitted. Lower genital nudity is not permitted. You must be wearing a g-string minimum, at all times. Permitted attire includes but is certainly not limited to: vinyl, pvc, leather, tuxedo, FULL uniform or costume, fantasy or period attire, armour, cross-dressing, rubber, bondage, body paint, fancy lingerie, kilt, or any other risque or sexy costume your perverted little mind can dream up … but please, not "just underwear!"
---
🦇 PERSONAL CAMERAS & CELL PHONES ARE NOT PERMITTED!
🦇 OFFICIAL PHOTOGRAPHER ON SITE
Please respect your fellow partiers' anonymity and personal space! If you want a photo, we have our official staff photographers on site capturing the party in full swing, whose footage we review thoroughly before releasing! If you do not wish to appear in any of the photos or videos from the night, please simply advise the photographers upon arrival. Active play scenes & the dungeon are off limits to the photographers, except under direct supervision from our dungeon monitors, and with the explicit consent of all parties involved.
---
🦇 TWO ROOMS OF DJs & DANCING TO CHOOSE FROM!
🦇 FULL SIZE SOUND SYSTEM SELECTIONS BY DEMONIC DJS :
* Pandemonium *
* Deadhead *
* R-Lex *
* Evilyn13 *
* Contrasoma *
* Charlotte *
Dropping a downright dirty mix of retro & 80's, industrial, rock & filthy electronica galore!
🦇 HOSTED BY ISAAC T
🦇 GO-GO, DRAG & BURLESQUE PERFORMANCES
* Melody Mangler *
* Xanax *
* Lylia Chorosive *
* Naomi *
* Daddy Long Legz *
* Bliss *
---
🦇 PLAY DUNGEON AREAS
While you're not breaking your neck trying to take in the sea of eye candy, dancing up a storm, or making new friends, take some time to indulge the exhibitionist or voyeur in you in the dungeon play areas!
---
🦇 $1000+ IN CASH & PRIZES FOR BEST COSTUMES!
This is hands down the sexiest costume contest in the city!
🦇 COSTUME CONTEST OPEN TO KINKY & FETISH-RELATED COSTUMES ONLY!
Though full costumes are acceptable for this event, please remember it is first and foremost a FETISH event, so we highly urge all attendees to keep their costumes fetish or kinky in some way wherever possible!
---