150+ Photos From Sin City's Closing Party At The Odyssey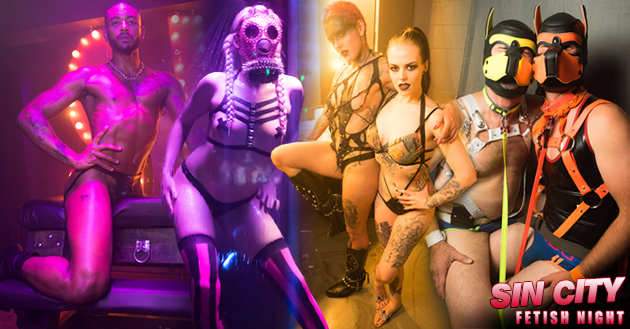 It's safe to say that The Odyssey will go down as one of the favourite home venues for Sin City Fetish Night, ever. The size, location, layout, staff, go-go shower … everything just fit our kinky gatherings like a perfectly made custom made leather glove. It finally closed for GOOD and we had our last party there ever on June 9, 2018, and we already miss it like blazes.
Check out these ultra kinky and ultra colourful photos from the closing party – featuring an all-star lineup of shower dancers Jorja, Justine Sane, Spooksy DeLune, Romeo and Flavio, as well as a club full of kinksters who were all smiles, soaking up one last naughty party before the venue closed its doors forever, and became another in a long line of clubs which have closed in the last few years in the city. Sin City will move on to other venues, but The Odyssey will always occupy a special place in our hearts and memories!
All photos by Frankie Panky – if you would like a high-rez digital file or a printed glossy, please visit Frankie at his Facebook Page and send him a message!
Note that you can use the left and right arrow keys on your keyboard for fast scrolling through the gallery once you are in the image pop-up display browser window!
---