100+ Photos From Sin City's 1st Party At Celebrities Underground!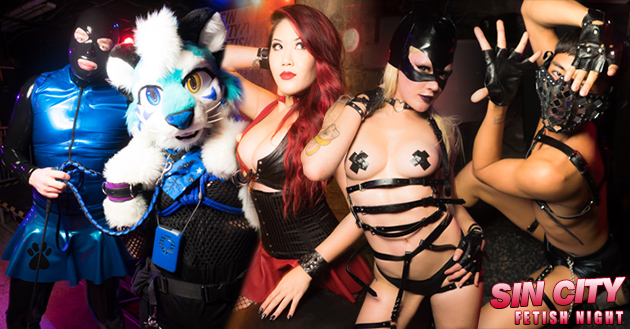 In September of 2018, Sin City was invited to host a party at a new, raw and industrial special event warehouse space named Celebrities Underground, recently opened up underneath the iconic Celebrities Nightclub on Davie St. Of course we were only to happy to comply! Excitement ran VERY high for this event, with a strong showing of kinksters from all over Vancouver in attendance, decked to the nines. The event featured an electric dancefloor led by DJs Pandemonium, Evilyn13 and R-Lex, the incredible go-go team from Electric Obsidian, a suspension and rope play area hosted by Rascal_21, a BDSM play area hosted by the Vancouver Dungeon Monitor Team, and a brand new (and very popular!) couples play area. We're obviously eagerly looking forward to our next opportunity to bring Sin City back there for a follow-up event!
Many thanks to our resident photographer Frankie Panky for capturing the vibe of the party so perfectly in this gallery!
All photos by Frankie Panky – if you would like a high-rez digital file or a printed glossy, please visit Frankie at his Facebook Page and send him a message!
Note that you can use the left and right arrow keys on your keyboard for fast scrolling through the gallery once you are in the image pop-up display browser window!
---