April 12, 2014 – Carnival Of Kink (464 Photos)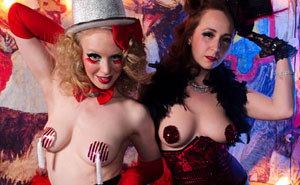 Every now and then a photo gallery from one of our events especially encapsulates the zany, colourful, perverted, all-inclusive energy that Sin City is known for … this is one of them! There's over 460 photos packed with people of every age, body type & sexual preference, having the naughty time of their lives, in an explosion of kinky colour.
All photos by Michael R. Barrick / Atratus. Set design by Isaac Terpstra / DJ Pandemonium. You can order a digital or hard copy of photos online, without watermarks, at the gallery here on Gothic BC, by clicking on the desired image and then selecting the 'buy photo' option!
Note that once you have clicked on your first image and have opened the photo browser pop-up window, you can quickly scroll through the gallery by using the left and right arrow keys!
---