340 Photos From The 2016 Sin City Military Fetish Ball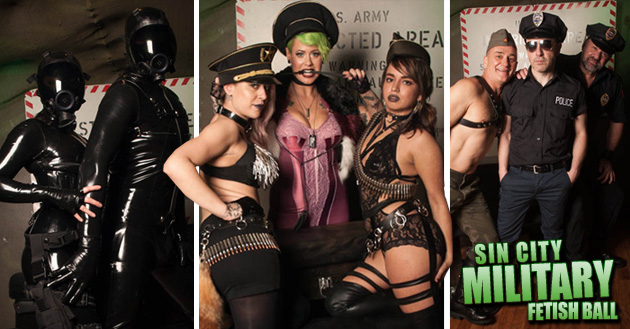 If there is one single photo gallery from one single Sin City event that we await the most eagerly all year, it is EASILY the Military Fetish Ball. This year we brought the event to the incredible Club 560 downtown, making it the only regular fetish event outside of Vancouver Fetish Weekend to grow big enough to fill it up. This gallery highlights everything we love about our Sin City community, and really highlights the incredible diversity of fun-loving sexual creatures which inhabit each and every event. Straight, gay and everyone in between, younger, older, every body type, shy, outgoing, rubber, vintage, uniform, single, couple, groups, absolutely everyone is represented here, shedding their inhibitions and bringing their energy to the celebration of kink.
A huge thank you to Deadly Photography for hosting the photo booth, our roving photographer from Dark Edge Media, our incredible DJs Pandemonium, R-Lex, Evilyn13 and special guest KC Killjoy all the way from the mighty Florida fetish scene, as well as all our volunteers and staff who spend hours before and after every party getting every detail perfect for maximum enjoyment by all our attendees!
Sin City is proudly presented by Restricted Entertainment, who are also the producers of Vancouver Fetish Weekend, Spank, Madhaus, and many other quality kink and alternative scene community events, for almost 20 years!
---