179 Photos From The 2014 Military Fetish Ball (Hummer)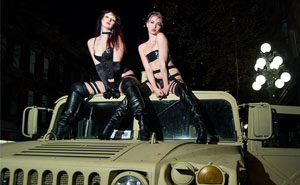 When you park a Hummer in front of a packed fetish party for people to take photos on, it gets kinda crazy. But that's how we roll at Sin City – always upping the ante for our Sinner attendees and keeping things a little different and a LOT sexy!
All photos by Patrick Parenteau/ DVPix International, and copyright by Restricted Entertainment, Sin City Fetish Night and DVPix. Note that you can use the left and right arrow keys on your keyboard for fast scrolling through the gallery once you are in the image pop-up display browser window!
---