Oct 27 – Sin City Fetish Halloween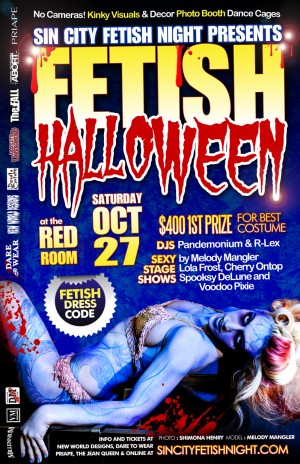 Halloween is going to be here before you know it! And holy smokes, do we ever have yet another massive event full of sexy spooky surprises brewing. Sin City is always ground zero for fetish partying on the Halloween weekend and is possibly the absolute top don't-miss marquee event out of the entire year.
$25 cover
398 Richards St.
Doors 8 PM for advance ticketholders
9 PM for general admission
8 PM – 3 AM
Sin City Fetish Halloween is now 100% SOLD OUT OF ADVANCE TICKETS.
There are no more advance tickets available ANYWHERE in the city, save for possibly being lucky enough to connect with someone who already bought tickets but has a change of plans (for some unthinkable reason!).
THANK YOU to all our Sinners for the unparalleled level of enthusiasm for this event!
For those people who didn't get tickets in time, good news, THE VENUE WILL BE RELEASING UP TO 100 MORE TICKETS over the course of the night at the door on the day of the party.
This is entirely at the venue's discretion & capacity permitting, strictly first come, first serve, no holds. This is one of THE hottest parties in the city of the Halloween weekend, and make no mistake, there will be some serious line waits for naughty Sinners who didn't secure an advance ticket and are hoping to get in at the door – but we can absolutely promise you, it will be worth it! Luckily even the lineup at Sin City is fun, packed full of creative, kinky people ready to cut loose
---
MAIN ROOM FETISH HALLOWEEN PARTYING INCL. STAGE SHOWS & PLAY DUNGEON = QUITE SIMPLY THE WILDEST PARTY IN VANCOUVER!
IT'S COMING ONCE AGAIN, EVEN BIGGER AND BADDER THAN EVER!
Fetish Halloween this year will be held at The Red Room, home for many of our bigger Sin City events, and boasting one of the best stages for stage dancing and stage shows!
YOU DO NOT WANT TO MISS THIS PARTY!
ENTRY CONDITIONAL ON FETISH DRESS CODE COMPLIANCE
NO CHEESY NON-KINKY HALLOWEEN COSTUMES PLEASE!
STRICT FETISH DRESS CODE. NO EFFORT= NO ENTRY!
Please take a moment to read the full dress code if you have not been to a fetish event before!
PERSONAL CAMERAS & CELL PHONES NOT PERMITTED! OFFICIAL RESTRICTED PHOTO & VIDEOGRAPHERS ON SITE
Please respect your fellow partiers' anonymity and personal space! If you want a photo, we have themed photo booths and our official staff photographers and videographers on site capturing the party in full swing, whose footage we review thoroughly before releasing! If you do not wish to appear in any of the photos or videos from the night, please simply advise the photographers upon arrival, and steer clear of the photo booth! As always, active play scenes & the dungeon are off limits to the photographers, except under direct supervision from our dungeon monitors, and with the explicit consent of all parties involved.
NUCLEAR ALTERNATIVE DANCEFLOOR WITH DEMONIC DJS PANDEMONIUM, R-LEX & EVILYN13
Dropping a downright dirty mix of retro & 80's, industrial, rock, electro & dance music galore!
FETISH VENDORS
PHOTO BOOTH BY GOTHIC BC
HALLOWEEN FETISH VISUALS
PLAY DUNGEON hosted by VANCOUVER DM TEAM
While you're not ripping it up on the dancefloor or breaking your neck trying to take in the sea of eye candy, spend some time at the vendors and pick up a toy for later, get your sexy self immortalized in our themed photo booth, or indulge the exhibitionist or voyeur in you in the dungeon!
FETISH & BURLESQUE STAGE SHOWS BY
Lola Frost
Cherry OnTop
Spooksy DeLune
Melody Mangler
Voodoo Pixie
OVER-THE TOP HALLOWEEN DECORATIONS. THEME : HAUNTED CASTLE
$400 CASH 1st PRIZE
$1000+ IN CASH & PRIZES TO BE WON
This is hands down the sexiest costume contest in the city, judged by you, the pervy people!
COSTUME CONTEST OPEN TO KINKY & FETISH-RELATED COSTUMES ONLY!
Though full costumes are acceptable for this event, please remember it is first and foremost a FETISH event, so we highly urge all attendees to keep their costumes fetish or kinky in some way wherever possible!
---