OCT 28 – FREAKY CIRCUS – SANCTUARY HALLOWEEN AT CELEBRITIES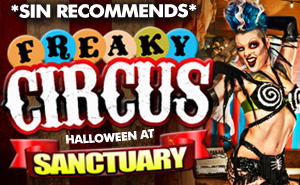 This is not directly a Sin City event, but it is produced by Restricted Entertainment, the folks behind Sin City, and features many of the same promoters, DJs, attendees and general fun-loving, ultra-creative, super-freaky crowd! If you are looking for a party on Sunday night of the Halloween weekend, this is DEFINITELY the place to be!
RSVP at the Facebook Event Listing!
There is no fetish dress code and cameras are absolutely allowed at this event!
Sanctuary is Sin City's sister night, is an ultra comfortable event for Sinners, and moreover, Celebrities is the city's top crossover mixed gay / straight bar, openly accepting and encouraging of the pansexual community of all orientations!
Click here to check out the party in action in the promo video from 2011 – this year's promo video coming out within the week!
Tickets only $12 advance, $15 day of!
BUY TICKETS
Tickets also available at :
Priape (1148 Davie St, 604.630.2330)
New World Designs (306 Cordova Street West, 604.687.3443)
The Jean Queen (2277 Commercial Drive, 604.215.7833)
---
SOMETHING WICKED THIS WAY COMES XIII
SANCTUARY'S LEGENDARY THIRTEENTH ANNUAL
HALLOWEEN EXTRAVAGANZA!
SUNDAY OCTOBER 28 AT CELEBRITIES NIGHTCLUB
1022 Davie / 19+ / 9pm-2am+
Vancouver's mightiest and longest-running alternative night celebrates the THIRTEEN YEAR ANNIVERSARY of it's massive Halloween celebration, Something Wicked This Way Comes, with a return to one of its previous and most beloved resident venues, the gloriously decadent CELEBRITIES NIGHTCLUB, for one night only!
Check out photos from last year's party here.
Or, 2010's insane event photos here.
---
INSANE HALLOWEEN DECORATIONS. THEME : FREAKY CIRCUS !
Extra bonus points for matching your Halloween costume to the decoration theme, but though themed or Halloween costumes are highly encouraged, they are not required! Anyone is welcome to come and soak it all in, plainclothes or no!
---
ALL ALTERNATIVE DANCEFLOOR WITH ONLY THE BEST :
Alt-club-muzik / Electro / Industrial / New Wave / 80's / 90's / 00's
DEMONIC DJs :
PANDEMONIUM
R-LEX
CONTRASOMA
---
OVER $500+ IN CASH & PRIZES FOR BEST COSTUMES
Come as sexy, scary, creepy, classy, trashy, dressed up or dressed down as you wish and join the party! Tons of prizes to be won!
DRESS TO IMPRESS AND PARTY LIKE HELL!
'Cuz we are filming the party in all its glory once again for another Sanctuary party video!!