Sept 14 – Sin City Fetish Night – Debut Party at Imperial Vancouver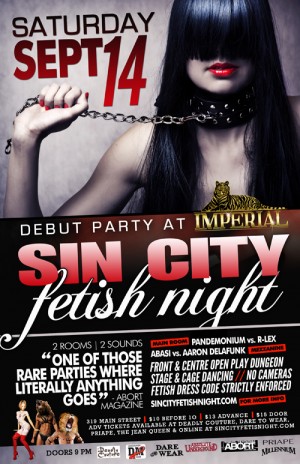 Where : Imperial Vancouver / 319 Main Street
Map provided at the end of this event listing!
Doors 9 / $10 early bird before 10 PM
$13 advance / $15 door
Tickets available at Priape, Deadly Couture, The Jean Queen & Dare To Wear
BUY TICKETS ONLINE
Click GOING at the event listings :
ABOUT IMPERIAL VANCOUVER
The Imperial is a 6,000 square foot stylish, state-of-the-art private event and multimedia facility located in the city's urban core. It is Vancouver's hidden gem. Carefully transformed from its abandoned Asian movie house state to its contemporary revitalized form, the Imperial offers an exciting and unparalleled event experience. With a recently updated world class audio and lighting package as well as a flexible floor plan, it is a perfect fit to combine with Sin City Fetish Night and create an unparalleled decadent atmosphere for the Sinners of the city. Visit their website here, or check out the :
VENUE PHOTO WALKTHROUGH
▄▄▄▄▄▄▄▄▄▄▄▄▄▄▄▄▄▄▄▄▄▄▄▄▄▄▄▄▄▄▄▄▄▄▄▄▄▄▄▄▄▄▄▄▄▄▄▄▄▄▄▄
Fetish Dress Code strictly enforced!
2 rooms of dancing with DJs Pandemonium, R-Lex, Abasi & Aaron DeLa Funk
Naughty dance cages & dirty stage dancing action
Main room Front & Center play dungeon hosted by Vancouver DM Team
Fetish decorations / visuals / vendors
Complimentary fetish glamour photo booth
50/50 charity draw in support of PACE
No cameras / no minors / adults only!
▄▄▄▄▄▄▄▄▄▄▄▄▄▄▄▄▄▄▄▄▄▄▄▄▄▄▄▄▄▄▄▄▄▄▄▄▄▄▄▄▄▄▄▄▄▄▄▄▄▄▄▄
STRICT FETISH DRESS CODE
All Sin City events have a strict fetish dress code in effect at all times. Check out the full details on our website here.
ANY sexy fetish outfit of ANY kind will fit in perfectly resulting in an ultra naughty atmosphere. Keep 'em creative, but above all, please remember to KEEP 'EM KINKY!
✘ NO UNAUTHORIZED CAMERAS / CELL PHONE CAMERAS / DIGICAMS
As always, Sin maintains a strict no cameras policy, preserving the atmosphere of mutual respect and safety! You can go as crazy and kinky with your outfits as your imagination will let you, and what happens at Sin City … stays at Sin City!
For those exhibitionists who want to show off their outfits or awesome selves for posterity, feel free to visit the photo booth and get a photo taken for the official web gallery or have a photo printed out on the spot!
TWO ROOMS – TWO SOUNDS!
Main room : DJs Pandemonium vs. DJ R-Lex, delivering a lethal injection of electro / 80's / pop / industrial / rock!
Mezzanine : DJs Abasi vs. Aaron DeLa Funk, dropping that dirty electro & house to get your grind on!
NAUGHTY FLIXX & KINKY CULT VISUALS
50/50 FETISH FUNDRAISER DRAW IN SUPPORT OF INTERSECTIONS MEDIA OPPORTUNITIES FOR YOUTH
At this party, Sin City's original 50/50 fetish fundraiser draw will be in support of Intersections Media Opportunities For Youth, which is a non-profit society which offers a variety of skills development programs for at-risk youth in the lower mainland who face multiple barriers to employment. 
They provide project-based workshops which focus on film, video and visual arts as a means of teaching fundamental life and employment skills. Intersections' mandate is to help transition at-risk youth into continued education and/or sustainable employment, while reinforcing healthy life-style choices and positive life skills. Learn more about this worthy charity and their efforts at their website : www.intersectionsmedia.com/.
---
MAP :