AUGUST 24 – TRIPLE KINK AT THE WALDORF!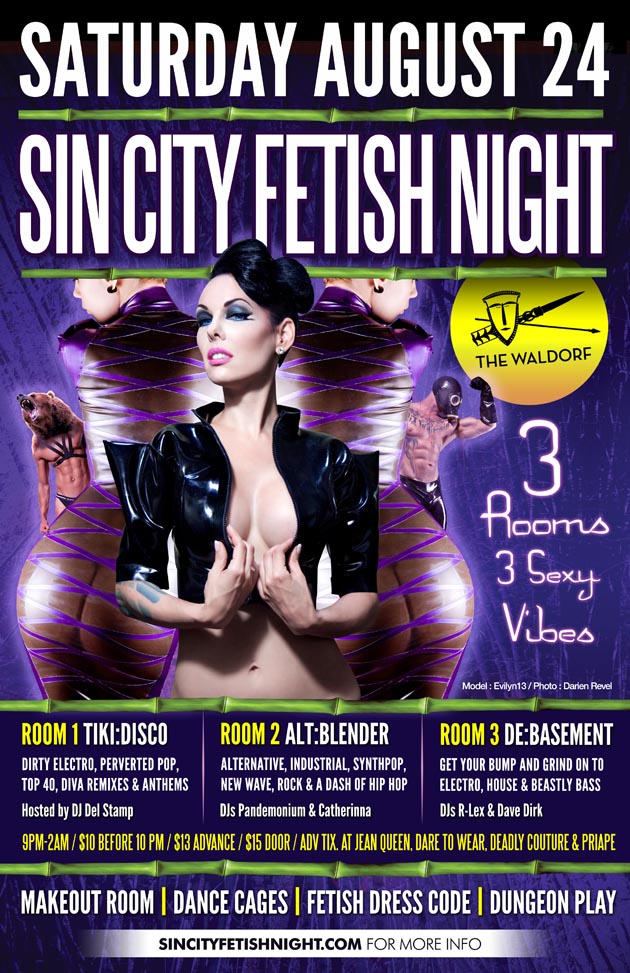 Advance tickets (which let you skip the line!) are available at :
Dare To Wear / Priape / Deadly Couture / The Jean Queen, or you can …
BUY TICKETS ONLINE
The Waldorf is located at 1489 East Hastings and has a large parking lot directly next to the venue. You can find more information about the venue by visiting their website here – we've also posted a map at the end of this event listing. Note that you can book a hotel room upstairs to continue the kinky party action after the club portion of the evening closes down at 2 AM. Also make sure to check out and say hi at the mirror event listings on :
FACEBOOK
FETLIFE
Looking for help on where to source out your ultra sexy fetish outfit? We have a huge resource right here on the Sin City website complete with local shop suggestions, reviews, store details and photo galleries!
LOCAL SHOPPING GUIDE
---
Sin City Fetish Night's travelling Kinky Carnival invades THE WALDORF once again – a venue utterly perfect for pervy partying with its multiple rooms to explore and quirky makeout nooks and crannies! The Waldorf is the oldest surviving original Tiki bar in the WORLD and we're 100% completely taking it over for the night. We'll be staging something that the fetish scene has only seen once before in the last decade – a massive fetish party with not one, not two, but THREE separate rooms of DJs, dancing & debauchery … while still keeping the most affordable cover charges of any fetish club event in the city! The last time we set the party up this way there were almost 500 people in attendance, so don't delay on snagging tickets!
---
★ THREE ROOMS OF DJs & DANCING!
3 rooms / 3 vibes / 5 DJs / Vancouver's Biggest Monthly Fetish Club Party!
★ ROOM 1
– DISCO:TIKI in the Tahitian Lounge
– Perverted Pop / Top 40 / Diva / Electro Disco Remixes & Anthems
– DJ Del Stamp
★ ROOM 2
– ALT:BLENDER in the Polynesian Cabaret Room
– Alternative, Industrial, Synthpop, Electro-Swing & New Wave
– (Plus a cherry topping of Mashups, Hip Hop & Rock!)
– DJs Pandemonium & Catherinna
★ ROOM 3
– DE:BASEMENT in the Menehune Hideaway
– Dirty Filthy Electronic Dance Music
– DJs R-Lex & Dave Dirk
---
★ "BUT I HEARD THE WALDORF CLOSED?"
Nope! The leaseholder on the Waldorf has recently changed with the previous company running the bar & club portion of the venue moving on, but the venue is otherwise still owned by the same owner as the last 40 years and it is available for booking. The venue no longer has any in-house sound, DJ or event production gear, which means we will be setting this event up from top to bottom FROM SCRATCH, but frankly that's just the way we like it since it means we can dial it out PERFECT for our brand of kinky partying!
---
★ STRICT FETISH DRESS CODE!
In order to gain entry all outfits must be kinky in some way! Sass or sex it up, we want to see the fetishy freak in you – take the opportunity to show yourself off! Full dress code info available here on the Sin City website : http://sincityfetishnight.com/house-rules/fetish-dress-code/
★ DUNGEON PLAY GEAR IN EVERY ROOM!
Hot and kinky dungeon play is a central part of any Sin City party, and rather than having one centralized dungeon area away from the action & energy of our three rooms of partying, we're once again setting up play stations throughout the party in every single room! No matter where you're partying at any given moment, you'll have both a dancefloor and bondage gear options to get your kink on. Keep an eye out for all the Sin City dungeon pieces as you explore the party, including :
– Double St. Andrews Cross
– Prayer Bench
– Flogging Sawhorse
– Suspension Frame (Courtesy Of Rascal)
★ DIRTY MAKE-OUT BOOTH!
Look for the little room with the red lights and the 'Dirty Makeout Booth' sign. The rules are simple here – wanna make out? Want to get to first base with a stranger? Step inside and take your pick from anyone else who steps in as well. Get verbal acceptance first "Wanna make out?" "OK!" … where it goes from there is up to you!
★ NO UNAUTHORIZED CAMERAS!
As always, Sin maintains a strict no unauthorized cameras policy, preserving the atmosphere of mutual respect and safety! We do have our own in-house photographers who are available for glamour shots, capturing the most fabulous outfits and energy of the party, but only with permission from willing subjects! You can go as crazy and kinky with your outfits as your imagination will let you, because if you want : what happens at Sin City … stays at Sin City!
★ 50/50 DRAW – HALF THE POT TO THE WINNER, HALF TO CHARITY!
Plus any donation $10 or over receives a free spanking from our ultra sexy fund raiser flogger girls or boys, from a tickle to a beating, just how you like it. Give a little, get a little!
★ HOTEL ROOM OPTION!
We're not gonna lie, the Waldorf is not the ritziest hotel in the world, in fact it's kinda skeezy, but you know what, that's EXACTLY how we like it. You KNOW you won't be done partying at 2 AM when the nightclub portion of the hotel shuts down — why not book a hotel room and take the party upstairs? Screw catching a cab and paying for coat check … book a night at the Waldorf hotel, pre-party in-house and just walk downstairs when you're ready. You can even stock up at the cold beer & wine store until 11! Rooms rent for approximately $70 per night. Book your room through the Waldorf website here!
---
★ $10 EARLY BIRD BEFORE 10 PM
★ $13 ADVANCE / $15 AT DOOR
★ EARLY ARRIVAL / ADVANCE TICKETS HIGHLY RECOMMENDED
People have been asking us for this option for a long time, so we're trying out a new feature for attendees by offering the option to purchase ADVANCE TICKETS to the party. Advance ticket holders get priority entry over at-the-door entrants. Spend more time actually in the club partying once you arrive by skipping the lineup at the door!
Advance tickets available at :
– Deadly Couture
– Dare To Wear
– Priape
– The Jean Queen
★ CAPACITY CROWD EXPECTED — PLS. SHOW UP EARLY!
We HIGHLY encourage people to show up earlier rather than later in order to minimize any line waits which may occur at peak arrival times!!
---
MAP :