Reminder : Costumes that are not fetish or kink themed will not pass dress code!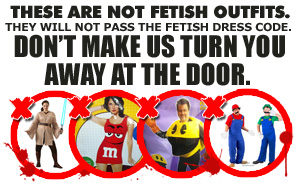 It's the last week before Halloween, when people are going crazy putting together outfits and costumes and we'd like to remind you of some details for Sin City Fetish Halloween!
Just being in a costume DOES NOT AUTOMATICALLY EQUAL being in fetish attire!
Costumes that are non-kinky in any way will not pass the fetish dress code.
---
Sin City Fetish Halloween is absolutely a Halloween party, but it is a FETISH FIRST Halloween party with a FETISH dress code. This is one of the most important things that makes it unique! ALL Sin City Fetish Night events enforce the fetish dress code, without exception, regardless of theme.
Whatever your costume or outfit idea is, it can be presented in a totally non-kinky way, or you can perv it up a little. Sin City is the home of kinky partying and the fetish dress code is one of the most important things that makes it the awesome party that it is. It is where you can wear outfits that would be a little too much for a mainstream club or event … AND EVERYONE ELSE IS TOO!
Don't even TRY the 'but Pac Man is my fetish!' line at the door.
If that's the case, but your outfit is totally not fetish whatsoever, well, there are literally dozens of clubs you can go to other than Sin City and indulge your Pac Man fetish and outfit, where you would fit right in with the mainstream crowd and have no problems.
DON'T MAKE US TURN YOU AWAY AT THE DOOR!
If you are unsure of the dress code, please check out the full dress code listing here on the Sin City site.
---
FIRST-TIME ATTENDEES TAKE NOTE!
Rather than having an awesome costume which is really 'Halloweeny' but not really fetish, which will get you denied entry at the door, you will have more fun and a MUCH better time putting together an outfit which is more about fetish even if it is less about Halloween! If this is your first time coming to Sin City, why not get together an outfit which will be awesome for all future fetish parties to come, not just Halloween?
---
To give you some examples – these are always very popular outfits which will absolutely NOT pass dress code at Sin City and will not be permitted entry :
a goddam banana
plain ol' Mario & Luigi
baggy clown suit
Hogwart's Academy full robe outfit / Harry Potter
Dr. Who
plain cocktail dress / plain rockabilly dress
you get the idea …
We cannot stress it enough, all outfits must be kinky / fetish / pervy / sexy! If you can present the above types of outfits in a naughty way, by all means, come right in, but no kink = no entry!
Outfits which are much more appropriate, and which will make you the belle of the ball :
dominatrix
fetish slave
lingerie angels / corsets
fetish nurse / naughty doctor
fetish demon / devil
sex kitten / full furry
naughty flapper
genderfuck / cross dress / drag (NO half assing it, folks!)
rubber / leather / PVC / latex ….