Sin City XXX-Mas Gallery (2022)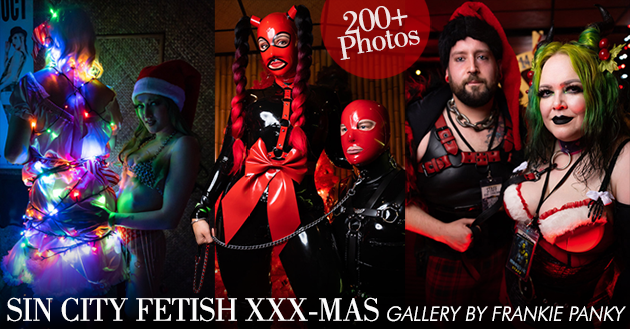 Merry Fetish Christmas! Please enjoy the gift of these party highlight photos from our last event of December 2022! The vibe was absolutely spectacular at this event, with the dancefloor and kink playroom being packed from start to finish, and a truly joyous kink family atmosphere pervading every nook and cranny of The Waldorf, our venue for the evening! This gallery in particular really showcases what a wonderfully diverse crowd we have at Sin City parties, with all sorts of body shapes and sizes, skin colours, age groups, gender identities and preferences represented. We love all our Sin family and are beyond thankful for the ongoing support as we look back on this last party of the year, capping off 21 continuous years of community events through thick and thin.
Big shoutout to our DJs Evilyn13, R-Lex and Pandemonium, for keeping the beats flowing all night, to our go go dancers Lylia Chorosive and Saipha Orion, for being a handful in all the best ways bringing the devilish Krampus energy, to Switch Kitchen, Elena Suicide, Mr. & Mrs. HeSpanksHer, Mistress Mercedes, and our consent queen team headed up by Kare Bear, for keeping the play safe and sane all night, and of course to all our attendees, who brought out a huge range of all kinds of different kinky Christmas and festive fetish looks!
When sharing photos, please remember to @ tag or # hashtag SinCityFetishNight on Instagram so we can re-share and highlight any photos you post! Plus, tagging the event gives credit back to the hard working organizers and photographers that helped make these moments possible for everyone to enjoy!
All photos by Frankie Panky! To see more of his work, visit his Facebook Page –> HERE
Pro Tip – once you have clicked on a photo, and are in the pop-up view window, you can use the left and right arrow keys to scroll through the gallery!
---