July 8 | SPANKBANK – Kinky Warehouse Party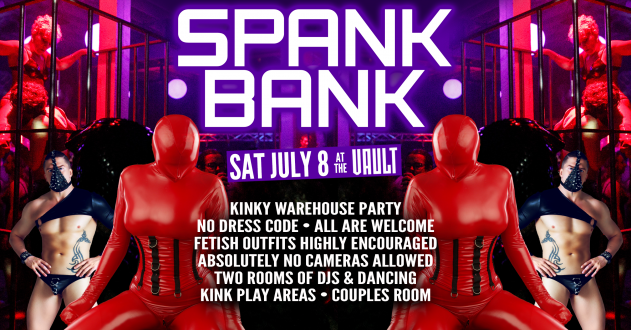 When : Saturday July 8, 10pm-4am+
Where : The Vault, 247 East 1st Ave
Tickets : $25-40 + s/c
GET TICKETS / RSVP FACEBOOK / RSVP FETLIFE
Restricted Entertainment and Sin City Fetish Night invite you to come deposit yourself into the SPANKBANK for a night! It's the closest thing to kinky partying in Berlin that you'll find in Vancouver (trust us, we were just there!) … and it's in an underground multi-room special event space which used to be an actual BANK! To access some of the rooms you'll literally have to go through the vault doors!
We haven't done a proper kinky warehouse party in ages and we are going all out! Note that the rules for this event are a little different than our regular parties so please read the following carefully …. and start getting excited! Please invite your open-minded and fun-loving friends!
• 19+ w/ ID (duh, obvs)
• No dress code! Dress however you wish BUT ….
• Sexy / fetish / kink / rave / cyber / goth wear HIGHLY encouraged!
• Only come in plainclothes if you absolutely can't find a single fun & sexy thing to add to your outfit!
• Coat check available, yes, you can change inside
• Absolutely no taking of photos inside, except for staff photographer
• Multiple rooms to explore, wild & intimate spaces for everyone!
• Two rooms of DJs & dancing!
• Sexy aerial hoop performances!
• Main SOP & kink playroom is couples or trios only, no singles permitted
• You are responsible for the safety of yourself and your play partners at all times! So play safe!
• SOP permitted anywhere that does not disturb others!
• Consent Queen Team on site and present in all rooms, actively but discreetly observing and engaging where needed to help curate a safe, sane and consensual vibe for all our wonderful attendees ❤
The SPANKBANK is a pan-sexual multi-area fetish-encouraged party where anything goes and all are welcome! Expect a big mix of gay, straight, trans, cis, bi, bi-curious, queer, cross-dress, drag, femme, masc, non-binary, younger, older, and all kinds of wonderful human creatures of all sizes and colours vibing together! We do not tolerate discrimination or poor party behaviour of any kind, so do not under any circumstances come if you are not prepared to enter with an open and accepting heart and mind!
Juicy Funktion One sound system in the main room to pound the beats deep into your body!
It's a massive coalition of music & kink lovers from all corners of the underground scenes of the city, united for one night of sweat, fun, pleasure & pain. If you want to play, we welcome you to drop your inhibitions and come get freaky with us in the expansive SPANKBANK pervy playground!
---
TWO ROOMS OF ELECTRO-SEXUAL MUSIC VIBES CURATED BY :
• DEL STAMP
• PANDEMONIUM
• TRIIKSTR
• EVILYN13
• R-LEX
• DEADHEAD
+ Sp. guest JOE VIRUS (From The Church, Dallas, Texas!!)
Main Room – House, Tech House, EDM, Bass House, Nu-Disco
Second Room – Dark Electro, EBM, Synthpop, Industrial, Techno
SEXY AERIAL HOOP SHOWS BY :
• FELIX VOLATILE
• MARLEY SKYE
• SARA TONIN
---
COMMUNITY SUPPORT
Spread the word, invite friends, share this event, and BRACE YOURSELVES SISTERS & BROTHERS, because this party is set to destroy your inhibitions, feet, hearts and minds, all in the best way possible!
---
LOVE DANCING TO ELECTRONIC MUSIC AT UNIQUE UNDERGROUND SPACES? THIS EVENT IS -DEFINITELY- FOR YOU!!!
Even before getting into all the kinky extras involved in this event, the main area all by itself is a sweaty all-electronic dance-a-thon featuring a dream lineup of Vancouver's hottest underground electronic DJs from a big cross section of Vancouver's most unique events.
NEVER BEEN TO A FETISH NIGHT BEFORE?
This party is PERFECT for first timers or for regulars to being friends who have been interested but haven't yet made the plunge. Vancouver Fetish Weekend is coming up fast, and this will be a great warm-up and introduction!
REGULAR AT FETISH EVENTS?
The SPANKBANK brings a whole new vibe and crazy party atmosphere that you will love. The couples-only SOP kink play room takes the naughtiness to a whole new level!
---
A FEW WORDS ABOUT KINK PLAY & CONSENT …
The ENTIRE event is a kink-positive space so feel free to get your kink on with a willing partner wherever the mood takes you. No judgments, no barriers, just fun. BUT there are a few guidelines to keep in mind!
Rule #1 : Absolutely NO UNINVITED INAPPROPRIATE TOUCHING. Look, but don't touch!
Rule #2 : Missed it the first time? ABSOLUTELY NO UNINVITED TOUCHING. Creeps will get kicked the F out!!
Rule #3 : Clean up before and after yourself when playing, and in general!
Rule #4 : Do not interrupt (vocally or otherwise) or invade the space of anyone engaged in kink play. Or for any reason anytime really, unless you have been given permission.
Feel free to ask anyone anything, but be respectful, and make sure to give or take NO as an answer gracefully.
Rule #5 : No means no! If someone tells you NO, hear it, and move on. Kink = consent!
Rule #6 : Only a yes is yes!
Rule #7 : Do not argue with any venue staff, their decisions are final.
If anyone is crossing a line or not being respectful, please bring it up immediately with staff security, who are there to help keep everyone safe and the vibe right!
---
THIS PARTY IS FOR EVERYONE WHO LIKES IT WILD, NAUGHTY, AND A LITTLE BIT CRAZY!
COME ON OUT and be part of a crossover mindfuck of a party where we escalate and redefine what is possible at electronic dance parties and kink events alike. This party is PERFECT for first timers or for regulars to bring friends who have been interested but haven't yet made the plunge.
---
SUGGESTED & ENCOURAGED PARTY OUTFITS :
– juicy jocks / glamourous twinks
– bitchy & beautfiful diva drag queens & kings
– lipstick lesbians / butch dykes
– cross dressers of every glorious description
– new wave / 80's goth / industrial / punk / mod / new romantic
– 90's raver / electric circus / MuchMusic wannabes
– fashion plates / thrift shoppers / couture / DIY fashion
– burner / steampunk / desert warrior / kaleidoscope kid
– art freaks & creative minds who just D.G.A.F. and want to partayyyyyy
– come as dressed down or as dressed up as you want but be prepared to START GLAMOUROUS and END TRASHY
---
SUGGESTED FETISH ATTIRE :
Harnesses, leather, rubber, perverted fetish fantasy, glitterslut, genderfuck, drag diva, ponies, puppies, fetish goth, fetish cyber, medical fetish, corsets, waist cinchers, chains, chaps, fishnets, body stockings, fancy lingerie, sexy jocks, boots, underwear …
Be sexy and dress yourself up. Make us and everyone want to worship you!
If you need more help figuring out a fetish outfit, have a look at our dress code help section –> >HERE
Or pay a visit to Deadly Couture at 1599 Venables! They have a huge selection of fetishwear for all levels of comfort. You can browse some examples online at their website –> HERE
---
SAFETY
Keep your mind and body safe – please pace any alcohol or substance intake, make sure to hydrate, take breaks, come with friends, check in with and keep an eye on each other!
Make sure you have a safe way planned to get home, whether with a friend, designated driver, Uber, or otherwise!