Masuimi Max Destroys Sin City Fetish Halloween 2014 (41 Photos)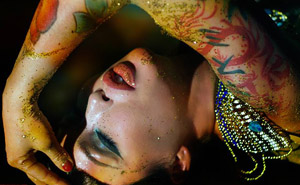 International fetish & pin-up superstar Masuimi Max contacted Sin City as her top choice of all the parties in the world where she wanted to perform and party for Halloween 2014, her favourite holiday, because she knows we go just as crazy with our shows as she does, and she absolutely adores our Sinner crowd. We decked out the venue in a huge Haunted Tombs Of The Pharoahs decoration installation, which she matched by creating a brand new and never before seen Cleopatra Goddess number, which she debuted to the world at this party, along with her showstopper Fetish Unicorn performance. Click through the gallery and you'll see why Masuimi enchants audiences wherever she goes!
All photos by Patrick Parenteau/ DVPix International, and copyright by Restricted Entertainment, Sin City Fetish Night and DVPix. Note that you can use the left and right arrow keys on your keyboard for fast scrolling through the gallery once you are in the image pop-up display browser window!
---