July 12 – Sin City Fetish Night @ Club 23 West
Join us for ROUND TWO of the massive celebration as Sin City returns to its original location – renovated and re-opened after two long years. Please note that Sin City has returned to a MONTHLY format – so it's four long weeks between one party and the next! Make sure to RSVP and don't miss a single one!
NO ADVANCE TICKETS. We anticipate hitting capacity within 90 minutes of opening, and highly suggest arriving as early as possible. The vibe will be ELECTRIC and you will want to be present for every second of it! Read on past the poster image for the full details, and the online discount pass! Or, you can always head over to one of the event listings to learn the full details!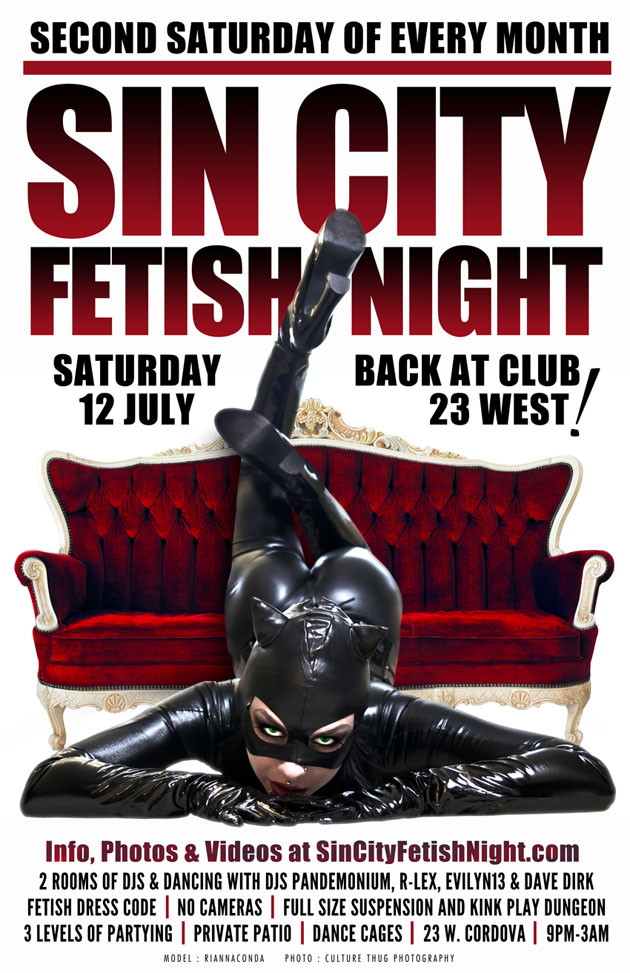 YES YOU READ THAT RIGHT!
Sin has returned HOME to Club 23 West, where it achieved legendary status after starting in May of 2001 and exploding in growth over the following decade, winning awards, breaking boundaries, changing the game and raising the bar for fetish nights all over the place.
• 2 Floors of DJs & Dancing / 4+ DJs
• Private Outdoor Patio
• Playroom
• Dungeon & Kink Play Areas Galore
• Strict Fetish Dress Code
• Custom Kink Visuals
• Immediate Rollback In Cover!
▄▄▄▄▄▄▄▄▄▄▄▄▄▄▄▄▄▄▄▄▄▄▄▄▄▄▄▄▄▄
"TELL US ALL ABOUT THE RE-OPENING PLANS & CHANGES!"
THE SKINNY :
There's been a changing of the guard and there is a new management team in place. Some of the old 23 West team are still involved, but more behind the scenes. The venue is being massively cleaned, updated and renovated, all in a way that perfectly dovetails with what Sin City does and is all about. The new crew running 23 West are very much in our extended family – they're the same folks who own The Rumpus Room, The Emerald, The Narrow, Grace Gallery, as well as having been involved in revitalizing and starting up The Biltmore, The Rickshaw and The Fox Theater. Literally the first thing they did was contact us and invite Sin City back to its old spot. We are all working hand in hand together to bring the venue back even better than ever. However – same as with Richards On Richards – the building itself has been sold to a developer and in a timeline of 2-5 years from now, the building is coming down for redevelopment, and that's all she wrote.
Treat every party like it could be the last, and party like there's no tomorrow!
WHAT'S DIFFERENT :
The upstairs area of the club and the bar in particular are being massively renovated. During daytime in the week it will actually be open as a pub, and called 'The Hindenburg,' with the entrance being from Blood Alley up the back stairs. The dancefloor and second level downstairs are curtained off and not used during daytime hours. The whole upstairs level is being decorated in the style of 40's era Berlin, vintage chic. The bar is being expanded massively to include a much huger selection of liquid offerings. The sound and lighting packages are all being upgraded. The old snack machine is gone and more entrances (including from the patio) are opening into the room where the Dungeon was housed.
Overall the venue will have even MORE nooks and crannies for us to create special little areas for cuddling, playing, socializing and dancing!
WHAT'S THE SAME :
On Fridays and Saturday nights we'll be entering from Cordova Street, and it'll still be called Club 23 West. Overall layout of the dancefloor and front area are all the same. Our dance pole, dance cages and dance stage are all there for you to get your grind on. When you come to front of the club, it will look mostly the same.
But once you come inside and head upstairs … prepare to be impressed 😉
▄▄▄▄▄▄▄▄▄▄▄▄▄▄▄▄▄▄▄▄▄▄▄▄▄▄▄▄▄▄
JUST SOME OF THE MANY PARTY OFFERINGS :
2 LEVELS / 4+ DJS / MULTIPLE VIBES & AREAS WITH DJs :
• Pandemonium
• R-Lex
• Evilyn13
• Dave Dirk
CUSTOM KINK & CULT VISUALS
UPGRADED KINK & BONDAGE PLAY EQUIPMENT
INSTALLED SUSPENSION HARD POINTS
ELECTRIC HIGH ENERGY PARTY ATMOSPHERE
SOCIAL, CUDDLE & HANG-OUT AREAS GALORE
▄▄▄▄▄▄▄▄▄▄▄▄▄▄▄▄▄▄▄▄▄▄▄▄▄▄▄▄▄▄
IMMEDIATE ROLLBACK IN COVER
Since Day One in 2001, Sin City has fought to stem the trend of escalating cover prices in the fetish scene. Rather than increasing our prices as time goes on, we're taking the opportunity to roll them back! New cover charge will be $9 before 10 PM, $14 afterwards, with $2 online discount coupons being readily available.
All our attendees should never be paying more than $9-12 cover for a normal monthly Sin event!
Sin is by far the most affordable fetish event in the city, while delivering a staggering array of kinky delights and options for pervy partiers! Even after 13 years of growth and massively escalating what kink party attendees could and should expect from each and every event, we've kept the cover to what was normally being charged by other events 15 years ago.
In short, no other kink event offers so much while charging so little! Why? Because we LOVE OUR SINNERS and want each and every one of them there at every event!
▄▄▄▄▄▄▄▄▄▄▄▄▄▄▄▄▄▄▄▄▄▄▄▄▄▄▄▄▄▄
SPREAD THE WORD! SIN CITY IS BACK AT CLUB 23 WEST … BUT JUST ONCE A MONTH, ON THE SECOND SATURDAY!
▄▄▄▄▄▄▄▄▄▄▄▄▄▄▄▄▄▄▄▄▄▄▄▄▄▄▄▄▄▄
DISCOUNT COUPON :