512 Photos From Sin City's Fetish Corset Ball (Part 1)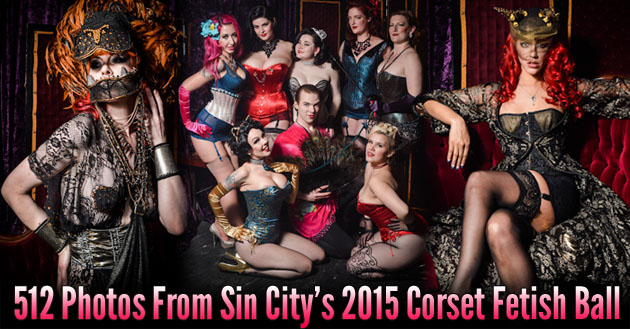 Check out all 512 photos from the glamour photo booth at Sin City's annual LA FETE CORSETE – chock full of sexy Sinners partying it up, with many, many, MANY corset-inspired creations and amazing outfits, including all the models from the incredible fetish fashion show that night with Lace Embrace Atelier and Nicole Rose Designs!

Special thanks to guest photographer Shimona Henry from Pin-Up Perfection Photography for hosting the photo booth for Sin City's 2015 Corset Fetish Ball! If you like her work, head over her website, or her Facebook Page and check out more of her work with an amazing array of local and international pin-up, fetish & horror babes. Also make sure to visit one of her pages or sites and drop her a line if you want a printed or high rez copy of one of the photos from the gallery!
FOR FAST BROWSING :
Once you have clicked on an image and are in the pop-up photo browser, you can finger-swipe left or right or use the left or right arrow keys to browse through the gallery quickly!
---