NEW YEAR'S EVE 2022 – ONLINE PARTY!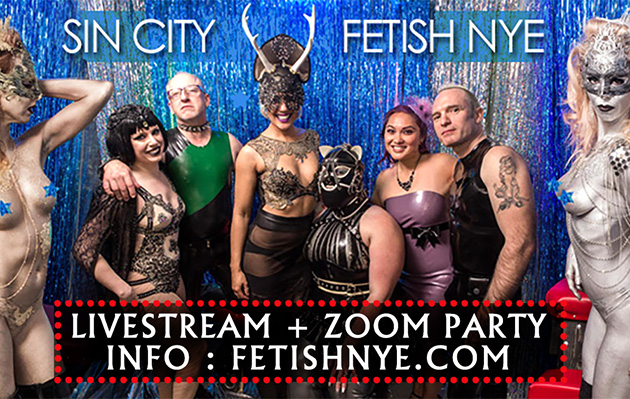 ---
When : Friday Dec 31, 9pm-4am+ (Vancouver time zone). Want to get started early? Cirque Du Boudoir starts at 6 PM Vancouver time!
Cost : Livestream Music & Chat Party : Free ~ Video Party on Zoom : By Donation
Links To Join : Links & passwords to join the various parts of the party will be sent out to the Sin City Newsletter on the day of the party, every step of the way, so you can just open up the emails, click the links and be taken to the party! Being signed up to the Newsletter is the absolute best way to stay connected to all our in person and virtual events. Please make sure you are signed up ahead of time!
Signed up but can't find the emails? Check your spam / junk / trash folders. Sometimes, depending on your email program's settings, they may end up there.
PLEASE NOTE – All tickets from the cancelled in-person party at the Imperial are being refunded in full!
---
LINK QUICK LIST
TUNE INTO THE SIN CITY DJs / TUNE INTO THE CdB DJs / JOIN THE ZOOM PARTY / GET THE ZOOM PASSWORD FROM CdB (BEFORE 11:30) / GET THE ZOOM PASSWORD FROM SIN CITY (AFTER 11:30)
---
Sending out huge love to our fetish friends and family world-wide!
Even though our previously scheduled in-person party had to be cancelled, we invite you to join us for a kinky socializer ONLINE! Whether you are at home by yourself or having a pervy mini-party with a safe amount of friends over in accordance to whatever health guidelines are in effect in your location, we are able to all connect into one larger whole for some much-needed sexy socializing through the power of online events! Whether you prefer to stay casual and join in the group chat with no cameras on yourself, or whether you would like to take the opportunity to get dressed up, show yourself off, and be able to interact with everyone in the sex-positive group video room of the party, there are options for you to take part no matter what your comfort level …. anywhere from just enjoying the music and our the antics of our DJs and party hosts, to maybe putting on a show yourself!
We are teaming up our local Sin City Fetish Night crew from Vancouver with our fetish family from Cirque De Boudoir in Montreal to create a coast-to-coast kink get-together, and we'd love to have your energy involved too! Read on for more details!
---
LIVESTREAM PARTY DETAILS (ON TWITCH / FREE / PUBLIC / NO DRESS CODE)
Tune in to the official DJ broadcast for the night – there is LOTS going on! You are free to just leave the party on as a radio station if you like, or, join in the group chat with friends from all over the world! There are no cameras on anyone except the DJs and party hosts who are broadcasting, so casual wear is total OK!
The Sin City DJs will be broadcasting starting from 9 PM Vancouver time, and running to 4 am.
Tune into the Sin City DJs : HERE
If you want to get going even earlier, the Cirque De Boudoir DJs will be starting up at 6 PM Vancouver time / 9 PM Montreal time. At approximately 11:30 PM Vancouver time, the CdB livestream will merge with the Sin City livestream, and everyone will be collected into one big gang for the midnight NYE countdown in Vancouver! From 9-11:30 Vancouver time, BOTH channels will be running – think of it like being at a club with two rooms of music where you can bounce back and forth!
Tune into the CdB DJs : HERE
Send in a thank-you tip or donation : HERE
---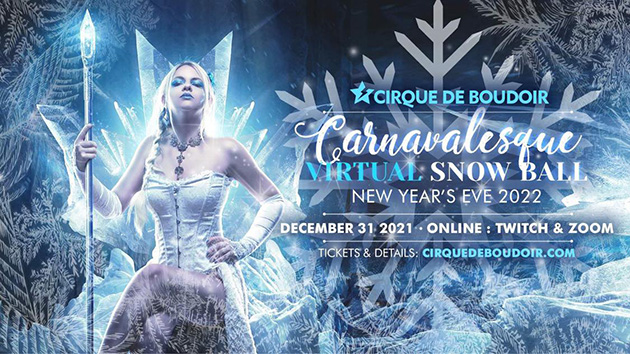 ---
VIDEO PARTY DETAILS (ON ZOOM / SEMI-PRIVATE / PASSWORD REQUIRED / FETISH WEAR MANDATORY / BY DONATION)
Get dressed up and join in the group video party! This is where the real action goes down and everyone can see each other! Microphones are off, cameras are on, there is a big text chat amongst the group, with local and international people in attendance, as well as exclusive live performances! All attendees must be changed into something sexy / risque / fetish / kinky prior to joining. There are no exceptions to this! Anyone showing up in plainclothes will be booted! We love everyone, but this is to preserve the atmosphere of comfort for everyone to fully unleash their kinky creativity and sexual self-expression! Note that a password is required to join – read on for details on how to get the password!
Join The Zoom Party : HERE
Everyone from both the Cirque De Boudoir and Sin City parties are collected into one big Zoom Room together, along with all our friends joining in from around the world!
Cirque De Boudoir is kicking things off at 6 PM Vancouver time / 9 PM Montreal time, and will be hosting until approx 11:30 Vancouver time. There are multiple too-hot-for-social-media performances happening exclusively in the Zoom Room during the CdB part of the Zoom Party! To get the password during this time, you'll need to make a donation through the CdB Eventbrite link. If you do so ahead of the party starting, an email with the link and password will be sent to you right before the party starts. If the party has already started, you can still make a donation through the link, and the link & password will be emailed to you immediately. Or, you can pop into the CdB livestream and make a tip, and get the link & password from them there! All donations go towards paying the awesome performers!
Get the Zoom password from CdB by buying a ticket / making a donation : HERE
Sin City takes over hosting the Zoom Room at 11:30 PM for the second half of the NYE party. This is more social, there are no further performances, and there is no cost to join. However the fetish dress code is still in effect and you will still need a password! The way to get the password from Sin City is simply to make sure you are signed up to the Newsletter – we'll send out the link and password at 11:15 PM Vancouver time! You can still join the Newsletter after that, and the link and password will be immediately send to you upon signing up.
You can also get the Sin City password after 11:30 PM by popping into the chat on the livestream on Twitch and asking for it there!
Sign up to the Sin City Newsletter : HERE
---
ZOOM ROOM CODE OF CONDUCT
1. YOU WILL NEED THE PASSWORD! Get the password either by making a donation to CdB, or signing up to the Sin City Newsletter!
2. FETISH DRESS CODE IN EFFECT! Anyone joining in plainclothes will be booted – this is both to really encourage people to get dressed up for the party, and to deter looky-loos!
3. NO AUDIO – TEXT CHAT ONLY. Microphones are turned off and interaction is by group text chat and it is super fun! You can chat with the group as a whole, or directly with individual people. Make sure to introduce yourself when you join!
4. CAMERAS MUST BE ON, so you can see all your friends and show your sexy selves off! The name of the game is to take the opportunity to dress up sexy / fetish / risque / scandalous in some way! No hanging out and watching with your camera off – you will be bounced!
5. NO RECORDING, NO PHOTOS. Do not bring a phone into view of your camera, even if just texting. No exceptions. Don't wreck the vibe!
6. BE RESPECTFUL – POOR BEHAVIOUR WILL NOT BE TOLERATED. Posting aggressive or disrespectful comments in the chat will get you booted, no warnings.
7. NO SOLO WANKING ON CAMERA, or you will get booted! Watching by yourself + wanking = creepy. Got a partner with you? That's a different story – by all means, if so, get as filthy as you like! Or, just move your solo-play off camera …
8. KEEP YOUR JUNK COVERED! Dress as sexy or bare as you dare, but if your g-string area is going to be on-screen, keep it covered!
9. PLAYING WITH A PARTNER TOTALLY OK! Our video parties are a sex-positive space! If you want to play with a partner on screen, full nudity and sex on camera is fine!
10. YOU MAY SEE SEXUAL ACTIVITY ON SCREEN! We trust that's OK, or you wouldn't be here LOL.
11. NO WEAPONS (E.G. KNIVES) PERMITTED ON SCREEN
12. OBEY THE MODERATORS AND PARTY HOSTS!
---
THAT'S IT! NOW LET'S GET FILTHY AND HAVE SOME FUN!
---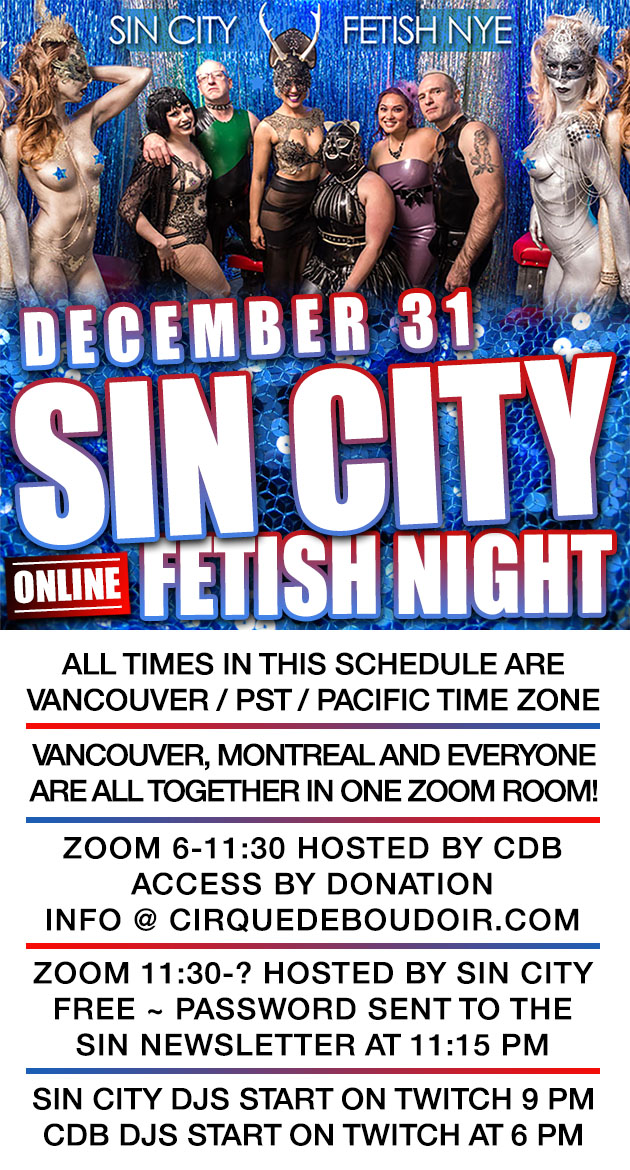 ---