Dec 31 – NYE – CANCELLED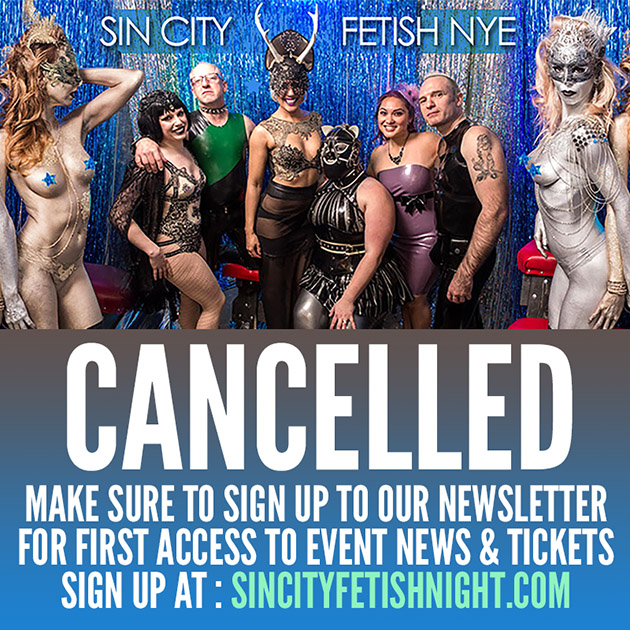 It is with great regret we have no choice but to announce that Sin City NYE, planned for Dec 31 at the Imperial, is officially canceled, due to the new and ongoing pandemic restrictions on indoor gatherings.
All tickets will be refunded in full, there is no need to write in to ask for a refund.
All tickets & refunds for this event are handled by Admit One, the official ticketing service for the Imperial. Please be patient as the ticketing office is dealing with the simultaneous cancellation of all their events across all their venues for the next month, and refunds may take up to 30 days to fully process. This process has already begun and hopefully this timeline will be shorter rather than longer.
Send any questions regarding ticket orders or refunds directly to their ticketing office at : ticketing@themrggroup.com
This current round of health restrictions is active until January 18th, and we hope to once again have events as soon as possible after this, of course keeping in mind and working with all necessary CoVid-19 requirements.
We highly encourage you to sign up directly to the Sin City Newsletter, for first access to news of upcoming events, and first access to tickets.
Sign up to the Sin City Newsletter –> here
This is of course devastating news to all of us – but the integrity and health of our community will always take priority. We are in this, together, for the long haul. That being said, every event is only made possible by a big investment of time, energy and commitment from our team, and this is beyond disappointing for our extended family of event organizers, show staff, performers and of course, our incredibly supportive attendees, whom we will all miss terribly over these holidays. This is yet another financial loss for us as a grass-roots and self-funded organization of motivated kinksters, but all we can do is make the best decisions we can with the bigger picture in mind, and look forward to when we can all get together again. Rest assured that we are always working in the background to get our public nightlife venues open once again to host ever bigger and better events for our community.
P.S. Please do not post any politicized of negative comments on any of the social media threads related to this announcement. Sin City and the fetish community is a positive space. Let's keep it that way.
Yours In Sin,
Isaac Terpstra / DJ Pandemonium
Restricted Entertainment
Sin City Fetish Night
Vancouver Fetish Weekend
---