JUNE 18 – KINK+PLAY+DANCE PARTY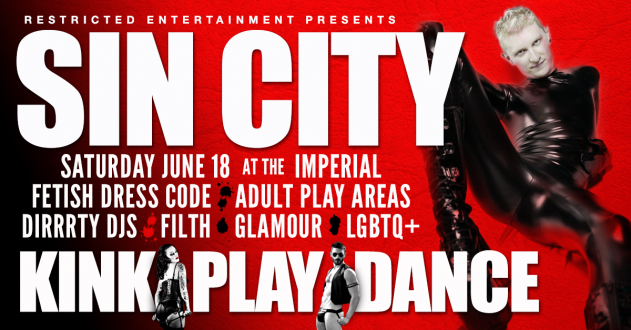 ---
When : Saturday June 18, 9pm-2am
Where : The Imperial, 319 Main St
Tickets : Starting at $20!
GET TICKETS / RSVP FACEBOOK / RSVP FETLIFE
---
Join your kinky friends for a 100% immersive pervy party vibe!
Full size debaucherous dancefloor, custom built dance cages & dance stages, full size sound system to send those dirty beats deep into your body, all sexy systems go! Fetish dress code in effect.
Kinky carnival games, BDSM play areas, bondage furniture, gorgeous renovated movie theater venue special event space, plus lots more! Sin City is Vancouver's longest-running, boundary-breaking fetish event!
Absolutely no photos allowed inside (other than our respectful staff photographer) so you can dress as wild as you dare, off the grid!
---
GAY / STRAIGHT / LGBTQ+ / DRAG / BUTCH / FEMME / CROSS-DRESSERS / LIFESTYLERS / ALL AGE GROUPS (19-65+) / ALL BODY TYPES / ALL GENDER IDENTITIES AND PREFERENCES / NEWBIES WELCOME!
---
IMPORTANT NOTES!
---
This will be the LAST full size Sin City event before Vancouver Fetish Weekend, coming at the end of July! There is one more smaller scale social event coming in mid-July, but this event is the last one at the Imperial until at least August!
The set up will be slightly different for this party – mostly in terms of where the play gear is located. Instead of being located in the upper balcony area, we will be setting up the play gear throughout the main level social & dance areas, for an intimate & integrated kink experience!
Changed plans and need to return tickets? Send any emails with ticket questions or concerns to : ticketing@admitone.com
Proudly presented by RESTRICTED ENTERTAINMENT, Vancouver's purveyor of kink, alternative & counter-culture events for over 20 years!
---
THE MEAT OF THE PARTY …
DIRTY BEATS w/ DJs
Evilyn13 | R-Lex | Guest DJ Deadhead
HOSTED BY ISAAC T
CONSENT CAPTAINS
KareBear & MJ
BDSM PLAY AREA HOSTED BY
Mistress Mercedes
SPIN OF SIN HOSTED BY
Switch Kitchen
Dangerous Goods
~ The rules are simple, spin the wheel, win 5 minutes of delicious torture! Always one of the most popular areas of the entire party!
---
FETISH DRESS CODE
---
Don't dare show up in plainclothes, plain business or plain athletic wear or you will be refused entry! No effort = no entry, no exceptions. Trust us, the effort is worth it, as a 100% full fetish party is a vibe like no other.
Don't have anything fetish? Time for a shopping trip and to treat yourself! https://www.deadlyfetish.com/ aka Deadly Couture Inc, Little Sisters and Ultra Love are all great destinations for gear!
RECOMMENDATIONS / IDEAS :
Latex / rubber / harnesses / leather / straps / chaps / bondage / full-on fetish-goth / fetish-punk / fetish-cyber / FULL fetish military or fetish uniform (not just cargos!) / fantasy or period fetish costume / furry / sex kitten / armour / chain mail / drag / cross-dress / body paint / fancy lingerie / any other risque costume your perverted little mind can dream up … but please, not 'just underwear!'
GOING TOPLESS IS TOTALLY FINE!
You can go as bar as you dare, but a g-string minimum must be kept. Keep those lower bits covered!
*STILL* HAVE DRESS CODE QUESTIONS?
Read an even more thorough write-up, or check out photo galleries from past parties –> HERE
---
RESPECT CONSENT AT ALL TIMES! NO TOUCHING!
---
Consent is mandatory at all times for men, women and all genders. Ask before you touch. Never assume you are invited into anyone's personal or physical space. If there are ANY issues please bring them up with Security immediately.
No means no. Maybe means no. Silence means no. Only a clear concise YES means yes. Consent can also be revoked at any time.
See people getting dirty? That's between them, and because they got consent with each other first!
---