JULY 21-25 – VANCOUVER FETISH WEEKEND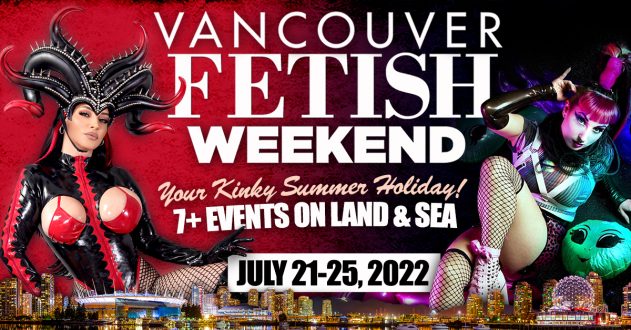 BUY TICKETS HERE
---
VFW 2022 : JULY 21-25
Vol. VIII – LUST IN SPACE
7+ EVENTS : 5 DAYS & NIGHTS
INTERNATIONAL FETISH, DRAG & BURLESQUE PERFORMERS & DJs
1000+ ATTENDEES : ONE UNFORGETTABLE WEEKEND
Meet, party, and play with hundreds of local and global fetish enthusiasts from all over the world as the international community of fetish partiers, performers, models, designers, artists and photographers descends on Vancouver at a truly world-class weekend of unforgettable fun, exotic & erotic events!
Keep scrolling for ticket, event, performer information and more!
FULL VFW WEBSITE / HOST HOTEL INFO HERE / RSVP on FACEBOOK
---
VANCOUVER :
Known as one of the most naturally beautiful cities in the world, Vancouver is also known for having an incredibly strong kinky community. Whether you're a local or a traveler, we invite you to book the time off and make Vancouver your one-week fetish holiday at the end of July! Or, make it two weeks, and stay for the massive city-wide Vancouver Gay Pride celebrations the following weekend as well, where our same production team from RESTRICTED ENTERTAINMENT is producing some huge events as well!
HISTORY :
Since it's inception ten years ago, Vancouver Fetish Weekend has seen explosive growth, now with over 500 people on the Friday theme party, over 700 people on the Saturday main event anniversary, and over 400 people on the world-famous Fetish Cruise on Sunday. The FREE social events and beach days on Thursday and Monday getting bigger and bigger every year as well, with international attendees bringing home reports every year that this is the new 'DO NOT MISS' weekend on the fetish traveler's scene. This year, the lineup of events has expanded once again, with many day-time and night-time events, all with a focus on fostering highly social environments where kinksters can feel inspired, connect, create and enjoy their friendships from around the world!
---
WEEKEND ACTIVITY OVERVIEW :
Thursday July 21 – Pre-Party
KINKY COCKTAILS MEET & GREET
Free / No Dress Code / Early ticket & weekend pass pick-up available!
Friday July 22 – Opening Night
LUST IN SPACE : SCI-FI FETISH BALL
Imperial Vancouver
319 Main St.
9PM-2AM
Saturday July 23
DAYTIME KINKSTER MEETUP & BRUNCH
Stay for a few drinks & hang out!
Saturday July 23 – The Main Event!
8 YEAR ANNIVERSARY FETISH FANTASY BALL
Harbour Event Center
750 Pacific Blvd
9PM-3AM
Sunday July 24 – Our Most In-Demand Event …
VIP FETISH CRUISE
Boards at 5PM sharp, leaves 6PM with or without you, docks 9PM
Departs from 1601 Bayshore Drive
LIMITED CAPACITY!
Available only to full weekend pass holders!
Sunday July 24 – Closing Party
GRAND FINALE BONDAGE BALL
9PM-2AM
Monday July 25 – Decompression Time!
BEACH GROUP TRIP
1-9:30PM
FREE to attend
FREE SHUTTLE for VFW Weekend Pass Holders
---
MAIN STAGE ATTRACTIONS :
Hosted by :
TBA
Headline performers :
RUBBERDOLL … (USA)
VAL VAMPYRE … (Fort Lauderdale)
NATASHA NEBULA … (Montreal)
MADAM LOLA … (Vancouver)
SEATTLE SHIBARI
& MANY MORE
Full scale fetish fashion & erotic art shows by :
TBA
Dirty DJs :
DJ Davidé … (Montreal / Cirque De Boudoir)
DJ Pandemonium … (Vancouver / Sin City Fetish Night)
Evilyn13 … (Vancouver / Sin City Fetish Night)
Xris SMack! … (New York City / STIMULATE / SMack! / Fetish Tribe)
R-Lex … (Sin City / Vancouver)
& MANY MORE TBA
Visuals by :
Bunnyguts … (Montreal / Cirque De Boudoir)
Dungeon & kinky play spaces presented by :
SIN CITY FETISH NIGHT
SWITCH KITCHEN
DANGEROUS GOODS
BLACK & BLUE DUNGEON EQUIPMENT
RASCAL _21
MISTRESS MERCEDES
Presented & produced by :
RESTRICTED ENTERTAINMENT
SIN CITY FETISH NIGHT
Sponsored by:
KINK KOLEKTIV
Join for free: https://www.KinkKolektiv.com
---
AWARDS :
"EVENT OF THE YEAR" – Vancouver Nightlife Awards
"ONE OF THOSE RARE EVENTS WHERE LITERALLY ANYTHING GOES" – Abort Magazine
"CONSISTENTLY RATED ONE OF VANCOUVER'S TOP ALTERNATIVE EVENTS" – Xtra West
"BEST PLACE TO DANCE TOPLESS" – Terminal City
"TOP 100 THINGS TO DO IN VANCOUVER BEFORE YOU DIE"
---
FETISH DRESS CODE ENFORCED AT ALL MAIN EVENTS!
The Vancouver Fetish Weekend is a place to let out your inner creativity & wild side – in an environment that is safe, sane, consensual, inspiring and exciting. It is a place to break down personal limitations, showcase and celebrate your personal sexuality, imagination and diversity. We highly encourage people to indulge in their most over-the-top outfit creations, including all the following options and more :
RUBBER / LEATHER / LATEX / PVC / BODY PAINT / FULL FETISH-GOTH, CYBER-FETISH AND FETISH COSPLAY / UNIFORM / CORSETS / LINGERIE / ARMOUR / DRAG / CROSS-DRESS / BARE AS YOU DARE (bottom bits covered though please!)
Outfits do not have to be expensive – with some creativity, low-cost but ultra sexy fetish outfits can be made from materials such as plastic wrap, or altered second hand / thrift store costumes & uniforms.
A good rule of thumb is – if you could wear it to a 'normal' vanilla club or out on the street and not attract any attention, it probably won't pass the fetish dress code and you WILL be denied entry. No effort = no entry, no exceptions!
---
STILL HAVE QUESTIONS? EMAIL US AT :
isaacterpstra@gmail.com … (VFW Producer)
---