Dec 1 – Black, White & Glow Fetish Ball!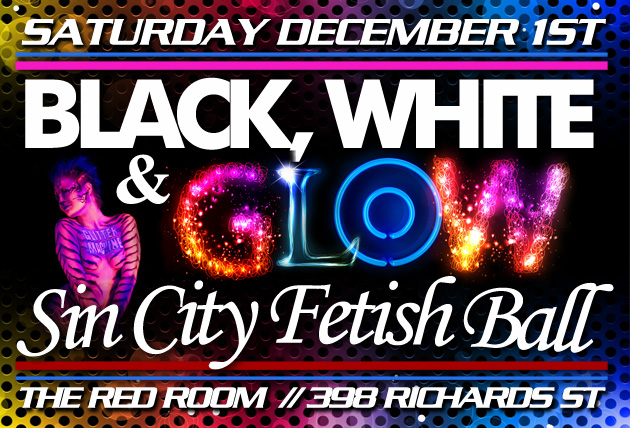 If the theme sounds simple, that's because it is : wear white and/or black, and party. That's it! But don't let the simple theme fool you, the simpleness of the theme means there a thousand ways you can interpret it and come up with costumes or outfits that look amazing and add to the party, from very simple to ultra complex! Add a white armband or scrap of fabric to your favourite fetish outfit, or go full tilt with a head to toe white fetish look.
SATURDAY DECEMBER 1 AT THE RED ROOM, 398 RICHARDS
For more information about the venue, visit the Red Room's website here.
---
NOTE THAT THE BLACK, WHITE & GLOW THEMES ARE A BONUS THEME ONLY, ALL FETISH OUTFITS OF ALL KINDS ARE PERFECTLY ACCEPTABLE FOR THIS AND ALL SIN CITY EVENTS!
We'll be flooding the Red Room with intense levels of black light, so all the amazing fetish fashions and outfits will G-L-O-W!
prizes for best outfits of the night
white / glow theme decorations
heavy levels of blacklight for maximum glow effect
black & white themed photo booth
fetish visuals & vendors
white drink specials
onsite glow ion the dark body painting
---
COSTUME & OUTFIT IDEAS :
white latex / PVC / rubber
fetish gothic lolita
nun habits
french maid / butler
white medical
skeletons / bones
undead / apparitions / ghosts
white fur / hair / wigs
white contact lenses
angel wings
white lingerie
sexy vintage & formal fetish wear
slutty white wedding gowns
white full tuxedos
white pirate shirts
white electrical tape
lab coats / gauze
white makeup
cyber-fetish
fetish raver
---
LIVE GLOW IN THE DARK BODYPAINTING BY GLITTER MACHINE
Jennifer Little from Glitter Machine will also be taking reservations for body painting spots and providing on-the-spot UV-reactive body painting services for those who want to add some GLOW to their skin! Check here for rates and more info about body painting options, and email Jen Little at Glitter Machine to book your spot here.
---
GLAMOUR PHOTO BOOTH HOSTED BY GOTHIC BC
FETISH FLOGGER FUNDRAISER 50/50 DRAW!
$5 buys you one ticket, $10 buys you three, and $20 buys you seven … when the winner is announced, they keep half the pot, with the other half going directly to charity! As an added incentive, any donation $10 or more comes with a free flogging from our fetish fundraiser boys and girls – WE spank YOU! Give a little, get a little! 😉
All charity proceeds at this event go to PACE, benefiting street level survival sex workers in Vancouver. Read more about PACE at their website.
---
SIN CITY RESIDENT DJS PANDEMONIUM & CATHERINNA w/ GUEST DJ KASEY RIOT!
Lighting up the dancefloor all night with a booty-shaking blend of electro / 80's / pop / industrial / rock! Main room dancefloor / stage & cage dancing with the Sin City DJs!
---
ADULT PLAY DUNGEON HOSTED BY VANCOUVER DUNGEON TEAM
FETISH VISUALS & VENDORS
$9 EARLY BIRD RATE BEFORE 10 PM
$10 WITH PASS / $12 WITHOUT