MILITARY FETISH BALL THANK YOU's!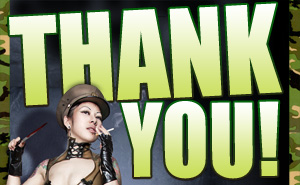 A huge and heartfelt thank you to everyone who helped make the 8th annual Sin City Military Fetish Ball a huge success! As well as being a completely over-the-top super fun kinky event attended by a sea of sexy Sinners and a great showing of Canadian Forces personnel in full dress colours, the charity drive exceeded our goals and then some!
TOGETHER WE RAISED $475 FOR A DONATION TO THE HONOUR HOUSE SOCIETY!
The Honour House Society benefits Canadian Forces personnel while receiving medical care & treatment in the Metro Vancouver area. The funds were raised through a personal donation from the Sin City staff, everyone who donated to the 50/50 draw, a Canadian Forces regular who chipped in $100 directly to the donation, and finally the winner of the 50/50 draw who donated his winnings to the charity as well. THANK YOU to everyone who helped make this happen! You can read more about the Honour House Society here.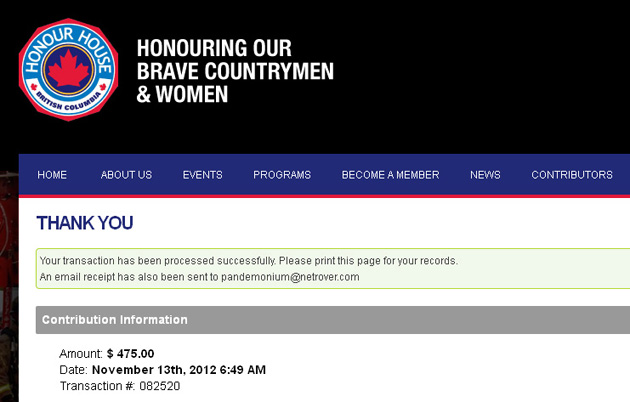 ---
Extra huge thank you's to :
Richard, Pika, Jay & Alex : For going beyond the call of duty and helping with dress code, decor set up & tear down duties.
DJs Pandemonium & R-Lex : For a HUGE evening packed with non-stop infectious songs from the beginning of the night to the end!
Tracy Cake and the 50/50 team : For spearheading one of our most successful charity drive campaigns ever!
The Electric Owl : For being such a fun home for Sin City! It's great to the staff and regulars starting to get to know each better, and starting to have favourites they look forward to seeing!
The Vancouver Dungeon Monitor Team : For once again hosting the kinkiest spot of the party!
All the crazy cage & stage dancers : We don't know what it is about the setup at the Electric Owl, but the stage always gets PACKED with ultra-naughty action! You're all just a bunch of saucy show-offs and we LOVE it!
Riannaconda : For an ultra-pervy half-time stage show which got the biggest screams of the night from the audience!
And most of all : To everyone who came out and attended. Sin City isn't just a party you attend – everyone who attends helps make the party what it is, and this was never so true as at this event! What a fantastic crowd!
NEXT EVENT : THE BLACK, WHITE & GLOW FETISH BALL DEC 1 AT THE RED ROOM.
Packed with loads of black light to make you G-L-O-W, lush white and glow in the dark decorations and live glow in the dark body painting by Glitter Machine, this event is set to take our unique atmosphere of partying to yet another level.