CYBERSEX Details – New Stage, Dezi Raider performs, Discount Coupon, Photo Contest Winner & More!

Now that the dust has settled on the absolutely over the top VANCOUVER FETISH WEEKEND, it's time to get back to our regular scheduled programming – which means it's time once again for the Vancouver fetish scene cornerstone party, SIN CITY FETISH NIGHT!
Tonight we return to our newly re-opened and renovated home venue, CLUB 23 WEST, for just our third party back! It's the first annual CYBERSEX FETISH BALL, and we couldn't be more excited! Not just because EVERY Sin City party is always an electrifying experience, but because we have an OVERLOAD of exciting new details to share and reveal for the first time ever at the party tonight!
For the general listings of the party tonight, head over here and eyeball the full event listing!
---
NEW MAIN ROOM DANCEFLOOR STAGE!
That's right, you're going to see some major changes in the main room! The wheels never stop turning behind the scenes and all this week there's been some major construction going on at the venue which we're now insanely stoked to reveal for the first time! Right where we used to put the DJ booth on the main dancefloor, there is now a full size performance stage. Not only are we relocating the infamous Sin City dance cages more front and center, we're also creating an onstage play area with our newest St. Andrew's flogging Cross, custom built by the good folks at Black & Blue Dungeon Furniture. The area is both front and center on the main stage but also semi-private – you'll have to check it out and use it tonight to see what we mean 😉
This ALSO leaves lots of space for Sinners to dance up on the stage, and it ALSO leaves plenty of VASTLY improved space for stage performances! And what better way to showcase this than with a suprise sci-fi fetish burlesque show? Which leads us directly to our next announcement!
---
SURPRISE BONUS PERFORMANCE BY DEZI RADIER ON THE MAIN STAGE!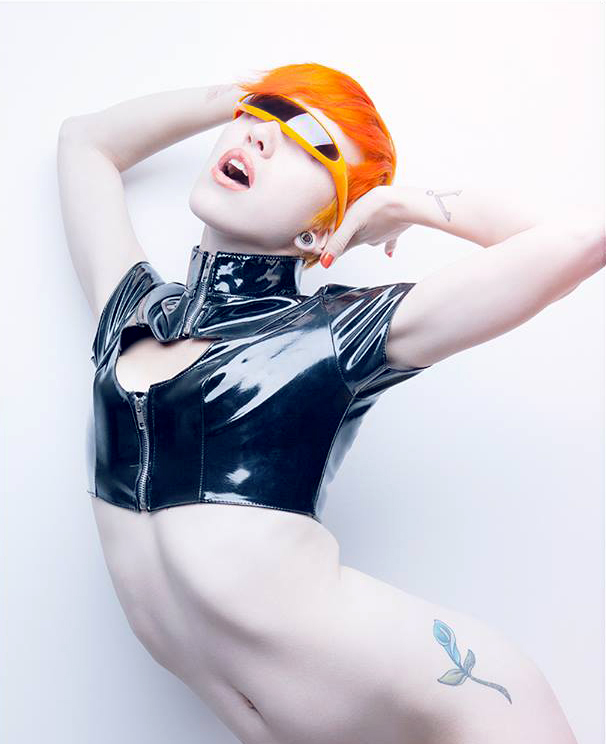 How does she do it? She's geeky, freaky, cyber, sexy, kinky and slinky all at the same time and she'll be doing an internet-stalker fetish burlesque routine on the main stage at midnight sharp. Don't miss it!
---
THE POST-A-PHOTO CONTEST WINNER IS : TESSA BEE!
Tessa Bee wins front of the line entry and complimentary cover for herself and a friend for sharing this awesome photo in the Facebook Post-A-Photo contest :
---
DISCOUNT COUPON :
Print out the following coupon and present it at the door for $2 off admission! At just $14 without a coupon or $12 with, Sin City charges the least and gives back the most of any fetish event in Vancouver!