192 Roving Photos From The 2015 Sin City Military Fetish Ball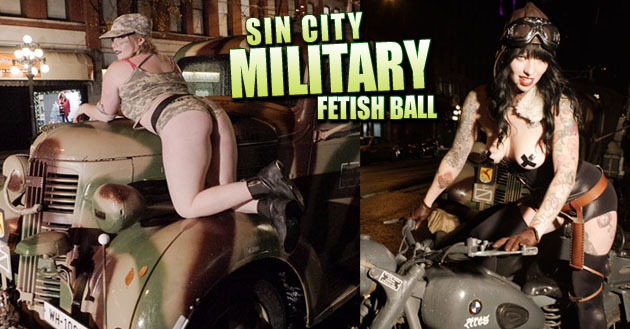 When you park a decked out military truck and motorcycle in front of a packed fetish party for people to take photos on, it gets kinda crazy. But that's how we roll at Sin City – always upping the ante for our Sinner attendees and keeping things a little different and a LOT sexy!
This might just be the single best gallery of the year from all our 2015 events – not only is it packed full of photos of our most shameless Sinners camping it up outside the club, it also captures many snapshots of the party in action, with everything from candid shots of exuberant play on the spanking benches, in our custom made dance cages, in the rope & suspension play areas, and frankly all over the club as our roving photographer Patrick finds those magic moments at -just- the right time! Now this is what kinky partying is all about!
All photos by Patrick Parenteau/ DVPix International, and copyright by Restricted Entertainment, Sin City Fetish Night and DVPix. Note that you can use the left and right arrow keys on your keyboard for fast scrolling through the gallery once you are in the image pop-up display browser window!
---