15 Year Anniversary (Roving)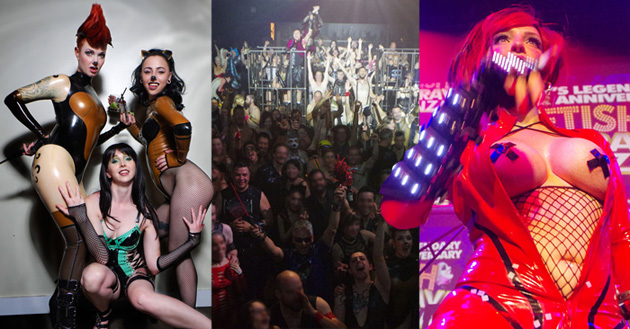 For Sin City's 15 Year Anniversary celebrations, we went all out with a huge lineup of local and international fetish performers, and transformed the elegant and already impressive Imperial Cabaret into a pervy playground, complete with kink play area installations, bondage and suspension play furniture, larger than life full size movie screen kink visuals, and a mind-melting full on laser installation from Stimulating Emissions. The stage virtually melted from the scorching performances by Little Miss Risk, Melody Mangler and international fetish superstar Rubberdoll!
Several hundred of our extended Sinner family joined us to help celebrate, for a wild and wanton night of debauchery and delicious sexual creativity. And our very own resident photography Uncle Paddy was there to capture it all, as he roved the party and sought out magic moments in front of his lens.
All photos by Patrick Parenteau.
Browse & enjoy!
Gallery browsing tips :
Desktop viewing : Note that you can click on the left and right arrow keys on your keyboard for fast scrolling through the gallery once you are in the image pop-up display browser window!
Mobile viewing : Once in the image pop-up display browser window, just tap the image or one of the arrows to cycle to the next image. You can also hold down on the image to bring up an options box, where you can easily save the full size image to your phone or iPad, instead of just a screenshot!
---