Scarlet Harlots Details, Discount Coupon, Contest Winners & more!

TONIGHT'S THE NIGHT for our annual Scarlet Harlots Fetish Ball at Sin City!
Check out the full details for the party at the event listing here on the website!
WE HAVE LOTS OF SUPER SEXY EXTRA SHENANIGANS AND SURPRISES FOR ALL OUR SINNERS TONIGHT!
In addition to some red-hot fetish burlesque stage shows tonight by guest performers Melody Mangler and Voodoo Pixie, you'll also notice some other changes to the stage! We've built a new, permanent DJ booth elsewhere on the dancefloor, which takes the DJ off the stage, leaving it 100% free for all our Sinners to show off on the stage, or in our custom built dance cages …. or take it even further!
NEW ON STAGE PLAY OPTIONS!
The new stage space will also feature shibari and rope bondage demonstrations at various points during the night from a high ceiling rigging point, and our good friends from Black & Blue Dungeon Equipment will also be furnishing some extra bondage furniture options on the stage for additional play opportunities! Play – dance – watch – learn – show off … the choice is yours!
WE WELCOME BACK SOME OLD FRIENDS TO THE DRESS CODE TEAM!
As everyone knows, Sin City has a strict fetish dress code, which is in effect at each and every party. You can find the full rules here. We welcome back to our team tonight two very dear friends, Maggie Pie and Tracy Cake. Show them some love at the door, and respect their decisions!
POST-A-PHOTO CONTEST WINNER
Our Post-A-Photo contest winner is : Christina Lacyfet! Christina wins front of the line admission and complimentary cover for herself and a friend for posting this amazing photo of Masuimi Max, who just happens to be our headline performer for Halloween! Image copyright of the original photographer / model / designer / artist, and shared for inspiration only!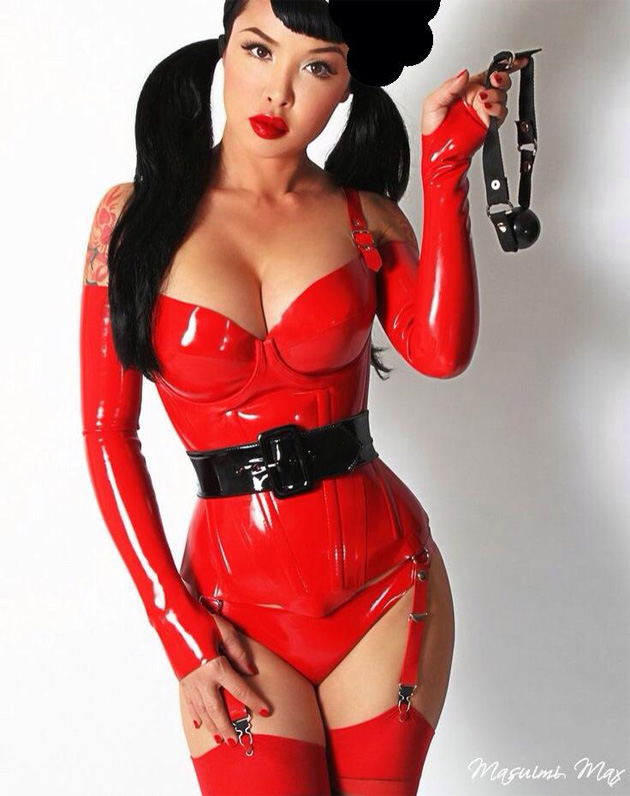 DISCOUNT COUPON
Print this out and present it at the door for $2 off cover, or, take advantage of the early bird $9 before 10 PM rate! It's going to be a busy one so early arrival is recommended!