Dec 13 – XXX-MAS FETISH BALL!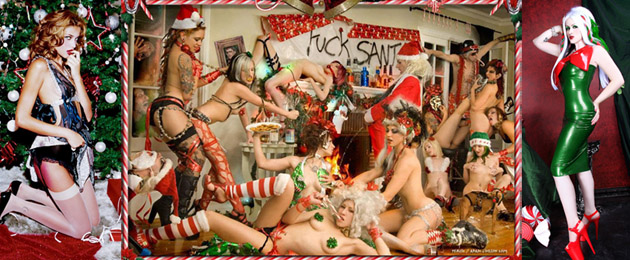 When : Saturday, December 13
Where : The Hindenburg (AKA Club 23 West), 23 West Cordova, 9PM-3AM
Cover : $9 before 10 PM, $13 after w/ pass, $15 w/out
Sin City's annual TRIPLE-X-MAS party is always one of the most high-spirited of the year, with naughty Mr & Mrs. Clauses, mischevious elves & reindeer, ice princesses and fairies and many more naughty takes on the holiday theme. Make sure and join us over at some of the mirror event listings around the web :
main room stage & cage dancing + play dungeon
XXX-mas decorations / photo booth
XXX-mas costume themes highly encouraged!
Fetish Dress Code strictly enforced!
No cameras / no minors / adults only!
Photo galleries from past events :
▄▄▄▄▄▄▄▄▄▄▄▄▄▄▄▄▄▄▄▄▄▄▄▄▄▄▄▄▄▄
✔ XXX-MAS COSTUME THEMES HIGHLY SUGGESTED!
– Kinky Mr. & Mrs. Claus
– Naughty elves & Santa's helpers
– Santa hats
– red, green and white themed outfits (lingerie!)
– reindeer
– XXX-mas ornaments
– wrapping paper / ribbons
– sparkley snow and ice angels
– use your imagination!!!
▄▄▄▄▄▄▄▄▄▄▄▄▄▄▄▄▄▄▄▄▄▄▄▄▄▄▄▄▄▄
COME EARLY!
From the moment the doors open, party going folk invade the club en masse and on big nights like this, Sin is well known for being already crazy by 9:45 PM less than an hour after the doors open! COME EARLY so as not to miss any of the action!
THE WICKEDEST PARTY IN TOWN!
And we mean that literally! Over twelve years old now, Sin City fetish parties can regularly be counted on to be jam packed full of awesome people shedding their hang-ups, cutting loose and going wild once a month in a no-holds barred yet safe environment, where people can dress even SEXIER than usual with LESS of the problems and hang-ups you"ll find at most club nights! Most people are MORE open to meeting new and new types of people or enjoying new or new types of music at fetish parties than even the most jammin' club night. Attendees range from every age, music scene and sexual orientation out there, with the result of a party unlike any other where people forget about personal judgements, stereotypes & all that other nasty stuff that gets in the way of having full-on partying!
DIRTY DANCEFLOOR, STAGE & CAGE DANCING w/ DJs PANDEMONIUM, EVILYN13, R-LEX & GUESTS!
Our cadre of Sin City DJs come armed to the teeth with a hugely diverse collection of music and the #1 priority of getting you crazy on the notorious Sin City dancefloor. Get your freak on in the main room to a sultry smorgasbord of retro and 80's, industrial & gothic, tribal, rock, dirty electronika & dance tunes galore!
GIVE IN TO YOUR DARK DESIRES – WE'VE GOT A LITTLE SOMETHING FOR EVERYONE!
Whether you're a complete newcomer or a regular enthusiast, and no matter how you like to spend your time in public, there is a place for you to claim as your own.
SUSPENSION, KINK & BONDAGE PLAY AREA
The Sin City Dungeon Play Area is fully kitted out with a variety of sturdy, padded bondage gear, friendly dungeon monitors from Vancouver Dungeon Team, and plenty of viewing space for the voyeurs at heart.