May 30/31 | PLANET PERV : Online Fetish Festival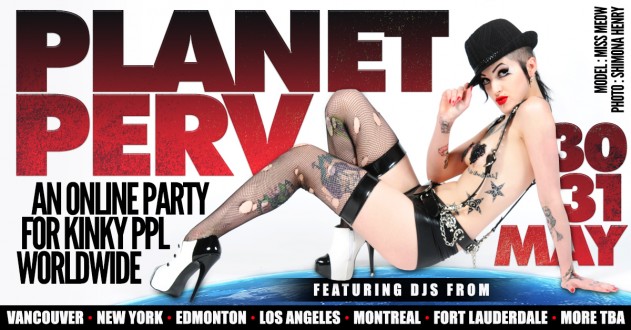 ---
Saturday May 30, 9PM-3AM / Sunday May 31, noon-10PM

(Exact start and end times may evolve! Please check back here for updates).
MAKE A DONATION / WATCH THE MUSIC LIVESTREAM / RSVP on FACEBOOK / RSVP on FETLIFE
---
Join us at PLANET PERV, a FREE two-day online party for the international kink community, as well as their kink-curious friends and newcomers! Please help boost the signal and SHARE this event to all your like-minded filthy friends who are just aching for a big fetish party!
LGBTQ+ / gay / straight / drag / cross-dress / singles / newbies / lifestylers / rubberists / all body shapes, sizes and colours / all age groups 18-65+ (no minors!) / all sexual preferences and gender identities most welcome!

Take the opportunity to dress up and join the private fetish group video party, or just listen in to the public livestream and dance to our DJs! And of course text chat with your fetish friends from all over the world!
Organized with pride by Vancouver Fetish Weekend, with the help of many friends from Montreal, New York, Edmonton, Los Angeles, Fort Lauderdale, Montreal and more.
---
No matter where you live or call home, you are most welcome to join us at this event!
---
There are two parts to the party!
#1 – There is a huge, two-day livestream broadcast, showcasing DJs from major fetish events from different cities across North America. This is public, and has a group chat that anyone can join!
#2 – There will be a private video group party, which is dress code mandatory! Information for the link and password needed to join will be made available beforehand.
---
OPTIONAL THEMES :
Saturday – Fetish Club Attire! Rubber / Leather / Extreme Looks!
Sunday – Kinky Pool Party! More Casual / Smaller Outfits!
---
FEATURING THE MUSIC OF DJs …..
PANDEMONIUM ….. (Vancouver Fetish Weekend / Sin City)
EVILYN13 …… (Vancouver Fetish Weekend / Sin City)
KASEY RIOT ….. (Vancouver Fetish Weekend / Torture Garden)
R-LEX ….. (Vancouver Fetish Weekend / I Die : You Die)
XRIS SMACK ….. (STIMULATE, SMack!, New York Fetish Marathon)
DAVIDE & CORA BUNNYGUTS ….. (Cirque De Boudoir / Montreal)
KC KILLJOY ….. (Fetish Factory / Fort Lauderdale)
MIKE LINDER ….. (Fetish Factory / Fort Lauderdale)
BABY MAGICK ….. (Cloak & Dagger /Los Angeles)
SIBORG ….. (Subspace / Stomp / Edmonton)
More info coming!