OCT 31 – SIN CITY FETISH HALLOWEEN – ONLINE PARTY!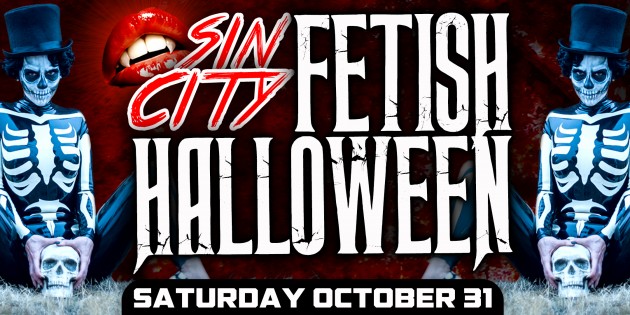 Calling all kinky Halloween loving friends to join us as we digitally connect and have ourselves a perfectly perverted adult Halloween party, pandemic be damned!
Sin City has you covered with a dual public livestream party where you can just tune in and rock out to the music, or join in the public chat, PLUS, a simultaneous private fetish-attire-mandatory Zoom group video party for the more adventurous! Read on for more details!
RSVP on FACEBOOK / RSVP on FETLIFE
We highly encourage everyone to have a small and safe number of friends from their pandemic pod over, tune in, and then through the livestream, we can connect everyone, making this a truly international party as we all get filthy with friends for Halloween mischief & mayhem!
For added fetish fun, we're teaming up with our friends from Cirque De Boudoir and the Montreal fetish community, to make this a party for the international community hosted by both us in Vancouver, and by CdB in Montreal! Both parties are combined into one for the Zoom group video party, while the CdB DJ team will play an earlier DJ set, with the Vancouver crew taking over later! Trust us, it's easier than it sounds!
---
WHERE DO I FIND THE BROADCAST?
Live DJ mix & public group chat broadcasted on our channel on Twitch here –> https://www.twitch.tv/restrictedentertainment
The link for the Zoom party will be announced soon!
---
HOSTED BY DJs :
– Pandemonium
– Evilyn13
– R-Lex
GO-GO PARTY HOSTS :
– Rheanna Fancypants
– BluntEngel666
---
COSTUME PRIZES IN THE ZOOM ROOM EVERY HOUR!
---
DOUBLE TEAM PARTY ACTION WITH CIRQUE DE BOUDOIR IN MONTREAL!
CdB will be running their party in Montreal, which is three hours ahead of Vancouver. So this means, before the Vancouver Sin City party starts, the CdB party will be in full effect, with DJs on their livestream channel playing, and the group video party already going! Attendees of the Sin party are welcome to tune in early if they're ready to start partying, and you can be GUARANTEED things will be going strong by 9 PM when the Sin party officially starts!
From approximately 9-11 PM (Vancouver time) both DJ teams will be playing on their respective channels, so there will be two official DJ mixes to choose from! However, there is just the one Zoom party all night! Think of it as a big club party with two DJ rooms to choose from! Eventually CdB will wrap up their DJs, and their livestream will merge with the Sin City channel, who takes us home to the wee hours!
---
SIGN UP TO THE NEWSLETTER!
We can't repeat this enough, for the love of God, don't rely on Facebook or social media for news from fetish events! Facebook ACTIVELY prevents anything with sexual content from being seen, and actively blocks events from being seen unless you buy ads, which you can't, if you're a fetish event. The absolute best way to stay in touch is to sign up to the Newsletter here on the Sin City website, and get info for events, both upcoming, and as they happen, with information and links to join the video parties and livestreams as they happen.