OCT 30 – COFFIN CLUB HALLOWEEN @ RED ROOM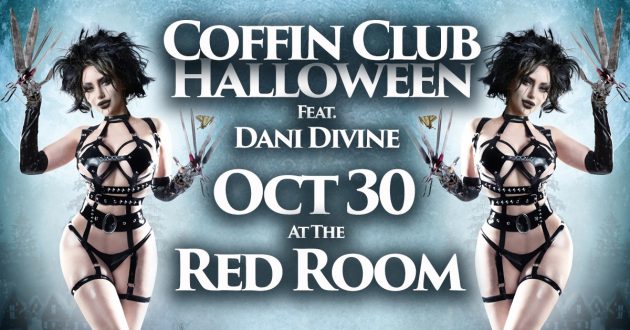 When : Sunday Oct 30, 2022, 9pm-2am
Where : The Red Room, 398 Richards
THIS VENUE HAS BEEN MOVED TO THE RED ROOM. ALL TICKETS PURCHASED TO THE ORIGINAL VENUE AT THE IMPERIAL ARE AUTOMATICALLY VALID FOR ENTRY AT THE RED ROOM.
If for any reason the new venue doesn't work for you, and you previously bought a ticket when this event was scheduled at the Imperial, you can request a refund by emailing the Imperial's ticketing department AdmitOne at : ticketing@admitone.com
---
GOTH NITE + HALLOWEEN DEAD TO RIGHTS AT MIDNIGHT + COFFIN CLUB = ONE HORRIFYINGLY FUN PARTY
---
🦇RESTRICTED🦇 HALLOWEEN FESTIVAL
FRIDAY OCT 28 @ VILLAGE STUDIOS – PASSION PORTAL (bass)
FRIDAY OCT 28 @ WALDORF – SIN CITY (kink)
SUNDAY OCT 30 @ RED ROOM – COFFIN CLUB (goth)
---
Alternative dancefloor classics from beyond the grave to make you Stomp & Swoon. Costume contest. Horror movie visuals.
Bring in a carved pumpkin to put out at the bar, we will have LED candles for you! No open flame candles permitted.
Front of the line entry to anyone carrying a jack-o-lantern, and prizes given out at midnight for best one of the night!
Music soundtrack = counter-culture & underground music from the 80s & 90s right up to right now.
Retro, New Wave, Classic Alternative, Goth, Industrial, Post-Punk & much more! Dark music of all styles, nothing is sacred!
---
Full size sound system with music to feel in your body! Aural selections from a killer lineup of dark scene DJs including :
VORTEX
EVILYN13
PANDEMONIUM
R-LEX
Performance by International Goth, Fetish & Burlesque superstar : DANI DIVINE … (UK)
---
Come one, come all! Invite friends & help spread the word. We get a wide range of age groups in attendance from 19-65+ – everyone is welcome!
This is a night where you can dress up freaky, retro, spooky or however you like and people will love it, or totally come casual ready to party, and that's fine too.
You don't have to be a goth to have a good time at the goth night!
Fetish, kink and darker themed styles always encouraged and appreciated!
---
🦇 COVID-19 CONSIDERATIONS :
– there is always some risk in attending large gatherings. The risk of Covid is never zero! By attending this event you understand the risk, and confirm that you are in good health, and showing no Covid symptoms. Please stay home if you are not feeling well, there will be more events in the future ❤
---
Presented by Restricted Entertainment, producers of Sanctuary, MADHÄUS, Sin City Fetish Night, Vancouver Fetish Weekend, PURR, Passion Portal & Galaxion.