OCT 12 – ROCKY HORROR FETISH BALL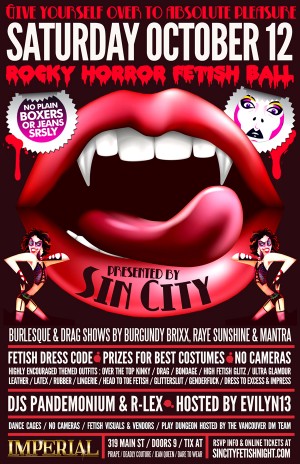 Where : Imperial Vancouver / 319 Main Street
Map provided at the end of this event listing!
Doors 9 / $10 early bird before 10 PM
$13 advance / $15 door
Tickets available at Priape, Deadly Couture, The Jean Queen & Dare To Wear
BUY TICKETS ONLINE
Click GOING at the event listings :
The reviews from our debut party at THE IMPERIAL have been pouring in, gushing about the new venue and demanding we have more Sin City parties there. Well, what better way to celebrate the new home for our fetish events in a movie theater turned club than by bringing together all our celluloid, kinky cult & cinema fans, all our deviant burlesque vixens, all our fabulous drag queen divas and of course all our SEXY SEXY SINNERS for a night dedicated to ABSOLUTE PLEASURE. Everything about this event will SCREAM Rocky Horror, the ultimate fusion of CAMP + KINK with an extra serving of GLAM + HALLOWEEN on the side! Note however that this is a CLUB EVENT and not a cinema screening of the movie!
Always Enforced Fetish Dress Code
Front & Center Dungeon Play Area
Drag, Burlesque & Fetish Stage Shows
Prizes For Best Outfits
Movie-Theater Size Kinky Visuals
Gorgeous Venue, Tons Of Comfy Lounge Areas
Huge Dancefloor + Custom Built Naughty Dance Cages
Stage Dancing Not Only Permitted, but Encouraged!
No Unauthorized Cameras Permitted
Complimentary Glamour Photo Booth
ABOUT IMPERIAL VANCOUVER
The Imperial is a 6,000 square foot stylish, state-of-the-art private event and multimedia facility located in the city's urban core. It is Vancouver's hidden gem. Carefully transformed from its abandoned Asian movie house state to its contemporary revitalized form, the Imperial offers an exciting and unparalleled event experience. With a recently updated world class audio and lighting package as well as a flexible floor plan, it is a perfect fit to combine with Sin City Fetish Night and create an unparalleled decadent atmosphere for the Sinners of the city. Visit their website here, or check out the :
VENUE PHOTO WALKTHROUGH
▄▄▄▄▄▄▄▄▄▄▄▄▄▄▄▄▄▄▄▄▄▄▄▄▄▄▄▄▄▄
"IT'S ASTOUNDING … TIME IS FLEETING …."
We are expecting a SOLD OUT HOUSE for this event and will be offering advance tickets ahead of time for people who want to secure a spot at the party!
▄▄▄▄▄▄▄▄▄▄▄▄▄▄▄▄▄▄▄▄▄▄▄▄▄▄▄▄▄▄
"MADNESS TAKES ITS TOLL …."
SEXY STAGE SHOWS GALORE!
Stage shows by Vancouver's Queen Of Burlesque BURGUNDY BRIXX!
Glam Drag Performances & Davie Street realness served by RAYE SUNSHINE!
Over the top Fetish Drag with the sensational MANTRA!
▄▄▄▄▄▄▄▄▄▄▄▄▄▄▄▄▄▄▄▄▄▄▄▄▄▄▄▄▄▄
"BUT LISTEN CLOSELY …. NOT FOR VERY MUCH LONGER …"
PRIZES for best costumes of the night! Bring us your men in women's lingerie! Your transexual Transylvanians! Your burlesque & cabaret kinksters! Androids fighting Brad & Janet! We know you've secretly always wanted to let out your inner Frank N Furter, Rocky, Riff Raff, Magenta or Columbia … now's the time to do it!
DRAG IT UP BABY!
Sin City loves Drag Queens and tonight's the night to showcase your best Transylvanian Drag!
Rocky Horror themed outfits aren't mandatory but they are highly encouraged. Sin City LOVES all things kinky so non-Rocky fetish outfits are just fine too!
ALWAYS ENFORCED FETISH DRESS CODE
Please remember that all Sin City parties are FETISH FIRST and there is a FETISH DRESS CODE in effect at all times! This means absolutely no street or casual wear! Plain jeans, cargo pants, briefs or boxers, t-shirts and suits are not permitted unless part of an acceptable ensemble costume. Ideas: jeans under chaps are fine! Lower genital nudity is not permitted. Suggested permitted attire includes: vinyl, pvc, leather, tuxedo, full uniform, fantasy or period costume, armor, cross-dress, rubber, bondage, body paint, fancy lingerie, kilt, or any other kinky costume your dreams can be made of …
▄▄▄▄▄▄▄▄▄▄▄▄▄▄▄▄▄▄▄▄▄▄▄▄▄▄▄▄▄▄
"I'VE GOT TO KEEP CONTROL!"
Dungeon Area on site, complete with Bondage Furniture options, Flogging Crosses & Suspension Frames … give yourself over to absolute pleasure on our sturdy, cushioned play pieces!
▄▄▄▄▄▄▄▄▄▄▄▄▄▄▄▄▄▄▄▄▄▄▄▄▄▄▄▄▄▄
"LET'S DO THE TIME WARP AGAIN!"
Stage dancing, cage dancing and downright dirty dancefloor action with Sin City resident DJs Pandemonium and R-Lex.
You better believe that loads of songs from Rocky Horror will be getting played over the course of the night!
HOSTED BY EVILYN13, who will also be playing a very special and insanely fun guest DJ set!
▄▄▄▄▄▄▄▄▄▄▄▄▄▄▄▄▄▄▄▄▄▄▄▄▄▄▄▄▄▄
NO CAMERAS – NO CELL PHONE PHOTOS!
This is an OFF THE GRID party, so you can go as wild & perverted with your outfit as you like!
ROCKY HORROR THEMED PHOTO BOOTH hosted by Atratus of Gothic BC!
If you are one of the MANY MANY sexy exhibitionists at Sin and want to appear in our crazy web photo galleries from the party, jump into the photo booth. You can even get a photo printed out on the spot if you want a keepsake!
▄▄▄▄▄▄▄▄▄▄▄▄▄▄▄▄▄▄▄▄▄▄▄▄▄▄▄▄▄▄
COAT CHECK PROCEEDS DONATED TO CHARITY : INTERSECTIONS MEDIA OPPORTUNITIES FOR YOUTH
At this party, the coat check proceeds will be donated in support of Intersections Media Opportunities For Youth, which is a non-profit society which offers a variety of skills development programs for at-risk youth in the lower mainland who face multiple barriers to employment. 
They provide project-based workshops which focus on film, video and visual arts as a means of teaching fundamental life and employment skills. Intersections' mandate is to help transition at-risk youth into continued education and/or sustainable employment, while reinforcing healthy life-style choices and positive life skills. Learn more about this worthy charity and their efforts at their website : www.intersectionsmedia.com/.
---
MAP :