November 23 – Fetish Party @ BLVD22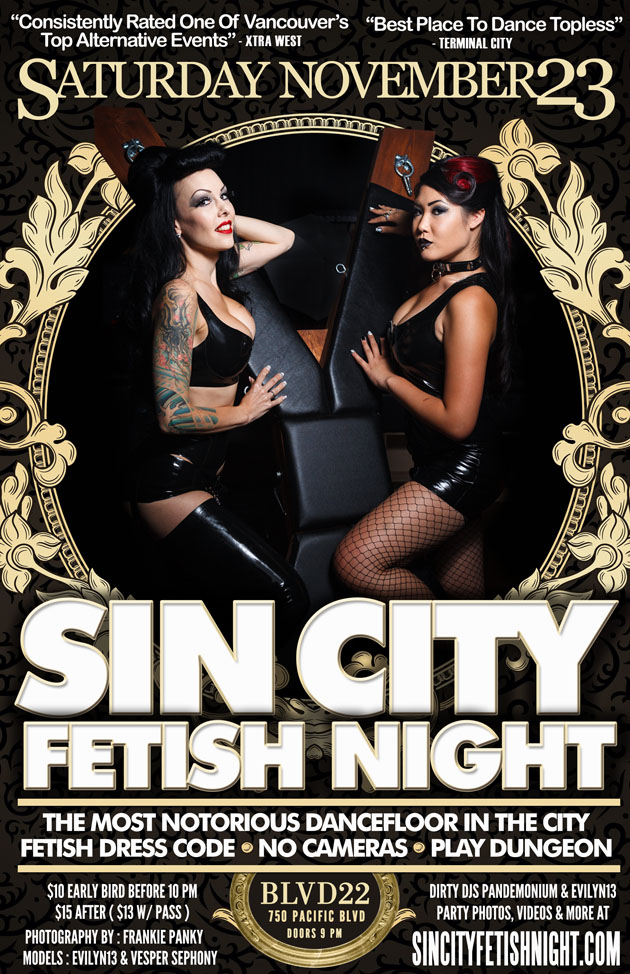 When : Saturday November 23 / 9PM-2AM+
Where : Blvd22 / 750 Pacific / IN THE PLAZA OF NATIONS
Cover : $10 early bird before 10 PM / $13 after 10 PM with a discount pass / $15 without
Please note that you cannot see the venue from the street – the front of the club faces into the interior of the Plaza Of Nations. Walk into the Plaza, where the casino is, and you absolutely can't miss Blvd22. Look for the giant red party tent we are setting up outside the venue!
WE ARE SUPER EXCITED TO BE BRINGING THE FETISH INVASION BACK TO BLVD22 ONCE AGAIN!
We've only been there twice before and both times were AMAZING parties with our crowd feeling instantly welcome and comfortable in the venue! We're bringing the fetish invasion to BLVD22 in the Plaza Of Nations, next to the casino! Ultra chic with a killer dancefloor, loads of comfy seating, $4 drink specials, a dedicated cab stand all night, a Skytrain station and huge parking lot all close by … all adds up to a killer new play space for all our Sinners! You can check out what the space looks like over at their website.
NAUGHTY FLIXXX, CULT VIDEOS & FETISH VISUALS + GLAMOUR PHOTO BOOTH
Make sure and drag some kinky friends into the ever popular naughty playground that is the Sin photo booth and camp it up!
---
✘ STRICT FETISH DRESS CODE! NO EFFORT = NO ENTRY. KEEP IT KINKY!
Full information on the fetish dress code here.
✘ NO UNAUTHORIZED CAMERAS! WHAT HAPPENS AT SIN CITY … STAYS AT SIN CITY!
As always, Sin maintains a strict no unauthorized cameras policy, preserving the atmosphere of mutual respect and safety! We do have our own in-house photographers who are available for glamour shots, capturing the most fabulous outfits and energy of the party, but only with permission from willing subjects! You can go as crazy and kinky with your outfits as your imagination will let you …
---
COME EARLY & BEAT THE LINEUP! $10 EARLY BIRD RATE BEFORE 10 PM.
From the moment the doors open, party going folk invade the club en masse and Sin is well known for being already crazy by 9:45 PM less than an hour after the doors open! COME EARLY so as not to miss any of the action!
MAIN ROOM DANCEFLOOR WITH DJs PANDEMONIUM & EVILYN13!
Our cadre of Sin City DJs come armed to the teeth with a hugely diverse collection of music and the #1 priority of getting you crazy on the notorious Sin City dancefloor. Get your freak on in the main room to a sultry smorgasbord of retro and 80's, industrial & gothic, tribal, rock, dirty electronika & dance tunes galore!
MAIN ROOM BONDAGE & SUSPENSION PLAY DUNGEON!
We are more excited than EVER to present our dungeon in the new BLVD22 space, as it PERFECTLY suits our unique setup and fetish needs! Hosted by the Vancouver Dungeon Monitor Team and Rascal, the Sin City dungeon is one of the hottest spots of every Sin event – come and indulge your voyeuristic tendencies, or let out the exhibitionist in you and get wild on one of our many kinky play stations, all under the watchful eye of the Vancouver Dungeon Team.
GIVE IN TO YOUR DARK DESIRES – WE'VE GOT A LITTLE SOMETHING FOR EVERYONE!
---
50/50 FETISH FUNDRAISER DRAW IN SUPPORT OF PACE
At this party, Restricted Entertainment's original 50/50 fetish fundraiser draw will be in support of PACE – donate, possibly win a couple of hundred dollars extra drinking money, get complimentary spankings from our sexy fetish fundraiser flogger boys & girls AND help raise $200+ in much-needed funds for a worthy local charity. PACE is a sex worker led and driven organization offering low-barrier programming, support and safe respite for survival sex workers in Vancouver. More info on PACE here.