March 30 – Sin City Comes To Fan Club (New Venue!)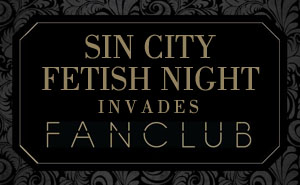 When : Saturday March 30 / 10PM-3AM
Where : Fan Club / 1050 Granville St.
Cover : $10 early bird before 10:30 PM / $11 after 10:30 PM with a discount pass / $13 without
One of the things that we love the most about Sin City is how huge and wide a range of fetish styles we have represented amongst our colourful crowd of sexy sinners. There's no theme at this party other than ANYTHING and EVERYTHING fetish goes!
SAY HI AT THE FACEBOOK EVENT LISTING!
Note that we are invading a brand new venue for this event : Fan Club!
TONIGHT WE INVADE FAN CLUB, RIGHT DOWNTOWN AT 1050 GRANVILLE. HOWEVER, DO NOT FEAR, THERE IS NO NEED TO EVEN STEP FOOT ON GRANVILLE STREET. PRIVATE ENTRY THROUGH THE REAR ENTRANCE IN THE ALLEY ON THE SEYMOUR SIDE!
We are blacking out the entire front of the club and it will have no access from the Granville Side, nor will the interior of the club be visible from that side. Just tell the cabbie to let you off at the Penthouse Strip Club on Seymour Street – you don't even need to remember an address. There is a small parking lot on Seymour directly next to the Penthouse, which you can walk through and head right to the back door of the club which we'll have built up as our front door!
WHY are we going to such extraordinary efforts? Because this venue was MADE for a fetish party, we've been dying to bring the kinky community in there ever since we laid eyes on it, and the wonderful folks that run the venue have bent over backwards to invite us into their space and make it work for us! And we know that after one taste, you'll be as addicted to this venue as we already are!
ABOUT FAN CLUB :
"Fan Club blends New Orleans French Quarter and contemporary West Coast design. It's a 6,500 square foot two-level establishment featuring a 27-foot ceiling, reclaimed French colonial doors and antique chandeliers imported from Louisiana, a wrought iron balcony facade, an outdoor patio, three service bars, four VIP booths, one performance stage, a DJ booth, satellite dance locations, and a Bourbon Lounge tasting room. It has a partnership with the Vancouver School of Circus Performers and has performance rigging points permanently installed in the ceiling …."
You can read more about Fan Club at their website!
MAIN STAGE DUNGEON
The unique set up of Fan Club is allowing us to present our MOST EXCITING DUNGEON TO DATE.
main room, main stage dungeon play area
main stage suspension play area from the 27 foot ceiling
The dungeon is one of the hottest spots of every Sin event! Come and indulge your voyeuristic tendencies, or let out the exhibitionist in you and get wild on one of our many kinky play stations, all under the watchful eye of the Vancouver Dungeon Team.
A MELTING POT OF KINK!
Whether you are gay / straight / bi / trans / cross-dresser / young / old / bigger / smaller / human / Martian ….. this party is for YOU! Sin City is a melting pot of kink where people come EXPECTING the unexpected and to party with people they've never met before, and we actively promote and encourage an air of tolerance & acceptance at all our events!
FETISH GLAMOUR PHOTO BOOTH
Make sure and drag some kinky friends into the ever popular naughty playground that is the Sin photo booth and camp it up!
---
✘ STRICT FETISH DRESS CODE! NO EFFORT = NO ENTRY. KEEP IT KINKY!
Full information on the fetish dress code here.
✘ NO UNAUTHORIZED CAMERAS! WHAT HAPPENS AT SIN CITY … STAYS AT SIN CITY!
As always, Sin maintains a strict no unauthorized cameras policy, preserving the atmosphere of mutual respect and safety! We do have our own in-house photographers who are available for glamour shots, capturing the most fabulous outfits and energy of the party, but only with permission from willing subjects! You can go as crazy and kinky with your outfits as your imagination will let you …
---
COME EARLY & BEAT THE LINEUP! $10 EARLY BIRD RATE BEFORE 10:30 PM.
From the moment the doors open, party going folk invade the club en masse and Sin is well known for getting crazy less than an hour after the doors open! COME EARLY so as not to miss any of the action!
MAIN ROOM DANCEFLOOR WITH DJs PANDEMONIUM, MANOS & GUESTS!
Our cadre of Sin City DJs come armed to the teeth with a hugely diverse collection of music and the #1 priority of getting you crazy on the notorious Sin City dancefloor. Get your freak on in the main room to a sultry smorgasbord of retro and 80's, industrial & gothic, tribal, rock, dirty electronika & dance tunes galore!
GIVE IN TO YOUR DARK DESIRES – WE'VE GOT A LITTLE SOMETHING FOR EVERYONE!
NAUGHTY FLIXX & CULT VISUALS COURTESY OF BLACK DOG VIDEO
---
50/50 FETISH FUNDRAISER DRAW IN SUPPORT OF PACE
At this party, Restricted Entertainment's original 50/50 fetish fundraiser draw will be in support of PACE – donate, possibly win a couple of hundred dollars extra drinking money, get complimentary spankings from our sexy fetish fundraiser flogger boys & girls AND help raise $200+ in much-needed funds for a worthy local charity. PACE is a sex worker led and driven organization offering low-barrier programming, support and safe respite for survival sex workers in Vancouver. More info on PACE here.