March 23 – KINKY WAREHOUSE PARTY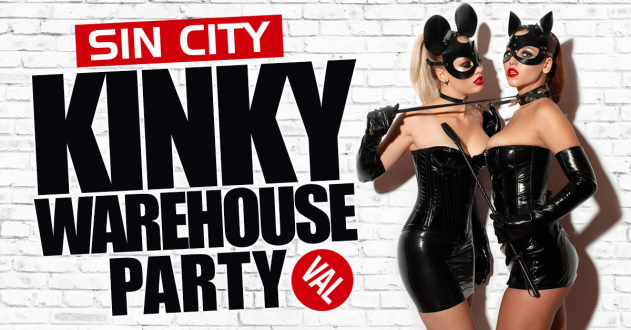 BUY TICKETS / RSVP on FACEBOOK / RSVP on FETLIFE
---
When : Saturday March 23, 9PM-2AM+
Where : 101 West 6th Ave, Vancouver, BC
Admission : $15 early bird, $20-25 advance.
Join all of your kinky friends for Sin City's March party, held at the Vancouver Art & Leisure Center, in the last month of events before the venue closes. This is the same location where we host our SPANK and PURR parties! 100% fetish dress code, warehouse vibes, A-list sound system, dirty electronic dance music all night, drag & bondage performances, couples kink play rooms, dance cages, art installations, and much more! Sin City's Military Fetish Ball at VAL in November of last year was the stuff of legend, and we're excited to bring round 2! We expect this event to sell out, so please make sure to grab tickets early!
Singles, couples, straight, LGBTQ+, cross-dressers, regulars and newbies are all welcome …
Sin City is a safe and welcoming pervy party & play space for everyone, with a great reputation earned over 17 consecutive years and over 300 fun & flirty events! Sin City happens once a month (plus extra holiday special events) at a variety of kink-friendly venues in downtown Vancouver!
PRESENTED WITH PRIDE BY RESTRICTED ENTERTAINMENT
Producers of quality community kink events for over two decades, Restricted Entertainment is the team behind Sin City, Spank, Vancouver Fetish Weekend and many other events in Vancouver's ever-changing underground nightlife scene.
---
DIRTY DJs :
– PANDEMONIUM
– EVILYN13
– KASEY RIOT
– & GUESTS
DRAG & BONDAGE STAGE SHOWS
---
CODE OF CONDUCT / CONSENT
All attendees are expected to respect one another and party hard, but party safely. Poor behaviour of any kind is not tolerated and will result in ejection from the event and a possible ban from future events. Absolutely no unwanted, inappropriate or unasked for touching of any kind is permitted without prior, clear and verbal consent given. If you are unsure, ALWAYS ask FIRST! Only a clear and continued 'YES' indicates consent. And if someone is asking, there is never any shame in saying 'no thanks' and moving on. All attendees are expected to be aware of and graciously accept a 'NO' statement or vibe if one is given. If there are ever any issues (which are thankfully few and far between), our Sin City and venue staff are always at hand and accessible for you to bring any concerns to, which will be dealt with promptly, professionally and anonymously on your behalf.
---
✘ STRICT FETISH DRESS CODE! NOT PERMITTED:
Plain jeans, cargo pants, briefs or boxers, t-shirts, suits and work clothes. Absolutely no street or casual wear! Lower genital nudity is not permitted.
✔ HIGHLY ENCOURAGED ATTIRE:
Suggested attire includes but is certainly not limited to – vinyl, pvc, leather, rubber, bondage, straps, chaps, full-on fetish-goth, fetish-punk, cyber-fetish, full tuxedo, tailcoats / fancy dress, military / full uniform, fantasy or period costume, armour, drag / cross-dress, body paint, fancy lingerie, kilt, or any other risque costume your perverted little mind can dream up …
✘ NO UNAUTHORIZED PHOTOS ALLOWED!
As always, Sin maintains a strict no unauthorized cameras policy, preserving the atmosphere of mutual respect and safety! We do have our own in-house photographers who are available for glamour shots, capturing the most fabulous outfits and energy of the party, but only with permission from willing subjects! You can go as crazy and kinky with your outfits as your imagination will let you, because if you want : what happens at Sin City … stays at Sin City!
---
GIVE IN TO YOUR DARK DESIRES – WE'VE GOT A LITTLE SOMETHING FOR EVERYONE!