THIS SATURDAY JAN 9 – FREE ONLINE PARTY!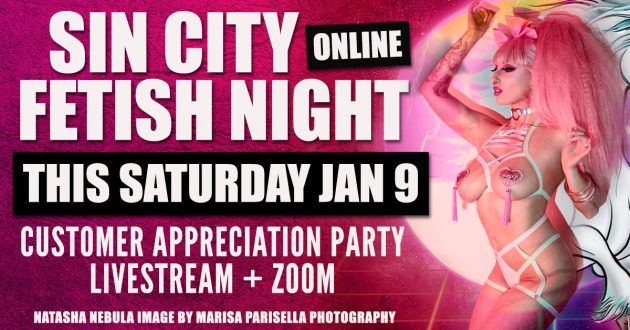 When : This Saturday January 9
Cost : Free!
To Register : Sign up to the Newsletter!
Links & Passwords To Join : have been mailed out, there will be another mailout at 9 PM!
Signed Up But Can't Find The Email? : Check your junk / spam / trash folders for an email from Mailchimp! Depending on your spam settings, your email program may have caught it and sent it there.
Didn't Sign Up In Time & Missed The Email? : No problem, if you sign up now, a welcome email will be automatically sent to you with the password!
JOIN THE ZOOM VIDEO PARTY / FACEBOOK EVENT LISTING / FETLIFE EVENT LISTING / LAUNCH the MUSIC LIVESTREAM / SEND IN A THANK-YOU TIP
PLEASE NOTE! The VIP Zoom party is Fetish / Kinky Costume attire MANDATORY! Make sure to be changed prior to entry into the party – anyone showing up in plainclothes will be booted! We love everyone, but this is to preserve the atmosphere of comfort for everyone to fully unleash their kinky creativity and sexual self-expression!
OUR NEXT PARTY IS A KINKY CUSTOMER APPRECIATION PARTY – ONLINE!
There is no cost or donation needed to attend, we just want to see all your beautiful faces, gathered together to say hello to 2021! All you have to do is make sure you are signed up to the Newsletter right here on the Sin City website, and the links and passwords to join the parties will be sent out to you on Saturday. If there is any confusion on the day of, check back to the main page here on the Sin site for up to date links. Read on for more details!
Our first Sin City Fetish Night party after NYE will still be on THIS SATURDAY JANUARY 9, since it is the 2nd Saturday of the month already, the schedule we have been following we have been following for almost 20 years since our first event in May of 2001!
This next party is our annual CUSTOMER APPRECIATION PARTY – we will both a livestream music & chat party on Twitch, as well as a sexy group video party on Zoom.
We won't let the pandemic stop us from celebrating together … while we wait for in-the-flesh gatherings to be possible, we can still have an amazing time together ONLINE!
---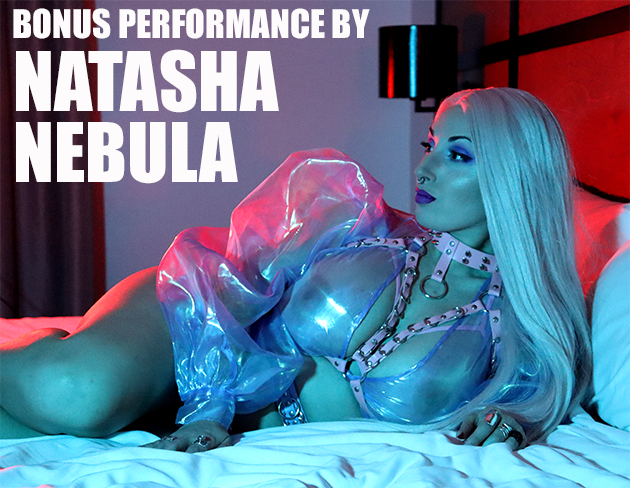 As an added treat for people attending the VIP Zoom Party during the evening, there will be exclusive live performance by NATASHA NEBULA at 11:15 PM Vancouver time, only visible to people in the private group video party!  Not to be missed!
---
EVENT OVERVIEW:
There are two main parts to the party!
#1 – LIVESTREAM PARTY (ON TWITCH / FREE / NO DRESS CODE)
Tune in to the official DJ broadcast for the night here! There is LOTS going on, but you are free to just leave the party on as a radio station if you like, or, join in the group chat with friends from all over the world! There are no cameras on anyone except the DJs who are broadcasting, so casual wear is total OK!
#2 – VIP GROUP VIDEO PARTY (ON ZOOM / BY DONATION / FETISH WEAR MANDATORY)
Get dressed up and join in the group video party! This is where the real action goes down and everyone can see each other! Microphones are off, cameras are on, there is a big text chat amongst the group, with up to 100 local and international people in attendance. All attendees must be changed into something sexy / risque / fetish / kinky prior to joining. There are no exceptions to this, even with a purchased ticket! Anyone showing up in plainclothes will be booted! We love everyone, but this is to preserve the atmosphere of comfort for everyone to fully unleash their kinky creativity and sexual self-expression!
We encourage people to have a safe amount of friends / family / pandemic bubble buddies over, have a mini party at your place, and connect to all your other friends through this event! Only 1 ticket per household needed to join the group video party.
---
Normally in real life this is a big party in the flesh with several hundred people in attendance, but in this crazy pandemic world, we have a party of 4 people at Restricted Entertainment HQ, including our core Sin City Fetish Night DJs switching off throughout the night, also along with cocktail and go go hosts for added entertainment, connecting our party to yours, and other living rooms, kitchens and bedrooms all over the world!
DJs :
– Pandemonium
– Evilyn13
+ guests
GO GO & COCKTAIL HOSTS :
– Rheanna Fancypants
– Bluntengel666
PERFORMANCE BY :
– Natasha Nebula
---
THE VANCOUVER PARTY STARTS AT 9 PM, BUT YOU CAN GET STARTED EVEN EARLIER WITH THE CIRQUE DE BOUDOIR CREW!
Want to start partying even earlier? We're teaming up with our friends from Montreal, for one massive party connecting both cities! The video group party connecting both parties is all rolled into one!
The Zoom party actually starts at 7 PM Vancouver time, which is 10 PM Montreal time! DJs Davide and Bunnyguts will be playing on Twitch as well at that time, until the Sin City DJs start later, at which point there will be two rooms to choose from for a couple hours, just like a big club night with two rooms to choose from! At a certain point the Cirque De Boudoir DJ livestream will merge with the Sin City one as well, and the Sin Crew takes us home to 4 AM!
---
(PRIVATE) GROUP VIDEO CHAT – VIRTUAL ZOOM ROOM CLUB PARTY
Join us along with anywhere from a handful to up to 100 friends from the local and international kink communities in a virtual fetish hangout! The link to join the video chat room will be posted here, in the event and on the livestream. Here's the details …
1. YOU WILL NEED THE PASSWORD, which will be emailed out via our Newsletter, so make sure you are subscribed ahead of time!
2. FETISH DRESS CODE IN EFFECT! Anyone joining in plainclothes will be booted – this is both to really encourage people to get dressed up for the party, and to deter looky-loos!
3. NO AUDIO – TEXT CHAT ONLY. Microphones are turned off and interaction is by group text chat and it is super fun! You can chat with the group as a whole, or directly with individual people. Make sure to introduce yourself when you join!
4. CAMERAS MUST BE ON, so you can see all your friends and show your sexy selves off! The name of the game is to take the opportunity to dress up sexy / fetish / risque / scandalous in some way! No hanging out and watching with your camera off – you will be bounced!
5. NO RECORDING, NO PHOTOS. Do not bring a phone into view of your camera, even if just texting. No exceptions. Don't wreck the vibe!
6. BE RESPECTFUL – POOR BEHAVIOUR WILL NOT BE TOLERATED. Posting aggressive or disrespectful comments in the chat will get you booted, no warnings.
7. NO SOLO WANKING ON CAMERA, or you will get booted! Watching by yourself + wanking = creepy. Got a partner with you? That's a different story – by all means, if so, get as filthy as you like! Or, just move your solo-play off camera …
8. KEEP YOUR JUNK COVERED! Dress as sexy or bare as you dare, but if your g-string area is going to be on-screen, keep it covered!
9. PLAYING WITH A PARTNER TOTALLY OK! Our video parties are a sex-positive space! If you want to play with a partner on screen, full nudity and sex on camera is fine!
10. YOU MAY SEE SEXUAL ACTIVITY ON SCREEN! We trust that's OK, or you wouldn't be here LOL.
11. NO WEAPONS (E.G. KNIVES) PERMITTED ON SCREEN
12. OBEY THE MODERATORS AND PARTY HOSTS!
---
THAT'S IT! NOW LET'S GET FILTHY AND HAVE SOME FUN!