Jan 26 : Wild Kingdom Fetish Ball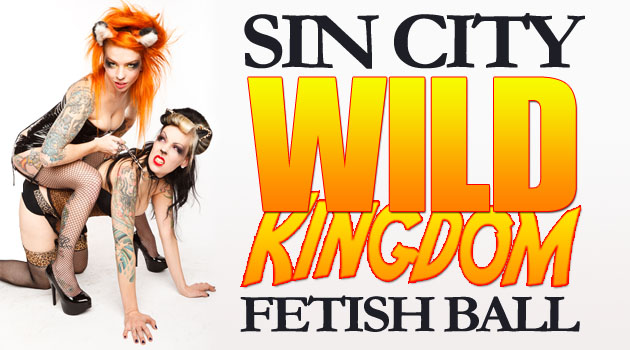 When : Saturday January 26
Where : The Electric Owl, 928 Main
COME EARLY AND HAVE DINNER AT THE OWL BEFORE PARTYING!
Why not make your dinner plans at Sin City as well? The Electric Owl has a fantastic fusion menu, and having your meal in a kinky environment in their comfortable upper level of bankette seating is one of the many delights of this particular venue. Check out their menu here!
SAY HI AT THE FACEBOOK EVENT LISTING!
From the moment the doors open, party going folk invade the club en masse and on big nights like this, Sin is well known for being already crazy by 9:45 PM less than an hour after the doors open! COME EARLY so as not to miss any of the action!
ANIMAL FETISH, ANIMAL PRINT, SEX KITTEN, BEARS, PONIES, PUPPIES, FANGS, FUR, CLAWS – HIGHLY ENCOURAGED, BUT NOT MANDATORY!
A reminder that all outfits, themed or not, must be styled kinky or fetish to gain entry to the event as per the Sin City dress code.
Naughty dance cages / fetish vendors
Wild kingdom themed glamour photo booth
Play dungeon hosted by Vancouver Dungeon Team
Wild Kingdom theme decor
Prizes for best Wild Kingdom Theme fetiosh outfits!
Fetish Dress Code strictly enforced!
No cameras / no minors / adults only!
---
Check out the photo gallery from last year's event here:
125+ images of crazy kinksters in cages courtesy of Gothic BC!
---
MAIN ROOM DANCEFLOOR, CAGE & STAGE DANCING WITH DJs PANDEMONIUM & R-LEX!
The Sin City DJs come armed to the teeth with a hugely diverse collection of music and the #1 priority of getting you crazy on the notorious Sin City dancefloor. Get your freak on in the dance cages, on the stage or on the main dancefloor to a sultry smorgasbord of retro and 80's, industrial & gothic, tribal, rock, dirty electronika & dance tunes galore!
---
50/50 DRAW IN SUPPORT OF VANCOUVER ORPHANED KITTEN RESCUE!
At this party, Sin City's fetish fundraiser draw will be in support of VOKRA – donate, possibly win a couple of hundred dollars extra drinking money, get complimentary spankings from our sexy fetish fundraiser flogger boys & girls AND help raise $200+ for the Vancouver Orphaned Kitten Rescue Association. Sin City will start the pot off with a personal donation of $50. Everybody wins!!! More info on VOKRA here.
---
EARLY BIRD RATE $9 BEFORE 10 PM
$10 AFTER WITH DISCOUNT PASS / $12 WITHOUT
TICKETS @ DOOR ONLY / FIRST COME, FIRST SERVE