JAN 28 | NO COVER | CUSTOMER APPRECIATION NIGHT!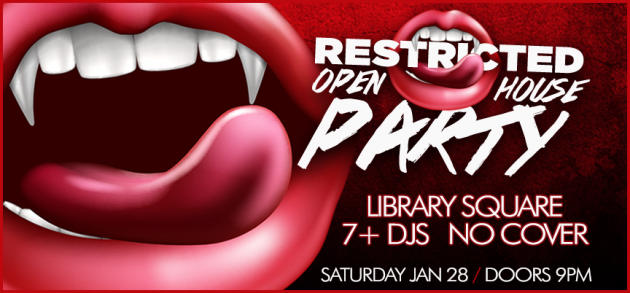 What : RESTRICTED ENTERTAINMENT CUSTOMER APPRECIATION OPEN HOUSE PARTY
Where : Library Square | 300 West Georgia
When : Saturday January 28 / 9pm-3am
Cover : None! This party is free! However a $5 minimum donation is encouraged, to help pay for the room rental and our sexy DJs!
RSVP ON FACEBOOK
C'MON OUT TO THIS COMPLETELY FREE industry party & family gathering for all the creative weirdos of Vancouver! Once a year, the crew from Restricted Entertainment, who put on SIN CITY, PURR, COFFIN CLUB, VANCOUVER FETISH WEEKEND, GALAXION, PASSION PORTAL, MENAGERIE (and many other events) throw a FREE CUSTOMER APPRECIATION PARTY for our extended friends and family! Even if you have never been before, you are absolutely wecome!
Limited capacity, come early, first come, first serve!
DJs – MUSIC – DANCING – GREAT SOCIAL VIBE – FEATURING ECLECTIC MIXES BY :
DJ PANDEMONIUM
APPLICATION
EVILYN13
CONTRASOMA
R-LEX
DEADHEAD
VORTEX
& MORE
Calling all friends from the nightlife, sound, lighting, performance & film industries, all friends who work in any field related to art, music, tech, acting, burlesque, drag, DJing, promoting, and any and all friends who just like going out and enjoying music … this party is for you! Come one, come all, bring friends!
This is a 100% FREE industry party & family gathering for all creative art, music and dance loving people of Vancouver!
Oh yeah, it's also Restricted Entertainment head honcho Isaac AKA DJ Pandemonium's birthday …. celebrating over 25 years of DJing & producing events in our fair city …
If you've ever come out and gotten jiggy at any of the nights, or if you are friends with or work with any of our crew, or if you want to drag some new friends out for a first time, or if you are totally new to all this and just want to check it out, COME ON BY!
The vibe of this event is 'big fat awesome house party!' Don't be shy, we want EVERYONE there from our huge extended family!
THERE IS NO DRESS CODE FOR THIS EVENT!
Please just come in whatever you are most comfortable in, we just want to celebrate with you there! Cameras more than welcome! But of course feel free to dress wild if you so desire … it is a Restricted Entertainment party after all! But do remember this is not a full fetish-only event, and there will be people there from all sorts of different communities, with cameras and photos totally allowed. So please keep things "public-friendly".
Invite everyone and anyone you wish, but please make sure that any newcomers follow our family rules of best behaviour, no judgments, open minds, and total acceptance of everyone's creative weirdness!