Aug 15 – SIN CITY POP-UP BLOCK PARTY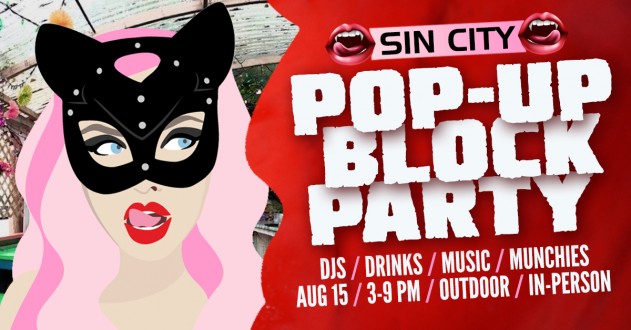 When : Sunday August 15, 3PM to sundown (approx 9PM)
Where : The Narrow, 1898 Main St (around back, not inside)
Tickets : $10. All advance tickets are now gone, but the majority of tickets were kept to be available at the door only, first come, first serve, starting at 3 PM this Sunday! We have a pro team at our entry point who will be carefully monitoring attendance levels to make sure they are kept comfortable for everyone! See you there, fetish friends & family!
GET TICKETS / RSVP FACEBOOK / RSVP FETLIFE
---
Sin City Fetish Night, Restricted Entertainment and Vancouver Fetish Weekend present …. A casually kinky, small-scale, pop-up daytime socializer for the alternative, counter-culture, lifestyle, fetish, LGBTQ+ communities and their friends! Everyone is welcome!
Yes, this is an in-person event, yes, this is outdoors, yes, you can dress up if you want to (though casual is fine too!) and while the primary focus of the event is outdoor socializing, yes, you can dance at a safe distance from others if you want to! To-go frosty beverages and dining options available on site from our venue host, The Narrow Lounge!
WE MISS YOU AND WOULD LOVE TO SEE YOU IN THE FLESH! COME HANG OUT!
It's been a long 18 months of restrictions on social gatherings and thankfully, things are starting to subside, and options for getting together are starting to increase. We have many more in-person events coming, but we wanted to start with something smaller and more informal to ease people back into it.
We're taking over the area behind The Narrow at 1898 Main St. and expanding and converting it into a no frills, semi-private, DIY pop-up block party space. Don't expect anything fancy – and don't wear any crazy heels 😉
We'll have a sound system and DJs playing the whole day!
We do have some costs putting the event together so we are asking a $10 entry fee, which you can pay at the door or through purchasing an advance ticket!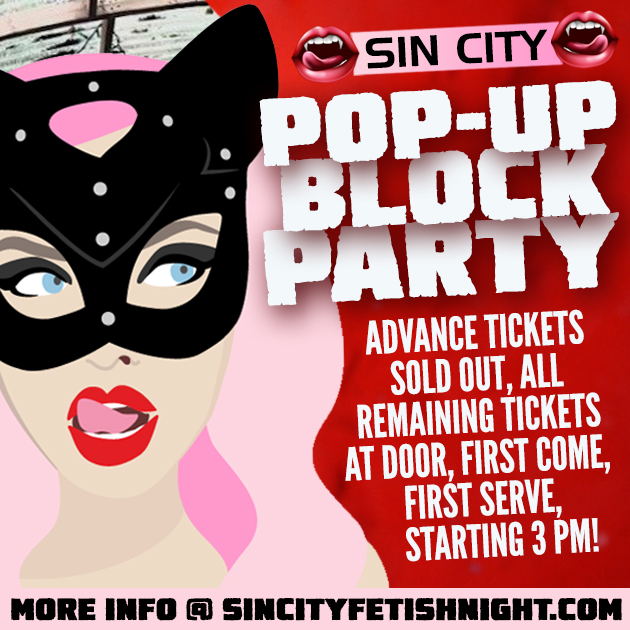 ---
NO DRESS CODE – CASUAL WEAR GREAT!
However this -is- a Restricted Entertainment & Sin City party, so if you WANT to take the opportunity to dress up in fetish, latex, goth etc attire, everyone would love it ❤
FILTHY BEATS BY THOSE DIRTY DJs :
Pandemonium
Evilyn13
Kasey Riot
MUSIC :
House / Bass / Techno
Various Forms Of Electronic Goodness
Dirty Pop & Disco-Punk
Dashes Of Industrial, Hip Hop & Rock
Retro & 80s
Remixes & Mashups
DOOR DIVA :
Pika
BATHROOMS :
Are located just inside the doors to the Narrow for easy and quick access from our outside area.
CAMERAS :
Are totally welcome at this event! We know people will want to be taking selfies with friends they haven't seen in some time. As well, we will be livestreaming from the DJ booth, so people who can't attend can still tune into the music and the vibe. This will primarily have the DJs and decks in the foreground, with anything else more as background elements.
PARKING & TRANSIT :
The Narrow is just a few blocks from Main St / Science World Skytrain Station, and there is ample street parking all around the area. When arriving at the venue, head around back, without going inside!
CAN'T MAKE IT BUT WANT TO TUNE IN TO THE ONLINE CHAT?
We'll be broadcasting the DJ's sets on our Twitch channel here : https://www.twitch.tv/restrictedentertainment
---
ANY QUESTIONS …
Drop me an email at : isaacterpstra@gmail.com
xoxoxox
Isaac T
Restricted Entertainment
Sin City Fetish Night
Vancouver Fetish Weekend
---