APRIL 22 – CLUB 23 WEST REUNION – ONE NIGHT ONLY!

When : Saturday April 22, 9pm-3am
Where : The Hindenburg AKA Club 23 West, 23 West Cordova
How much : $15 early bird, $20 at the door, discounts for Newsletter Subscribers
Due to popular demand : We WILL be releasing advance front of the line tickets! Stay tuned!
KINK / DANCE / SOCIALIZE / DRESS UP / PLAY
2 ROOMS OF DJS & DIRTY DANCING
GLBTQ+ / STRAIGHT / CROSS-DRESS / DRAG
COUPLES / SINGLES / REGULARS / NEWBIES / ALL WELCOME!
SIN RETURNS TO CLUB 23 WEST FOR ONE NIGHT ONLY!
She's a little rough around the edges now, and though we've moved on to our spectacular new home at the Odyssey, Club 23 West is where Sin City was born, thrived and came to define the fetish club party scene in Vancouver as our home for the better part of nearly 15 years. She's still very near and dear to our heart! Join us as we return to our old location for our one and only party there this year … we're reactivating all the customizations we made to the venue over the course of our tenure there.
Just some of the fun elements of the party :
– full size dungeon room
– rope & suspension Kink Corral play area
– on stage spanking bench & high rigging point
– on stage dancing & dance cages
– photo booth hosted by Atratus of Gothic BC
– immersive multi-screen fetish visuals
PLUS WE'RE CELEBRATING international fetish model & DJ Evilyn13's birthday!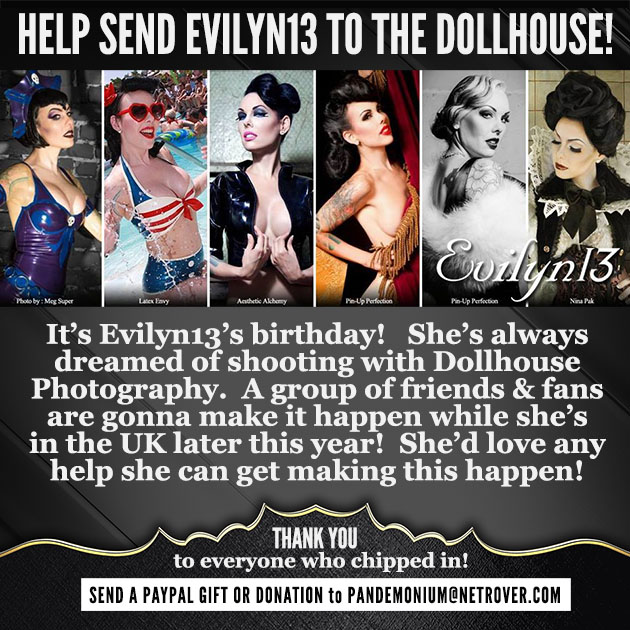 ---
SIN CITY EMBRACES DIVERSITY & INCLUSIVITY
Sin City loves everybody, and no matter who you are, what age, orientation or body type you are, you will feel comfortable joining in our kinky crowd, which is a big extended family and community of like-minded kinksters!
FETISH DRESS CODE IN EFFECT
NOT PERMITTED :
Plain jeans, plain cargo pants, plain briefs or boxers, plain t-shirts, plain suits or plain work wear. Absolutely no street or casual wear! Lower bits must be covered with a minimum of a g-string or similar attire!
SUGGESTED ATTIRE :
Includes but is certainly not limited to – vinyl, pvc, leather, rubber, bondage, straps, chaps, fetish goth, cyber, military, fetish fantasy, medical, uniform, armour, drag / cross-dress, body paint, lingerie, kilt, puppy & pony play, glitterslut, genderfuck, or any other risque kinky creation your perverted little mind can dream up!
ONE LAST WORD ABOUT THE DRESS CODE …
Every attendee at Sin City adds to the party in some way with their creative effort, making it an amosphere of collective community kinky sexiness. The party starts before you leave the house! Trust us, the effort is worth it. Sin City is a home where people can take the masks off that they wear all week and transform themselves into their true pervy persona in safety, in an appreciative and fun environment. For full details on the dress code, please visit our website at : www.sincityfetishnight.com/house-rules/fetish-dress-code/
---
NON-STOP DANCE PARTY WITH THE SIN CITY CREW :!
Two rooms / two vibes to choose from, with our always stacked lineup of pervy party starter DJs …
– PANDEMONIUM
– EVILYN13
– DAVE DIRK
– UNICODE
High energy social atmosphere from beginning to end.
Absolutely zero unauthorized photography. This party is off the grid so you can fully express your wildest sexual persona in safety.
---
KINKY PLAY AREAS
Sin City provides several play areas with different vibes for every level and comfort zone for play. There is a full size dungeon play area monitored by the Vancouver DM Team, a dedicated rope play area hosted by Rascal_21, as well as satellite play areas more integrated into the main social & hangout areas of the venue. All spaces are stocked with sturdy, padded furniture lovingly constructed by our friends at Black & Blue Dungeon Furniture, and are places where we encourage you to get naughty with a consenting pervy play partner!
CODE OF CONDUCT / CONSENT
All attendees are expected to respect one another and party hard, but party safely. Poor behaviour of any kind is not tolerated and will result in ejection from the event and a possible ban from future events. Absolutely no unwanted, inappropriate or unasked for touching of any kind is permitted without prior, clear and verbal consent given. If you are unsure, ALWAYS ask FIRST! Only a clear and continued 'YES' indicates consent. And if someone is asking, there is never any shame in saying 'no thanks' and moving on. All attendees are expected to be aware of and graciously accept a 'NO' statement or vibe if one is given. If there are ever any issues (which are thankfully few and far between), our Sin City and venue staff are always at hand and accessible for you to bring any concerns to, which will be dealt with promptly, professionally and anonymously on your behalf.
---
PRESENTED WITH PRIDE BY RESTRICTED ENTERTAINMENT
Producers of quality community kink events for over 16 years, Restricted Entertainment is the team behind Sin City, Spank, Vancouver Fetish Weekend and many other events over the years.