April 15 – PURR @ The Waldorf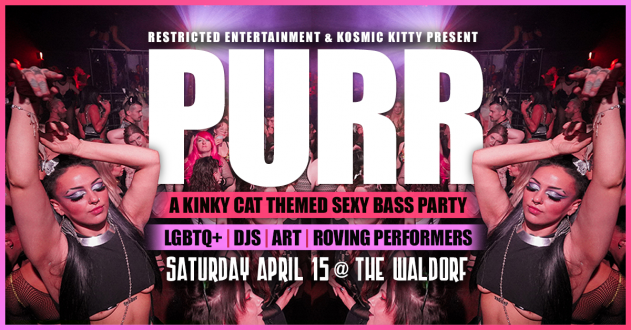 When : Saturday, April 15, 2022, 9pm-2am
Where : The Waldorf, 1489 East Hastings
Tickets : $25-35
All the Love Cats & Sex Kittens of Vancouver have made PURR one of the most red hot events in the city! The absolutely insane support for this new event series has allowed us to lock in ANOTHER date for another monster two-room party! Come out to our first party of 2023, as we return to the Waldorf in East Van, now kitted out with a super juicy Funktion One sound system!
GET TICKETS / RSVP FACEBOOK / RSVP FETLIFE
---
PRESENTED WITH PRIDE BY
Restricted Entertainment, Sin City Fetish Night, Passion Portal, DJ Pandemonium & Kosmic Kitty!
---

Our playful PURR parties present an opportunity for cat-lovers, electronic music party lovers, kink party lovers, lifestylers and the LGBTQ+ communities to express themselves, get creative, intermingle and socialize in a safe, consent-based environment with sensual vibes and dirty basslines (awww yeaaah).
Dress up or come casual, all are welcome to come out and play!
There is no dress code in the main areas but colourful, creative, kinky wear is encouraged! 
Cat themed outfits are PARTICULARLY encouraged but totes not required! Get them kitty ears out!
The MAIN room and areas are fully open to everyone, in all manner of attire.  No dress code. Come dressed however you like and get ready to PARTY!
The KINK PLAY LOUNGE ROOM, where you will find the spanking benches, padded kink play furniture area, cuddle couches etc, is FETISH ATTIRE ONLY.
So if you want to dress up extra kinky, rubber, cross dress, lingerie, topless etc, and are nervous about doing so in a mixed crowd environment, rest assured there is a 100% kink attire only area you can retreat to if that's your comfort zone!
---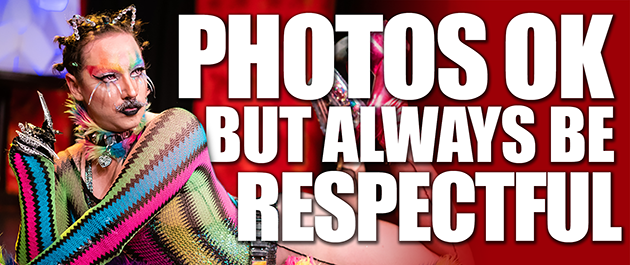 Taking photos and selfies is totally welcome at this party, but please be respectful of others and don't take close photos of anyone without making sure they are OK with it first!  Please note that the KINK PLAY ROOM is NO CAMERAS or photos though, unless you are a staff photographer with an official photo pass!
---
♥ ♥ ♥ ♥ DJs ♥ ♥ ♥ ♥
Steph Tsunami
S@M I @M
DJ Pandemonum & Kosmic Kitty (Founders)
♥ ♥ ROVING GO-GOs, POLE DANCERS & PERFORMERS ♥ ♥
Misty Blue
Leanne
Devon Kenzo
♥ ♥ ♥ ♥ VENDORS ♥ ♥ ♥ ♥
Baelien Bling
Zorya & Zvarog
+ more TBA!
♥ ♥ ♥ ♥ COMMUNITY SUPPORT ♥ ♥ ♥ ♥
Whether you are attending or not, you can help grassroots alternative counter-culture events like this grow, simply by inviting friends, or posting a link to the event on your social media, along with a personal shout out! Thank you in advance to our extended family of art & music lovers out there for helping amplify the vibe!
♥ ♥ ♥ ♥ SAFETY ♥ ♥ ♥ ♥
All of our family of Restricted Entertainment events encourage self-expression through costume, art, music and dance, and expect mutual respect, and appreciation to be shared amongst attendees. We come together to lift each other UP and celebrate everyone's unique identity! Homophobia, transphobia, sexism, and any type of bigotry or aggressive conduct will not be tolerated.
♥ ♥ ♥ ♥ CONSENT ♥ ♥ ♥ ♥
The best events are ones where all attendees practice awareness and empathy for all their fellow humans! Please be aware of the effect your words and actions have on those around you, and always strive to conduct yourself in a way that adds to the feelings of fun, safety and security of those around you .
Consent Captains on site to assure safety and comfort for all guests.