Wild Kingdom – details & discount passes!
PLEASE NOTE! DOORS MOVED TO 10 PM!
As most people are aware, the Waldorf has closed, stranding dozens of already-booked shows without homes. We're helping out some of our promoter friends and moving our doors back by an hour to allow for an early show at the Electric Owl for the night since we highly believe in karma and 'paying it forward' and well remember when Richards On Richards closed and WE were the only party which was accomodated for one final party before the wrecking ball hit 24 hours later. While we're keen to help our friends out who are putting on the earlier show, this was made on the condition the room be cleared and converted over to allow for Sin City to open at 10 PM. We are heading in early in the day to set up beforehand, with the bands finishing up at 9:30.
WE ARE EXPECTING A CAPACITY CROWD SO PLEASE COME EARLY!
Wild Kingdom is one of our most popular themed fetish parties, so please come early to avoid any lineup waits!
REMINDER – PLAIN UNDERWEAR OR PAJAMAS ARE NOT FETISH WEAR!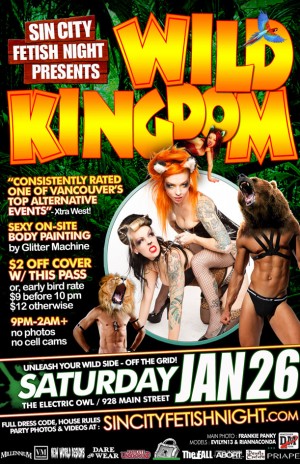 While this is a Wild Kingdom theme party, it is first and foremost a FETISH party, which means kink and sexy wear only please. Plain underwear and plain pajamas will not pass dress code, even if they are animal print.
STILL ONLY $9 BEFORE 10:30 PM, $12 AFTER, $10 w/ A DISCOUNT PASS!
While other events are jacking their prices with cover charges climbing ever skyward, Sin remains the fetish event that gives you the most and charges you the least! We're pushing back the early bird time window to account for the later opening, so arrive before 10:30 and only pay $9 admission, or, make use of this discount flyer any time afterwards! Just print out or have ready to show on your smart phone for $2 off cover! (Click thumbnail for full size)