REMINDER – PLAIN BAGGY SANTA SUITS DON'T CUT IT!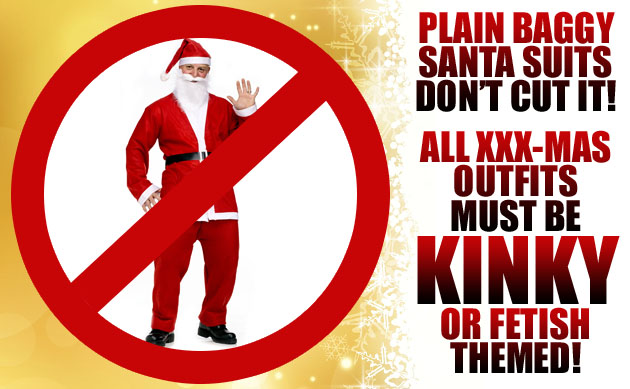 A REMINDER – PLAIN BAGGY SANTA SUITS DON'T CUT IT FOR A FETISH OUTFIT!
The Sin City XXX-Mas Party on Dec 22nd at The Electric Owl is indeed Christmas themed, but it is still a fetish night, and the fetish dress code most definitely still applies.
All outfits must be kinky or fetish themed in some way!
If your entire outfit consists of a plain baggy out-of-the-package Santa suit that has not been kinked up or altered to make kinky or sexy in any way, it will not pass the fetish dress code and you will not be permitted entry to the event!
---
Check out photo galleries from past events for inspiration here:
---
If you are still unsure, here are some ideas for options :
Kinky Mr. & Mrs. Claus
Naughty elves & Santa's helpers
Santa hats added to fetish outfits
red, green and white themed outfits (lingerie!)
raunchy reindeer
XXX-mas ornaments
wrapping paper / ribbons
sparkley snow and ice angels
use your imagination!