Halloween Ticket Questions & Answers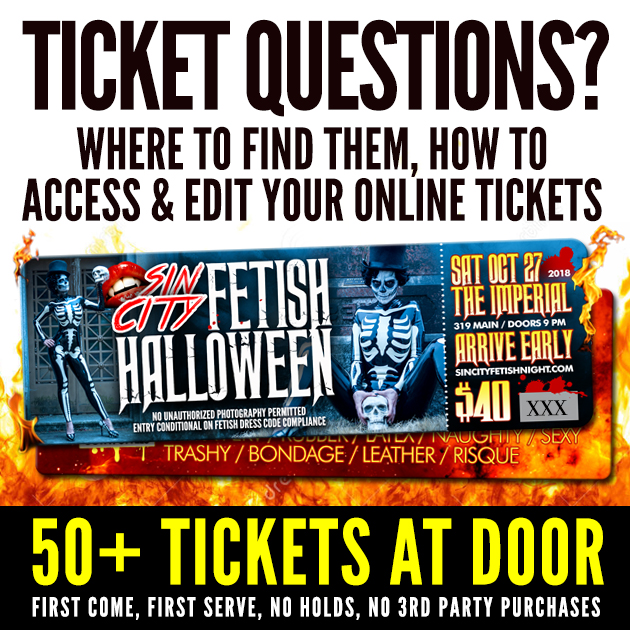 ---
ARE THERE ANY TICKETS LEFT ONLINE OR IN STORES?
No! Sin City Fetish Halloween sells out every year, sometimes as early as October 1st.
OW DO I STAY IN TOUCH ABOUT TICKETS FOR UPCOMING EVENTS?
We highly encourage you to sign up for the Sin City Newsletter here at our website, as it is the best way to stay in touch with the events you love, get notice of and early access to tickets, and more. DO NOT COUNT ON FACEBOOK as a source of information – the site regularly restricts the visibility of information on Groups and Pages, even from people who have joined, Liked or Followed them, unless the organizers pay into ads. Meanwhile, Facebook also does not allow ads for fetish events or anything it deems as 'sexual in nature!'
SO WHERE CAN I GET TICKETS IN ADVANCE FOR HALLOWEEN?
Your best bet is to find someone who's plans have changed who has tickets for re-sale. Keep on eye on the event listing or the Sin City Facebook Group here :
https://www.facebook.com/groups/sincityfetishnight/
CAN I BUY A TICKET AT THE DOOR?
Yes! We have 50+ tickets available for purchase at the door, beginning at 9 PM when the event officially starts. Since we cannot tell how many people will arrive looking for tickets at the door, or what time, we cannot give an estimate of a time when these tickets will also sell out, but get there early and you should have no problem getting in. Tickets are first come, first serve, no holds, and no purchasing for 3rd parties who are not present at time of purchase.
I BOUGHT TICKETS ONLINE BUT I CAN'T FIND THE ORDER! WHERE ARE THEY?
Try looking in your junk / trash / spam folder. Since the tickets are sent to you via an online third party ticketing company, sometimes the emails can get moved to your trash folder before you ever see it, depend on your computer's email handling settings. If you still can't find them, you can always log in to the Eventbrite site and access your ticket order. You would use the same email and password you used to purchase the ticket.
THIS INFORMATION IS ALL EASILY FOUND AT THE EVENTBRITE WEBSITE UNDER : HELP / WHERE ARE MY TICKETS, OR GOOGLING 'EVENTBRITE TICKET TRANSFER.' HERE IS THE DIRECT LINK :
https://www.eventbrite.ca/support/articles/en_US/Troubleshooting/where-are-my-tickets?lg=en_CA
HOW DO I CHANGE THE NAMES ON MY TICKET ORDER?
If you need to sell your tickets or change the names on your ticket order for any reason, log in to Eventbrite with the email and password you used to buy the tickets, select the appropriate event in your list of purchased tickets, and click 'Manage Order.' This feature is absolutely 100% enabled and many people have done it already for this event.
STEP BY STEP INSTRUCTIONS FOR UPDATING YOUR TICKET INFORMATION :
https://www.eventbrite.ca/support/articles/en_US/How_To/how-to-update-your-ticket-registration-information?lg=en_CA
CAN I JUST EMAIL THE ORGANIZER AND HAVE THEM DO IT FOR ME?
Sorry, no! This is the busiest week of the year for us and we are swamped with all the work and preparation going into getting everything ready for this epic event. With over 600+ attendees coming, we are not able to edit customer's tickets on an individual basis. While we do our best to reply to every email, we will have less and less time to do so the closer we get to the event, and emails looking for information that is easily found online at the event listing, the Sin City or Eventbrite websites, or through a simple Google search, will be placed on the lowest priority of a very large to-do list for our staff. Additionally, our admissions staff at the event will not have the ability or time to search through personal emails, so please spend the time to make sure your tickets are in order and edited properly ahead of time if you need to sell or give them to someone else after you bought them!
AND LASTLY ……
WHEN SHOULD I ARRIVE TO AVOID A LINE WAIT?
As early as possible! This is a SOLD OUT EVENT, which means, EVERY ATTENDEE HAS AN ADVANCE TICKET, just like you! The majority of attendees arrive between 10-11:30, and even with a full complement of admission, security and coat check staff, it simply takes time to process everyone through the doors. Do not expect to roll up to the club at prime time and roll right in simply because you have an advance ticket! The earlier you can arrive, the less of a wait you will have, and you wouldn't want to miss a second of this party anyway! It will be packed and in full swing less than an hour after opening!
SEE YOU SOON SINNERS!!! WE HAVE SUCH SIGHTS TO SHOW YOU!
---